O'Neill powers RiverDogs to comeback win
Yankees outfield prospect goes 3-for-5 with two homers, three RBIs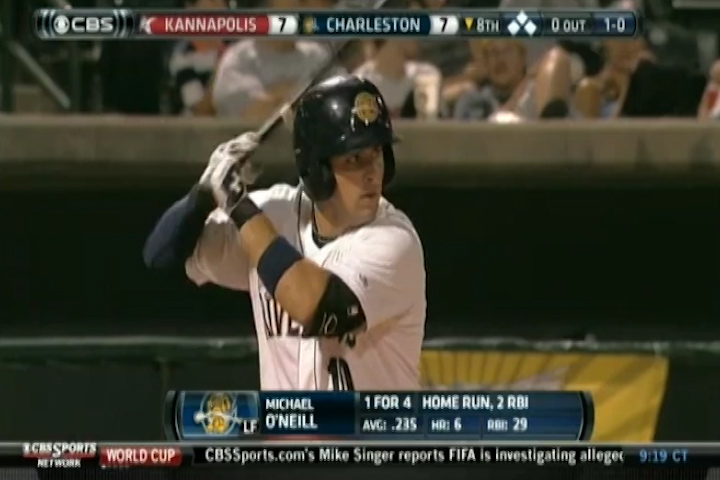 By Mark Emery / MiLB.com | June 20, 2014 2:28 AM ET
Michael O'Neill picked a heck of a time to flick on the power switch.
In Thursday's contest against Kannapolis, the Yankees prospect went 3-for-5 with a pair of solo home runs and three RBIs to lead Class A Charleston to a 10-7 win at Joseph P. Riley Jr. Ballpark. The comeback was viewed by a slightly larger audience than most RiverDogs games, as it was broadcast by the CBS Sports Network broadcast as the Minor League Baseball Game of the Week.
For O'Neill -- whose uncle Paul made a few headlines for the Bronx Bombers back in the day -- it marked the first multi-homer game of his career.
"It is pretty cool. I did it maybe once in college," the University of Michigan product said. "Anytime you can do something that's kind of unusual, it makes it a little more special."
With the performance, the 22-year-old has five three-hit games and five three-RBI games this season, his first full professional campaign.
Following an RBI single in the fifth, O'Neill led off the seventh and eighth innings with roundtrippers to left field. The latter blast, which gave him seven long balls for the year, put Charleston on top, 8-7. The Dogs had trailed by margins of 5-1 and 7-3 earlier in the game.
"I was just trying to get on base," said the outfielder, who was selected by New York in the third round of the 2013 Draft and the 42nd round of the 2010 Draft. "I was just trying to get on to win the game in the eighth, so you can shut it down in the ninth. We didn't have to hit again. I was fortunate enough to get a ball up in the zone where I could drive it out of the park."
O'Neill gave a measure of credit for his power display to the three-day break he enjoyed between the season's two halves. The Ohio native is batting .243/.326/.406 with 10 doubles and four triples. He has driven in 30 runs, taken 23 walks, struck out 76 times and stolen 21 bases in 24 attempts.
"It's just been a weird year," he said. "I've been hitting the ball hard, just hitting the ball right at people. Personally, I think I'm running the bases really well and playing good defense."
The first half of this season went by quickly for O'Neill, seeming to happen much faster than his 64 games at short-season Staten Island last year. That's partly a result of his own growing experience in professional baseball, and partly because of the insights available to him from a certain family member.
"I saw him last week in Greenville, which was good, and then he actually texted me tonight," O'Neill said. "I guess he was calling the game for YES and someone put into his headset that I had done what I did tonight, so it was cool to get a text message from him, just saying 'Nice job' and 'Keep up the good work.'
"It's always good to hear from him. I talk to him when I'm struggling; I talk to him when I'm doing well. He's been through the Minor Leagues, he's played at the highest level, so it can't hurt."
The RiverDogs' Dustin Fowler also went 3-for-4, finishing with three doubles and two RBIs.
Jacob Morris and Carl Thomore recorded three hits apiece for the Intimidators. Morris, Christian Stringer and Brett Austin notched two RBIs apiece. Austin, a 2014 fourth-round pick by the White Sox, hit a two-run double with two outs in the fifth in his professional debut.
Mark Emery is a contributor to MiLB.com. Follow him on Twitter @Mark_Emery. This story was not subject to the approval of the National Association of Professional Baseball Leagues or its clubs.
View More