Oral history: Hero Cat comes to the ballpark
Members of front office talk bringing web sensation to Blaze game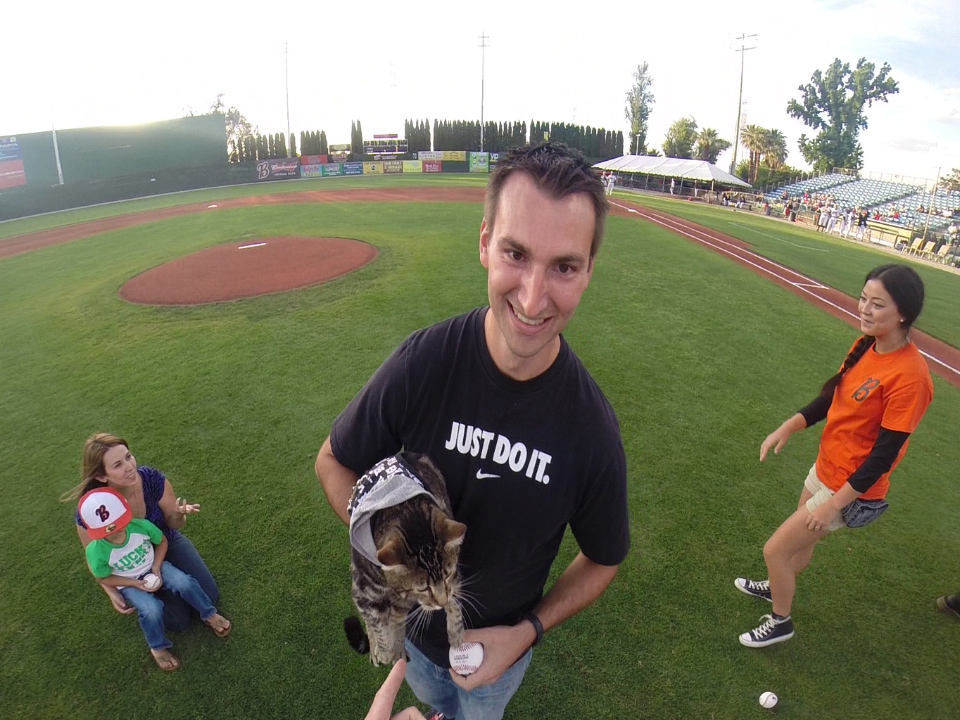 By Benjamin Hill / MiLB.com | May 23, 2014 10:00 AM ET
By now you've probably heard the story: Tara the Hero Cat threw out a first pitch at a Minor League Baseball game.
Tara, of course, is the Bakersfield-based feline who became an international viral video sensation. The video in question, which has now been viewed more than 22,000,000 times on YouTube, depicts her fearlessly chasing away a dog that had attacked 4-year-old Jeremy Triantafilo. The Triantafilos, Tara's owners, posted video of the incident May 14. One week later Tara was at Sam Lynn Ballpark, home of the Bakersfield Blaze, in order to "throw" out a first pitch.
That first pitch became a viral story in and of itself. As a result, the Blaze, who play at one of the more, shall we say, "rustic" stadiums in all of professional baseball, temporarily became a global commodity. So how did this improbable and admittedly ridiculous promotion come to be? For more insight, I spoke to two individuals who played a prominent role in making it all happen: Philip Guiry (Blaze assistant general manager of operations) and Dan Besbris (Blaze broadcaster and assistant general manager of media and marketing). What follows is their version of the Tara the Hero Cat first pitch saga:
Philip Guiry: I didn't see the video on the day it happened. It was on my Facebook feed, just everywhere, but I didn't bother to watch it. I've seen a lot of cat videos. I don't need to see them all, right? But then I thought "This happened in Bakersfield, okay, I'll give it a look." It started to go more and more viral, so I thought that we should try to get [the Triantafilo family] out to the ballpark. But this was on Tuesday [May 14], and we had no home games for a week. Would they still even be famous in a week? The Internet news cycle moves so fast, a week is too long in Internet time. It'd be like having the [Budweiser] "Whassup" guys out. Although, I would like to have those guys out to a game sometime.
I reached out to the family on Thursday [May 16], and it turns out that Jeremy loves baseball and plays T-ball. Does Jeremy want to throw out the first pitch? Maybe we can get the cat out there? As soon as it was in place, we knew we wanted to bring in an animal shelter of some sort, because you can't have fun unless you're doing something good, right? We partnered with [Bakersfield shelter] The Cat People. They're local and don't get much press. They contacted us, so it was 'OK, let's do this.'
Dan Besbris: Thursday [May 16] I was home in Los Angeles and commuting to the Blaze game in Lancaster. Philip said we need to get the family out to the ballpark and sell the cat first pitch as what we're doing. We decided that I'd write the press release while he was getting in touch with the family, so by the time he was done we'd already have it moving. We wanted to make sure that we'd beat other outlets with the story.
Guiry: I was on the phone with Erica [Triantafilo], setting things up and gauging her interest, and while I was on the phone with her TMZ was on the other line. So they got the scoop by accident. If you ever want to make a huge hype out of anything, I would suggest leaking it to TMZ.
TMZ had the word out instantly, before we even had the press release. Dan was in the office on Friday morning, and we had messages from the New York Post, Associated Press, The Daily Beast, just newspaper and Internet sites from everywhere calling in. I did nothing but talk about this cat from 9 a.m. to 1 p.m. I drove to Stockton to see the Blaze play that night, and had to pull over to do an interview with somebody in San Francisco.
Besbris: By Monday things were totally bonkers. During 90-second breaks between innings I was fielding calls from media outlets. I ended up printing out 26 press passes, so we had that many plus whatever outlets already had them. All told there were about 40 members of the media.
To have ESPN out here just floored me, to hear that SportsCenter wanted to go live once during the first pitch as well as the afternoon telecast. One thing that definitely sent my brain into a weird place was this flurry of emails and calls from international news outlets that seem to have their base in Sherman Oaks [California]. They all had an 818 area code. German, Russian, Japanese, Brazilian -- every corner of the world called on Monday morning. I thought to myself, "Either this is all an elaborate hoax, or the Bakersfield Blaze just went global."
Guiry: In Idaho Falls, when I worked there, we had Darth Vader throw out a first pitch using only the force. So I knew what I was gonna do with [Tara the cat's] first pitch; I'd done it before. I don't want to divulge my secrets, but you use a fishing line and it kind of works like a zipcord.
Funny thing was, [Blaze outfielder] Kyle Waldrop had already seen this before. He was playing with Billings the night I did the Vader first pitch in Idaho Falls, so when he saw what I was doing he was laughing. I mean, what are the chances of seeing the same stupid thing twice in your career?
---
Photo Gallery: Hero cat Tara honored by Bakersfield Blaze
---
Besbris: We were hoping that the family would call when they got there so that we could store the carrier and take care of Tara before the first pitch. When they first walked in it was intense, these camera people were descending on Roger [Triantafilo] holding the cat in its carrier. The family was looking around, a bit overwhelmed, and one of the family friends looked at me and said "Are you running this? Can you be a bodyguard here?" Okay, oh well, that's just another weird thing I did today. I guess you could say that through the transitive property, I was the one who saved the boy.
About two minutes after I met the cat, one of the media members tripped over the [first pitch] fishing line. Somebody kicked our wires, I believe it was a representative from Tokyo's Chunichi Sports News. He was just wandering around, nobody stopped him, and he ended up twisting the two wires together. So when one of our staffers pulled the spool [to start the first pitch], it just caused the strings to bounce back and forth like a cartoon.
Guiry: It didn't go off as well as I was hoping. We did have issues with someone tripping on the string and getting it tangled up. The good thing was that Roger, he just sort of made the cat throw the ball. So that worked, and then Jeremy threw two first pitches. One was left-handed, and then he threw one right-handed and that was a bullet. That kid's got a future if he can stick with it.
Besbris: Personally, this was the coolest day, media relations-wise, that I've ever been a part of. [Blaze mascot] Heater even managed to photo bomb SportsCenter. I'm exhausted, and groggy as hell, but it was an unbelievable thing to be a part of.
Guiry: It's Minor League Baseball, not everything is going to go right. But we got a lot of people here on a Tuesday, one of the biggest Tuesdays in the history of the Blaze as far as our records go back. We got international attention, and some guy on Facebook even asked how to buy a hat. We'll probably make $12.50 on that. You know, you've gotta hustle for every dollar.
Benjamin Hill is a reporter for MiLB.com and writes Ben's Biz Blog. Follow Ben on Twitter @bensbiz. This story was not subject to the approval of the National Association of Professional Baseball Leagues or its clubs.
View More