Owens nearly unhittable in Triple-A debut
Boston lefty tosses 6 2/3 scoreless frames in first start for PawSox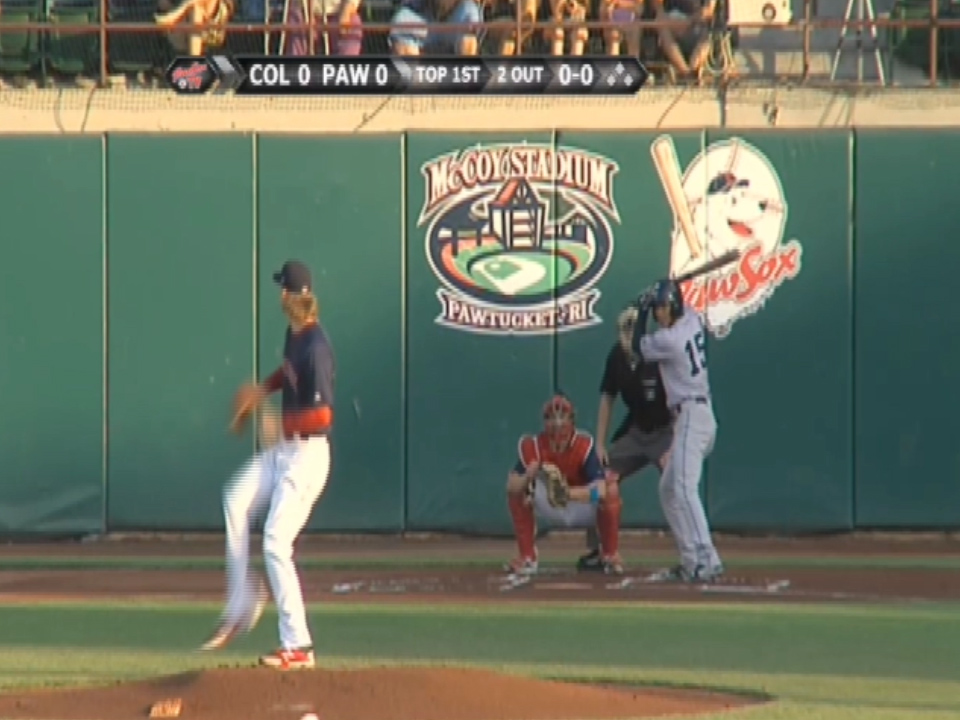 By Jake Seiner / MiLB.com | August 5, 2014 12:20 AM ET
Henry Owens is changing the ground rules on first impressions.
After posting scoreless outings in his Class A Advanced and Double-A debuts in 2013, the 22-year-old kicked off his International League career in the same fashion Monday. Boston's No. 2 prospect carried a no-hitter into the sixth inning, picking up the win in Triple-A Pawtucket's 5-0 victory over Columbus.
Owens scattered two hits and three walks while striking out nine over 6 2/3 frames. He threw 100 pitches -- 70 for strikes -- while throwing to No. 3 Red Sox prospect Blake Swihart, also making his PawSox debut at catcher.
"He was unpredictable the whole time," Pawtucket manager Kevin Boles said. "They never really fell into a groove. I think that's a credit to him and Swihart behind the plate. I thought the energy and the tempo and pace to the game was a plus."
Owens struck out the first four batters he faced and had seven punchouts by the end of the third. With one out in the sixth, Francisco Lindor's ground ball to the left side was fielded by a diving Devon Marrero, but the shortstop was unable to make a throw on the play.
The left-hander worked around Lindor's hit, then sandwiched a single by Zach Walters and a walk to Elliot Johnson around a flyout and a groundout before exiting to a standing ovation.
"That was awesome," Owens said. "I got chills. It was cool."
The 6-foot-6 hurler relied heavily on his off-speed pitches -- a well-regarded changeup and a curveball that was especially effective late in counts.
Owens showcased the breaking ball early, picking up five of his first six strikeouts with it. In all, six K's came with the curve, which benefited from steep drop and a big change of speed -- the McCoy Stadium radar gun clocked the breaker as low as 69 mph, or more than 20 mph slower than his fastball.
"I've been working on it the whole year," Owens said. "Not just on the mound. Working on it days between, front toss, bullpens, and it's come a long way."
"The difference in velocity with the three pitches, I think you see hitters get out in front quite a bit," Boles added. "It looks like it's going to be a pitch out of the zone, elevated, but then all of a sudden it drops in for a strike. He's able to miss where he wants."
Boles managed Owens at the end of the 2013 season with Double-A Portland and noted some key improvements in the 22-year-old since last year.
"Physically, he looks like he's getting bigger and stronger," Boles said. "It looks like the [velocity] has ticked up a little bit. But just the repeatability of the delivery, I thought he was in synch and a good rhythm and pretty impressive."
Monday marked the second time in the series that a PawSox starter worked a no-hitter deep into the game -- No. 14 prospect Matt Barnes tossed seven hitless innings against Columbus on Saturday.
In his second game back after a 2 1/2-month stint on the disabled list with a hamstring injury, Bryce Brentz went 3-for-4 with a homer, a double and two runs.
"I'm just glad to be back and be healthy," he said. "Right now, I'm trying to keep things simple at the plate, but … I'm just glad the hammy's holding up."
Boston's No. 4 prospect Garin Cecchini left the game in the bottom of the eighth after taking a thrown ball off the face. Cecchini was running out a ground ball at first base when Columbus reliever Vinnie Pestano couldn't catch up with shortstop Francisco Lindor's throw while trying to cover first. The ball appeared to hit Cecchini on the left cheek, and he walked off the field holding a towel over the left side of his mouth and face.
The PawSox said postgame that the injury wasn't serious. Cecchini had some swelling around his mouth and a cut on the lip, but a team spokesman described it as "nothing major."
Jake Seiner is a contributor to MiLB.com. Follow him on Twitter at @Jake_Seiner. This story was not subject to the approval of the National Association of Professional Baseball Leagues or its clubs.
View More