Owens unhittable in Sea Dogs' setback
Top Red Sox prospect fans eight, walks five, continues to learn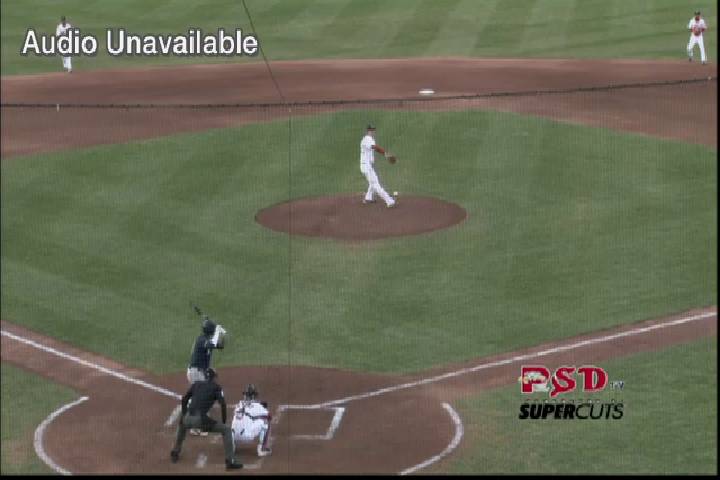 By Ashley Marshall / MiLB.com | May 15, 2014 12:24 AM ET
Henry Owens was nowhere near his best on Wednesday night, but he learned a valuable lesson about himself as he found a way to put up zeros when his command deserted him.
The Red Sox's top prospect recorded eight strikeouts but issued five walks over four shutout innings in another hitless outing as Double-A Portland fell to New Britain, 4-3.
"It was inconsistent," said Portland pitching coach Bob Kipper, who spent eight years in the Majors, primarily with the Pirates in the 1980s and early 1990s. "He clearly didn't have his best stuff, but he beat hitters in the strike zone, evidenced by his eight strikeouts and the no hits he [allowed] and the no runs he [allowed]. The numbers speak for themselves.
"It's not the first time he has struggled with [his command]. He's still growing into his 6-foot-7 frame. There are so many things that Henry Owens does that you like, but with that said, there are still things he's challenged with."
Owens threw 47 of 87 pitches for strikes, fell behind each of the first seven batters he faced and started 14 of 17 Rock Cats with pitches out of the strike zone. He also fell into a 3-0 hole on three occasions, one in every inning except the fourth.
The 21-year-old left-hander exited with a 2-0 lead, but the Rock Cats rallied with a run in the seventh and three in the ninth. The winning run, fittingly, scored on a bases-loaded walk, the season-high 10th free pass issued by Sea Dogs pitching.
"[Falling behind] makes pitching difficult," Kipper said. "Hitters always try to eliminate a pitch and pitchers are always trying to create considerations. Ideally, pitchers don't like to pitch behind in the count because hitters start to develop an advantage in those situations.
"The two young men [Owens and catcher Blake Swihart] did a really nice job of working through the struggles of the night to the extent where they kept the opposition in check. A pitcher-catcher relationship is huge. They have a relationship that is built on trust."
The five walks matched the season high Owens set a week ago against New Hampshire when he took a no-hitter into the eighth inning. The four-inning stint was his shortest since issuing seven walks over three innings against Trenton last Aug. 22.
Owens, who also threw a six-inning no-hitter in his season debut, lowered his ERA to 3.30 through eight Eastern League starts. MLB.com's No. 27 overall prospect and second-ranked southpaw fell three strikeouts short of a personal best, set in his Double-A debut against Bowie on Aug. 3.
"What I'm planning on doing is identifying the good things he did tonight," Kipper said. "It was not a perfect outing by any stretch of the imagination. It was a grind, but Henry Owens won that grind. He will have moments moving forward where, for whatever reason, things aren't easy and he will draw from experiences like tonight and this will be a teaching tool.
"He didn't get caught up with the struggles of his night. That is something you need to identify in a young man's personality. I've seen guys struggle and get to a point where it's too much and they cave. This young man did not allow himself to do that. Moving forward, we change nothing we're doing. It's just another example how this game is not easy, especially for a 21-year-old."
Control often has been cited as one of Owens' biggest weaknesses. Selected 36th overall in the 2011 Draft, he's walked 191 batters over 285 innings in the Minor Leagues. He ranked 36th in the Minors last season with 68 free passes, but he was able to post an 11-6 record and 2.67 ERA by limiting opponents across two levels to a .177 average, which led all qualifying full-season Minor Leaguers.
"What is impressive about this young man is that he didn't get caught up in the struggles of the night," Kipper added. "He fought through four innings and was always trying to find a way to get through it. He was searching for his rhythm and his timing. He does all the things he needs to do on a day-to-day basis. [Consistency] is just the byproduct of work. Rhythm and timing is something you feel, it's not something you formulate.
"He struggled tonight, but that is part of being a baseball player and part of being a human. ... But he was very, very impressive at times, make no mistake."
Ashley Marshall is a contributor to MiLB.com. Follow him on Twitter @AshMarshallMLB. This story was not subject to the approval of the National Association of Professional Baseball Leagues or its clubs.
View More