Padres Prospect Primer: Wisler awaits
Right-hander, just 21, features mid-90s fastball in four-pitch arsenal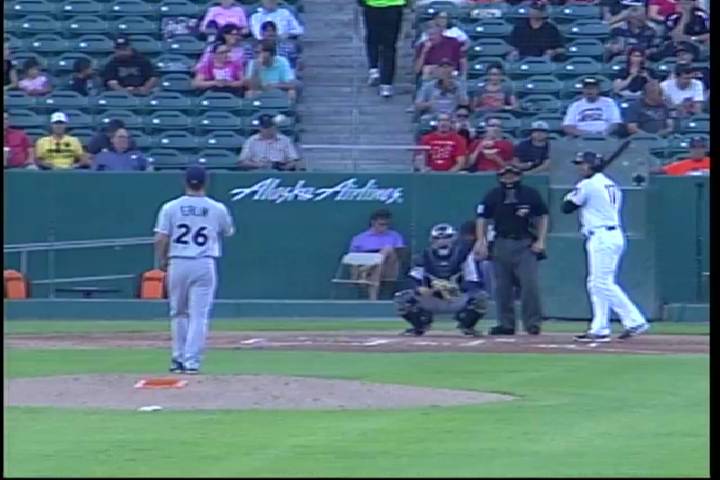 By John Parker / MiLB.com | March 26, 2014 10:00 AM ET
Some players are on the verge of stardom, others are entering a crucial phase of their development and still others are getting their first tastes of full-season ball. With the 2014 season approaching, MiLB.com takes a look at the most intriguing prospects from each MLB organization.
A 2011 seventh-round pick -- he fell that far after committing to Ohio State, but the Padres convinced him to turn pro with a 00,000 bonus that was well above slot -- Wisler had an infinitely poor pro debut. The 6-foot-3 right-hander faced five Arizona League Angels on Aug. 12, 2011, allowing two hits along with a pair of walks and a hit batter. Four of them went on to score.
It's been all uphill since then for the Ohio native. Wisler was one of the top pitchers in the Midwest League in 2012 and, at age 20, held Double-A Texas League hitters to a .223 average over 20 starts last season and twice was named Pitcher of the Week.
"He's pretty calm out there, but he's got that bulldog inside of him," Padres catching prospect Austin Hedges told MLB.com. "He's not the guy who is going to have these crazy antics or start pumping his fists. He just goes out there expecting himself to get every hitter out. When something doesn't work, he digs even deeper and still finds a way."
Wisler's arsenal features a low- to mid-90s fastball with good movement, a slider with the potential to be a plus pitch (though it has been hit hard by left-handed batters) along with a curveball and changeup. The precocious hurler already has outstanding command -- he fanned 131 and walked only 33 over 136 innings last year -- and a knack for keeping the ball in the park. Wisler's stuff is ready for the Majors, but with only 250 professional innings under his belt, he could use more experience facing top-flight hitters. He'll likely start the season with Triple-A El Paso but could reach San Diego by late summer.
Renfroe ranked ninth in the NCAA with 16 homers in 2013, inspiring the Padres to make him the 13th overall pick in the Draft. The Mississippi State product put up strong numbers at short-season Eugene over the summer but struggled after a late-season promotion to Class A Fort Wayne.
"I think he's going to be like a Nelson Cruz-type ... a .270 hitter, hit 25 bombs and can run," Padres scout Andrew Salvo told MLB.com.
"He just puts together consistently good at-bats. Those swings and misses and those outs ... you're literally on the edge of your seat watching."
The 22-year-old has the arm and athleticism to play right field, but his main calling card is his power. Renfroe clubbed four homers in 25 games with the Emeralds -- and had a fifth shot reduced to a single after he passed a teammate on the bases -- but also piled up the strikeouts and drew relatively few walks.
Expect Renfroe to make noise in the California League this summer. Though The Diamond -- home of the Lake Elsinore Storm -- is not particularly homer-friendly, the circuit's other parks are a paradise for power hitters.
Erlin is left-handed, possesses excellent command and is only 23 years old, so this season is by no means make-or-break for his career, but he does enter the season with something to prove. Erlin was recalled to San Diego three times last year before his final callup in late August; he had a handful of rough outings early but pitched well in September. He also made 20 starts for Triple-A Tucson, where he posted a 5.07 ERA and a .307 batting average against.
Erlin remained a candidate for the Padres rotation now that offseason acquisition Josh Johnson went down with an injured forearm. With Spring Training winding down, he figured to vie with Wisler and right-hander Donn Roach for the No. 5 spot.
Should Erlin begin the season with the Chihuahuas, he won't lack for chances to prove himself. Pitching in the PCL is always a challenge, particularly in a division featuring hitter-friendly parks in Albuquerque, Las Vegas and Salt Lake, and if he can duplicate his September success, he'll make it hard for the Padres to keep him in the Minors.
More to keep an eye on: Only 21, catcher Austin Hedges has outstanding defensive skills that are Major League-ready. His bat still has a ways to go. ... Pitchers Casey Kelly and Joe Wieland and outfielder Rymer Liriano are all recovering from elbow surgery. Kelly, 24, began throwing live batting practice on March 13. Wieland, also 24, was slated for another procedure on his elbow but vowed to return before the All-Star break. After going 6-for-18 early in Spring Training, the 22-year-old Liriano was optioned to Double-A San Antonio.
John Parker is an editor for MiLB.com. This story was not subject to the approval of the National Association of Professional Baseball Leagues or its clubs.
View More