Pagnozzi's homers back Sounds' Nelson
Veteran catcher produces in latest solid start by Brewers top prospect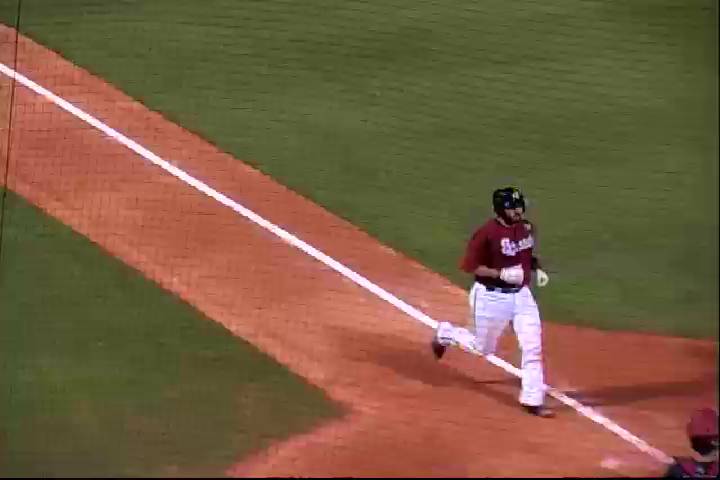 By Josh Jackson / MiLB.com | July 3, 2014 12:40 AM ET
Nobody ever accused catcher Matt Pagnozzi of not doing enough to make his batterymate comfortable.
Pagnozzi homered twice -- sending two balls off Greer Stadium's guitar-shaped scoreboard in left field -- and threw out two basestealers in support of top Brewers prospect Jimmy Nelson as Triple-A Nashville blanked visiting Memphis, 5-0, on Wednesday.
The 31-year-old backstop got an earful about his teammates after the long homers.
"They joke around about it all the time, whenever anybody hits one off the guitar," he said. "They were saying, 'Is that all you got?' I said, 'Yeah, unless the pitcher throws harder, because that's about all I've got.'"
Pagnozzi went 3-for-4, homering twice off Redbirds starter Tyler Lyons -- one in the fourth inning and the other in the sixth.
"There wasn't a whole lot of height on the first one. I was talking to the ball a little, telling it to get up," he said. "[The second one] was just a matter of a hitter's count, and it comes down to getting your pitch.
"I think it was a changeup and it was a little bit elevated. That always helps, but he threw me one in that first at-bat and got me out with a little one-hopper back to him. I'm not sure the [sixth-inning changeup] was where he wanted it though."
Both of Pagnozzi's long balls ended up with the same fan.
Both @MattPagnozzi home run balls. Great night at the plate for Pags. @nashvillesounds pic.twitter.com/Hkz6VBLM9e

- Brent Milam (@bmilam7) July 3, 2014
The Sounds have won six in a row, while the Redbirds are on a seven-game slide. Nelson (10-2) has been on a streak of his own -- one that's virtually season-long. The victory keeps him atop the heap in all three pitching Triple Crown categories: he's tied with Iowa's Kyle Hendricks with 10 wins and leads outright with a 1.56 ERA and 110 strikeouts.
"He was throwing all of his pitches, moving his fastball around in the zone, up and down and in and out," Pagnozzi said. "He was throwing his slider for strikes early and burying it late and he was throwing his changeup like that as well. It makes it really tough. He's got electric stuff."
Memphis threatened in the first, when rehabbing Cardinals second baseman Kolten Wong led off with a single and stole second and Scott Moore was hit by a pitch with one out. But Nelson got second-ranked St. Louis prospect Stephen Piscotty to ground into an inning-ending double play.
In the fifth, Pete Kozma reached on an error by Nashville second baseman Pete Orr, but Pagnozzi caught him stealing.
"Errors are part of the game, but it definitely felt good to erase it," Pagnozzi said. "I'm sure [Orr] felt good about that, too."
Ed Easley followed with a ground-rule double, the only extra-base hit Nelson allowed.
"You've got to tip your hat to him. He took a pretty good pitch on a two-strike count the other way and tucked it in the line," Pagnozzi said. "That's the kind of thing they frustrate you with, but you've got to tip your cap."
In the seventh, Nelson yielded a leadoff single to Thomas Pham, but Pagnozzi caught him trying for second on a pitch that bounced in the dirt.
"I was fortunate to block the ball and keep it in front of me," Pagnozzi said. "He was doing what he's been taught to do, which is be aggressive on a ball in the dirt."
After issuing a two-out walk to Easley, Nelson gave the ball to Alfredo Figaro, who pitched 1 1/3 perfect innings. Jeremy Jeffress tossed a 1-2-3 ninth.
There was one area where Pagnozzi couldn't help Nelson. MLB.com's No. 65 overall prospect was 0-for-3 and is still searching for his first professional hit.
"Everybody's been trying to coach him along. He hit a couple balls tonight that were more about placement than anything else," Pagnozzi noted. "Wong made a great play on him up the middle, and [Nelson]'s not blessed with a lot of speed."
Josh Jackson is a contributor to MiLB.com. This story was not subject to the approval of the National Association of Professional Baseball Leagues or its clubs.
View More