Paredes plates eight in first career cycle
Royals third baseman smacks slam as Omaha routs New Orleans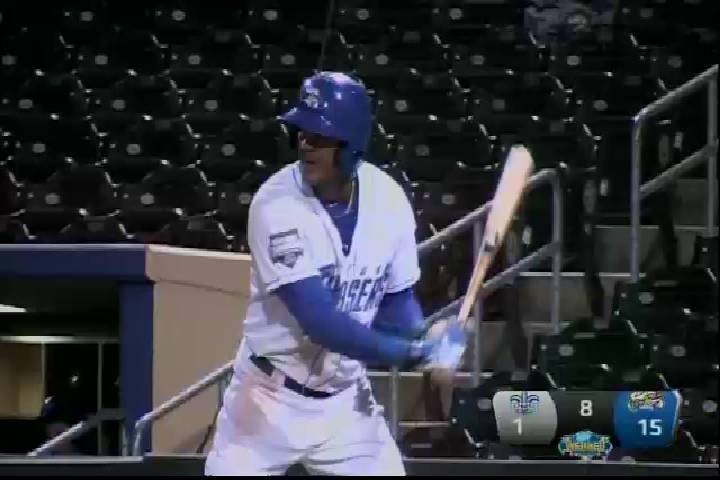 By Kelsie Heneghan / MiLB.com | May 13, 2014 1:57 AM ET
Jimmy Paredes loves the game of baseball, and Monday night, it loved him back.
The Royals farmhand hit for his first career cycle -- the first in Werner Park history -- and doubled his previous career high in RBIs with eight in Triple-A Omaha's 19-1 romp over New Orleans.
"That was awesome," he said. "Every day I go to play hard. I play hard, do the best I can. I put all my energy into the game. …You give love to your dad, your mom ... and to love the game is so important."
And to think, the feat almost didn't happen.
Heading into the bottom of the eighth inning, Paredes was sixth in line to bat. But with a 13-1 lead at the time, everyone in the home dugout was focused on one goal -- get their third baseman an opportunity to bat.
"I said, 'I want to hit this inning. You have to put me in this inning,'" he pleaded to his teammates. "My teammates say, 'You hit the ball in the gap, just stay at first.'"
Omaha got on base just about every way possible that frame. Paul Orlando reached on an error by shortstop Juan Diaz, Francisco Pena doubled to right field after a 13-pitch battle, Brett Eibner singled to right and Christian Colon walked. With one out and runners on first and second, it was Paredes' turn.
"That was awesome, he did a nice job," Paredes said of Pena. "They kept battling, they helped me out today."
The 25-year-old did not waste any time. On the second pitch he saw from reliever Jesus Sanchez, Paredes poked the ball to left and reached base safely on a cycle-completing single, scoring Eibner in the process for his eighth RBI of the night.
"I was far away, but once the dust settled at first, you could just see the smile and the relief," said Omaha manager Brian Poldberg.
The Dominican Republic native brought in two runs with a triple in the sixth, followed by an RBI double in the seventh, but his first hit of the game was perhaps the most exciting.
With two outs and the bases loaded, Paredes took the first pitch from reliever Jared Rogers over the right-field fence for the first regular-season grand slam of his seven-year career.
"That guy came from the bullpen. He threw hard and I was looking for something soft," he remembered. "He threw me a changeup and I said, 'Oh, candy!'"
The switch-hitter hit a grand slam during Winter Ball in 2012 and has had two other close calls for a cycle. In 2009, Paredes was a triple away with the short-season Staten Island and three years later with Houston's Triple-A affiliate Oklahoma City, he fell a homer shy of the milestone.
He doubled his previous career high of RBIs on his historic night. On July 16, 2012, he plated four for Oklahoma City's 16-6 win against his future team, Omaha.
Just eight days ago, Paredes was in his fourth Major League stint. The third baseman has bounced around among three different organizations, playing for the big league Astros three times over the past three years. But even though he has worn 10 different professional uniforms, Paredes hasn't lost his love for the game.
After going 0-for-4 over four games with the Royals, Paredes was sent down to Omaha. He didn't come back sulking, though, he returned smiling.
"When he came back, he actually drove down the day of a game and made it in time to play. He wanted to get in the game," Poldberg said. "He always has a smile on his face and always wants to play."
While Paredes said the game time temperature was low -- a chilly 47 degrees -- the energy in the Omaha dugout was high from the start.
Tallying 20 hits, each batter in the Storm Chasers lineup collected a hit, with Orlando and Colon -- the Royals' No. 15 prospect -- each chipping in three knocks. Center fielder Orlando also plated three runs, while right fielder Eibner walked three times and led the team with five runs scored.
"We got some big walks and we got some big two-out RBIs," the manager said. "We got a lot of two-strike hits today. A lot of guys battled and hopefully it will relax them and get them ready for tomorrow."
Aaron Brooks (2-1) pitched six shutout innings for the home team, allowing five hits and three walks while striking out four.
New Orleans starter Matt Montgomery (0-3) was tagged with four runs on seven hits over 3 1/3 frames before four different relievers completed the game for the Zephyrs.
Kelsie Heneghan is a contributor to MiLB.com. Follow her on Twitter @Kelsie_Heneghan. This story was not subject to the approval of the National Association of Professional Baseball Leagues or its clubs.
View More