Parmelee's blast gives 'Riders Triple-A title
Yanks infielder earns National Championship MVP kudos via long ball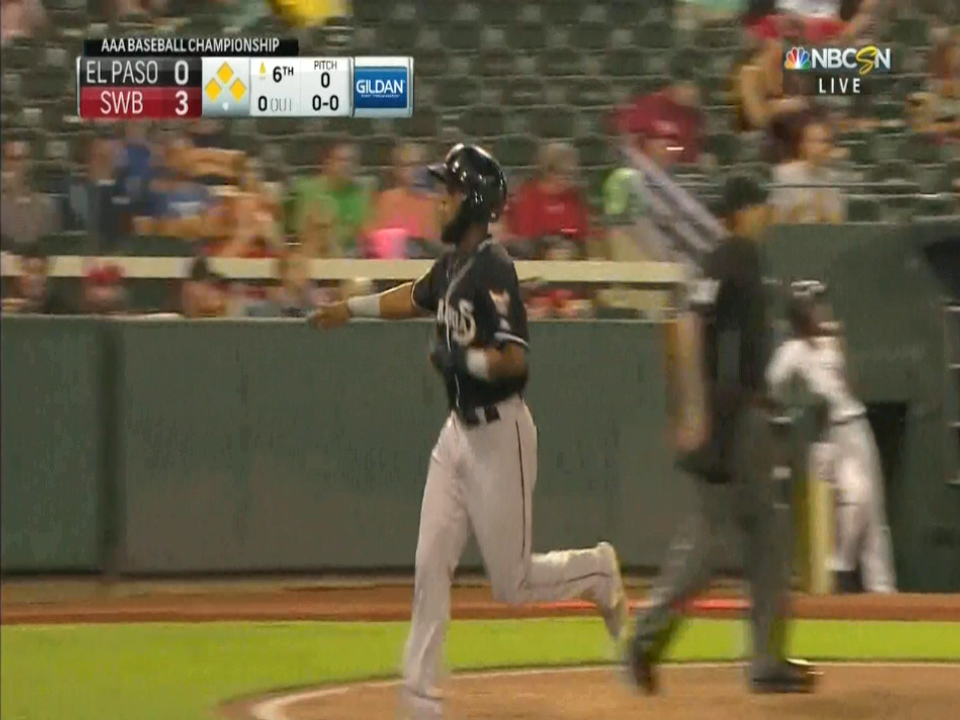 By Kelsie Heneghan / MiLB.com | September 21, 2016 12:12 AM
MEMPHIS, Tenn. -- In a game headlined by 2013 first-rounders Clint Frazier and Hunter Renfroe, it was an earlier first-round pick who stole the show.
Propelled by Chris Parmelee's three-run homer in the first inning, Scranton/Wilkes-Barre topped El Paso, 3-1, to win the Triple-A National Championship.
"Extremely special, this is the first championship I've won in Minor League or professional baseball," the game's MVP said. "These guys are one of a kind. It's a special group over there, our coaches, our manager, Al Pedrique. He's done a fantastic job and definitely one of the best managers I've ever had."
Parmelee stepped to the plate in the first inning following singles by Mark Payton and Frazier -- the Yankees' top prospect -- to start the game. The California native then ripped a 2-2 offering from Walker Lockett to a grassy area beyond the right-field fence for his first professional postseason long ball.
"I didn't know if it was going to go fair or foul. Once it cleared the fence, little did I know that those would be the only runs that we would score. I expected us to put up three or four more," the 28-year-old said. "But sometimes that's just the way it goes. It was definitely a team win today, though."
Parmelee, who was selected as the 20th overall pick in the 2006 Draft by the Twins, has spent the past six seasons between Triple-A and the Majors. The first baseman was signed by the Yankees on Feb. 23 and went up to New York a couple times during the regular season.
In 64 games with the RailRiders, Parmelee hit .248 with 11 homers and 29 RBIs.
"We lost some key players," Pedrique said. "But I'm glad the guys who came in -- some guys from Double-A, some guys (who) stuck with us from the beginning -- played well, got an opportunity to become an everyday player and they did a great job."
With top prospects Gary Sanchez, Aaron Judge, Tyler Austin and others going to the Bronx and International League MVP Ben Gamel traded to the Mariners, veterans such as Parmelee and Pete Kozma stepped up en route to winning the Governors' Cup.
Parmelee and Frazier notched another single apiece while Yankees' No. 23 prospect Jake Cave collected two hits and Kozma and Jonathan Diaz both added a knock as the RailRiders became the first International League team to win the national title since 2011.
Gildan® Triple-A National Championship Game History
| Year | Stadium | Location | Score | Winner | Runner-Up |
| --- | --- | --- | --- | --- | --- |
| 2006 | AT&T Bricktown Ballpark | Oklahoma City, OK | 5-2 | Tucson Sidewinders | Toledo Mud Hens |
| 2007 | AT&T Bricktown Ballpark | Oklahoma City, OK | 7-1 | Sacramento River Cats | Richmond Braves |
| 2008 | AT&T Bricktown Ballpark | Oklahoma City, OK | 4-1 | Sacramento River Cats | Scranton/WB Yankees |
| 2009 | AT&T Bricktown Ballpark | Oklahoma City, OK | 5-4 | Durham Bulls | Memphis Redbirds |
| 2010 | AT&T Bricktown Ballpark | Oklahoma City, OK | 12-6 | Columbus Clippers | Tacoma Rainiers |
| 2011 | Isotopes Park | Albuquerque, NM | 8-3 | Columbus Clippers | Omaha Storm Chasers |
| 2012 | Durham Bulls Athletic Park | Durham, NC | 10-3 | Reno Aces | Pawtucket Red Sox |
| 2013 | Coca-Cola Park | Allentown, PA | 2-1 | Omaha Storm Chasers | Durham Bulls |
| 2014 | BB&T Ballpark | Charlotte, NC | 4-2 | Omaha Storm Chasers | Pawtucket Red Sox |
| 2015 | Southwest University Park | El Paso, TX | 7-0 | Fresno Grizzlies | Columbus Clippers |
| 2016 | AutoZone Park | Memphis, TN | 3-1 | Scranton/Wilkes-Barre RailRiders | El Paso Chihuahuas |
New York's No. 19 prospect Jordan Montgomery got the start and eventually the win, working around a run on six hits without a walk in five innings. Johnny Barbato and Phil Coke combined for three perfect frames and Giovanny Gallegos spun a 1-2-3 ninth to seal the championship.
"Getting here is huge," Pedrique said. "It was a great year, it was a great team effort, starting at the top, down to all the players who came to our team. It was amazing."
Kelsie Heneghan is a contributor to MiLB.com. Follow her on Twitter @Kelsie_Heneghan. This story was not subject to the approval of the National Association of Professional Baseball Leagues or its clubs.
View More