PCL notes: Ahmed finds sharing is good
Aces prospect flourishing while rotating infield jobs with Gregorius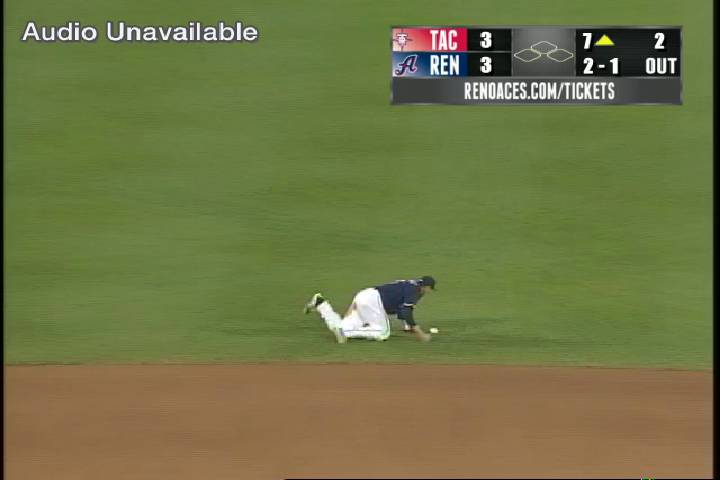 By Chris Jackson / Special to MiLB.com | May 26, 2014 10:00 AM ET
Nick Ahmed entered this season with the Reno Aces with a reputation as an above-average defensive shortstop.
The only problem was another above-average defender at the same position, Didi Gregorius, ended up with Reno at the end of Spring Training.
The solution that the D-backs came up with was for Ahmed and Gregorius to alternate between second base and shortstop.
So far, so good for both the players and the Aces.
"It's been fun," said Ahmed, who is ranked as Arizona's No. 18 prospect. "It's been a learning experience. … As of late, I've been playing more shortstop than second base. Early on, we were going back and forth, basically rotating every series. It was good to get some experience at second base and learn the position, get comfortable over there."
Not only has Ahmed managed to excel defensively while switching between two positions, but he has also managed to belie his reputation as a player with a questionable bat.
Through 46 games, Ahmed has hit .291/.384/.345 with one home run and 17 RBIs. His ability to get on base has been particularly impressive. Ahmed has drawn 20 walks while striking out 23 times.
"A lot of it is comfortability, trusting in my plan and preparation," Ahmed said. "Those are two big things. I'm comfortable with what I'm doing.
"I've worked really hard with my hitting coach, Greg Gross. He's made some really good suggestions that have helped me out a lot. Just kind of small things that have turned big results. Just going up to the plate with a clear mind, being aggressive up there and letting the rest take care of itself."
Ahmed only hit .236/.288/.324 last season with Double-A Mobile, so the improvement has been noticeable. He said it does have a lot to do with gaining more experience.
"The more at-bats you get -- this is my third full season now -- you just start to learn what works for you," Ahmed said. "That may be a better way of saying it. You go up there every at-bat and try to stick with your plan, no matter what the pitcher does. You may have to adjust a little bit here and there, depending on how the pitcher throws you. But you try to stick with your plan. As you get older and you get more at-bats, it becomes easier and easier to get."
Ahmed was acquired by the D-backs from the Braves on Jan. 24, 2013, as part of the multi-player deal that sent Justin Upton to Atlanta.
"It was a little crazy at first, just getting traded," Ahmed said. "Coming over, not knowing anyone, having to learn a whole new organization, a new coaching staff. [But] the organization has been great -- they've treated me and everyone else with respect. [I've] just gone out and done my job. It's been a good organization. Just like the Braves -- they bring up guys through their system to perform in the big leagues."
In brief
Parked in right: Colorado Springs slugger Kyle Parker moved from left field to first base last season but has largely found himself in right field this year. Wherever he plays, Parker has kept hitting to the tune of .283 with five home runs and 29 RBIs.
No. 1 and done: Brewers' top prospect Jimmy Nelson earned his first Major League callup this weekend. Nelson went 5-1 with a 1.71 ERA in nine starts for Nashville, striking out 58 batters in 58 innings.
Matter of relief: Albuquerque right-hander Matt Magill has made the switch from starter to reliever. The Dodgers' No. 12 prospect is 3-2 with a 5.04 ERA overall in 11 games (eight starts), but he has allowed 27 walks in 44 2/3 innings.
Chris Jackson is a contributor to MiLB.com. This story was not subject to the approval of the National Association of Professional Baseball Leagues or its clubs.
View More