PCL notes: Appel adjusting in Fresno
Astros No. 2 prospect enjoying success since promotion from Double-A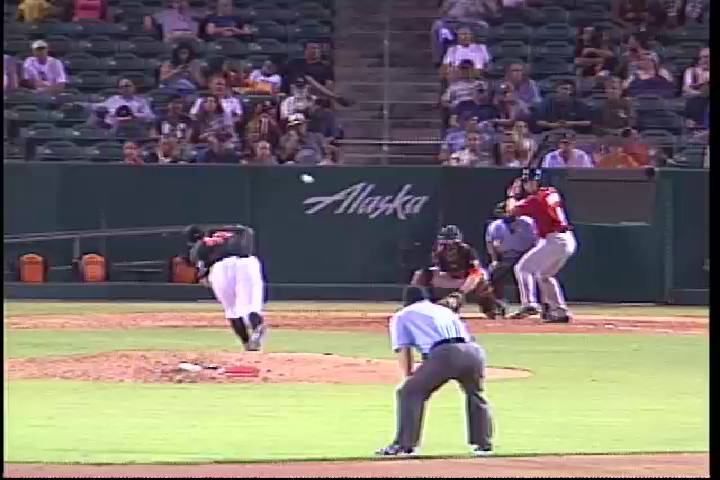 By Chris Jackson / Special to MiLB.com | August 17, 2015 10:00 AM
Mark Appel has been pitched in a hitters' league before.
The Astros' No. 2 prospect went 2-5 with a 9.74 ERA in 12 starts at Class A Advanced Lancaster last season in the California League. He righted the ship somewhat by going 1-2 with a 3.69 ERA in seven games, including six starts, for Double-A Corpus Christi.
This season, the right-hander went 5-1 with a 4.26 ERA in 13 starts for the Hooks to earn a promotion to Fresno. So far, though, there has been no repeat of his 2014 woes as Appel has gone a respectable 2-2 with a 4.00 ERA in eight starts.
"[The hitters] are pretty different here," Appel said of the PCL compared to those in the Cal League. "You can get ahead with the fastball, sometimes right down the middle, because hitters have an approach at the plate, they're looking for something else. Guys have a much more advanced approach here. When you make a mistake, you know you're going to hit a lot harder.
"Being able to have success here speaks to the development and the work that I've put in for the last year or so since leaving Lancaster."
Appel has been particularly dominant against Albuquerque (Rockies). He struck out 18 over 15 innings across starts on Aug. 1 and Aug. 12. In the latter outing, Appel needed just 91 pitches to get through eight innings, allowing one run on four hits and a walk.
"I might have had one or two others that were similar in efficiency, but being able to go eight innings was the longest I've gone this year," Appel said. "I had one or two long innings, but I was able to cancel those out with the quick innings."
The only run Appel allowed was on Angelys Nina's RBI triple in the fifth inning of the Grizzlies' 8-2 victory. He then changed strategy and not only stranded Nina at third but went on to throw three more scoreless frames.
"I knew I just really needed to bear down there in the fifth with a runner on third and less than two outs," said Appel, who began to use his slider and changeup more.
Albuquerque's Wilin Rosario had touched Appel for three hits, including a solo homer, in the Aug. 1 start in Fresno. He was 0-for-4 last week after Appel made the necessary adjustments.
"When you prepare for a game, he's a guy that you want to work around," Appel said. "Unfortunately in my last game, he comes up with nobody on and hits a home run. So just being able to attack him with my best stuff, he hit all my pitches last time I faced him, [so this time] I was able to get him with a fastball up. He saw the ball pretty well down a couple weeks ago."
In brief
Secret of Nimmo: Mets No. 3 prospect Brandon Nimmo has adapted quickly to the PCL since his promotion from Binghamton to Las Vegas. The 51s center fielder has hit .292/.426/.417 while drawing more walks (11) than strikeouts (seven).
Okert is OK: Giants No. 9 prospect Steven Okert has managed to endure the PCL so far. The left-handed reliever is 4-3 with a 3.83 ERA and one save for Sacramento, striking out 60 batters over 51 2 /3 innings.
Round Rocked: Slugger Joey Gallo showed his power (five homers) and his propensity for striking out (43 times in 87 at-bats) with the Rangers earlier this season. It's been more of the same at Round Rock, where Gallo has 13 homers and 65 strikeouts in 155 at-bats.
Chris Jackson is a contributor to MiLB.com. This story was not subject to the approval of the National Association of Professional Baseball Leagues or its clubs.
View More