PCL notes: Borenstein settles in with Bees
No. 11 Angels prospect shakes off critics, finds his stride at Triple-A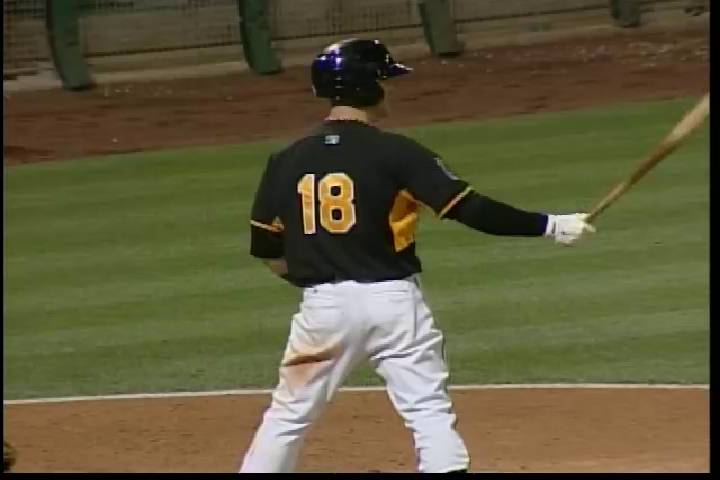 By Chris Jackson / Special to MiLB.com | June 9, 2014 10:00 AM ET
Outfielder Zach Borenstein burst onto the scene as a prospect last season.
His numbers (.337, 28 homers, 95 RBIs, 1.034 OPS) were downright ridiculous. Those numbers, however, came with a major caveat in the eyes of many.
Borenstein was playing for Inland Empire in the Class A Advanced California League, a circuit known for inflated offensive numbers. He got to spend an entire season and then offseason hearing about how he was nothing but a product of his environment.
The 23-year-old has shrugged off those critics this season and made the rapid jump from Double-A Arkansas to Triple-A Salt Lake.
"Nothing, nothing at all," Borenstein said of the amount of thought he's given to the criticism. "Those reports that come out on you all the time, good or bad, I don't invest anything in because ultimately those aren't the people making big decisions for you. Obviously the Angels are seeing something and trying to develop me. I appreciate that.
"If someone says, 'Oh, it's the Cal League,' or it was a good season or it wasn't, whatever. There's really not much you can invest in that. You just go out there and control what you can control and do your best."
Borenstein, ranked as the Angels' No. 11 prospect, started off just 3-for-21 at Salt Lake, but he's gone 11-for-31 since to give himself a .269 average and seven RBIs through 14 games.
"I started off slow, which was tough just because you come to a new team … maybe there's certain expectations [and] you want to do really well and when you don't, it's a little bit tough," he said.
Borenstein said he just had to slow the game down and refocus.
"Now I feel like I'm just going out there and playing my game, just playing baseball," he said. "I don't have to worry about being in Triple-A or that I have a new [coaching] staff to impress. I'm just going out there and worrying about each at-bat one at a time.
"The first few days I wasn't seeing the ball too well. The higher up you go, I'm learning real quick that when you miss your pitch or a couple pitches in the at-bat you shouldn't, you fall behind in the count and it's tough to do anything with these guys on the mound who really know what they're doing."
An Illinois native, Borenstein said he also enjoys being back in the drier air out West, as opposed to the conditions at Arkansas.
"This is more my style, I guess," he said. "Arkansas was humid to say the least. It was hot, it rained a lot. The weather conditions were tough. The ball didn't go anywhere in that air.
"But I'm glad to be out here. The ball carries well at these parks. A lot of my game is hitting the ball into the gaps and trying to go the other way."
In brief
The Dwyer is recast: Omaha left-hander Chris Dwyer came off the disabled list June 1 and was moved from the rotation to the bullpen. In his first outing, he gave up three runs in three innings, but he looked better Saturday as the southpaw tossed 1 2/3 scoreless frames.
Up and down: Round Rock lefty Ryan Feierabend (6-5, 3.91 ERA) is one of the only Express pitchers not to be called up yet by the injury-ravaged Rangers, largely due to his inconsistency. In his last six starts, Feierabend gave up six runs, then one, then five, then three, then four and then none in seven innings Friday.
Rough return: Las Vegas right-hander Noah Syndergaard, the Mets' No. 1 prospect, came off the disabled list (strained elbow) Thursday and promptly got injured again. Syndergaard suffered a sprained left shoulder while trying to cover home plate on a wild pitch. He will sit out another five to seven days.
Chris Jackson is a contributor to MiLB.com. This story was not subject to the approval of the National Association of Professional Baseball Leagues or its clubs.
View More