PCL notes: Foltynewicz gets less faulty
No. 5 Astros prospect finds footing after Spring Training letdown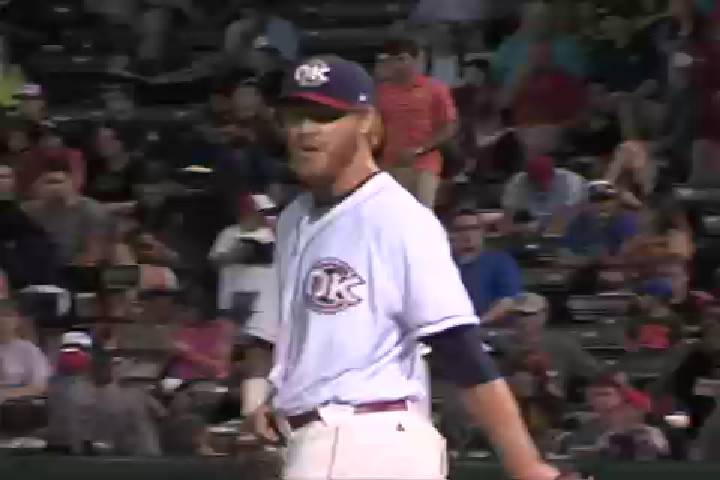 By Chris Jackson / Special to MiLB.com | June 2, 2014 10:00 AM ET
Players come up with all sorts of reasons for why they struggle early in the season. Sometimes it's mechanical, sometimes it's about making subtle adjustments, sometimes they claim not to be struggling at all, no matter what the numbers say.
And sometimes they can be quite a bit more honest about why they were scuffling.
"You know, truly, I think your main goal in Spring Training is to just make the [big league] ballclub," right-hander Mike Foltynewicz said. "It's a little frustrating, and it puts a dagger in your confidence when you get sent down. I think I was just trying to let a little frustration out those first two, three or starts."
Houston's No. 5 prospect started off 1-1 with a 7.20 ERA (12 runs in 15 innings), making two starts and three relief appearances as part of the tandem starter system used at Oklahoma City.
But since giving up two runs in three innings of relief April 19 at Memphis, Foltynewicz has been exclusively starting, never giving up more than two runs in any outing. He is now 4-3 with a 3.40 ERA, striking out 55 batters in 55 2 /3 innings.
"I've started using off-speed a lot more the last four or five games," Foltynewicz said. "I'm realizing I can't blow the ball by everyone. So I'm just using all my pitches right now and trying to eat up as many innings as I can for the bullpen."
Armed with a fastball that can crack triple digits, Foltynewicz said he has learned when to go full-bore and when to pull it back a bit.
"If I pump it down a little bit, down to 93 or 95, I get a more strikes than just letting it go," he said. "But I've been learning how to pitch this year instead of throwing. Last year they sat me down and had that talk. I have that upper-90s fastball in my back pocket if I ever need it. So I'm just going out there and trying to throw strikes, get ahead of hitters."
Foltynewicz also sports a spiked curveball, taught to him by Astros pitching coach Brent Strom this spring, and a changeup.
"I've been using [the curve] a lot. Early in the year, I was just trying to make the ball spin instead of just trying to throw it," Foltynewicz said. "The curveball is coming along pretty well actually."
Oh, and there has been one other area of improvement for Foltynewicz this season. Stadium announcers are finally learning how to pronounce his last name.
"It's been pretty good the last couple of starts," he said with a laugh. "Round Rock kind of butchered it up a little bit. But other than that, people are starting to say it right. It's cool, but it's funny when teams have trouble saying it."
In brief
No. 1 with a bullet: Top Marlins prospect Andrew Heaney has looked dominant in his first two starts for New Orleans. The lefty has allowed just one run on eight hits in 11 innings, striking out 14 without giving up a single walk.
Little dog, big bite: Another player who has caught fire since moving up to the PCL is El Paso shortstop Jace Peterson. San Diego's No. 7 prospect has hit a robust .354 with a .455 on-base percentage, two home runs and 19 RBIs in 24 games.
Bullpen ace: Right-hander Matt Stites has made himself right at home in Reno's bullpen since being promoted from Double-A Mobile in early May. Arizona's No. 8 prospect has eight saves in 11 games while allowing just two unearned runs over 10 1/3 innings of work.
Chris Jackson is a contributor to MiLB.com This story was not subject to the approval of the National Association of Professional Baseball Leagues or its clubs.
View More