PCL notes: Syndergaard rounding out game
Top Mets prospect admittedly struggled early with 51s expectations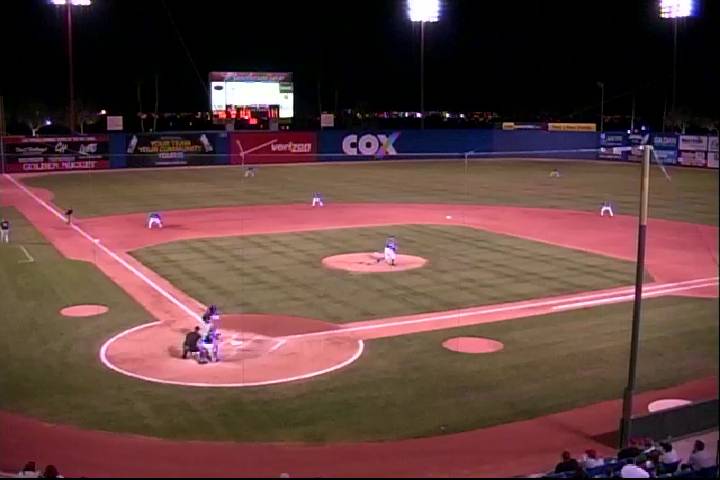 By Chris Jackson / Special to MiLB.com | July 7, 2014 10:00 AM ET
Noah Syndergaard came into the 2014 season on a wave of hype and promise.
The Mets' top prospect, just 21 years old, was set up as the ace of the Las Vegas 51s pitching staff, only a phone call away from Queens.
Then reality set in as the rigors of pitching in the Pacific Coast League as one of its youngest players quickly caught up to the right-hander.
"I think coming into the season, there was a lot of expectation for me," Syndergaard said. "People thought I'd be in the big leagues by now. I think that got into my head a little bit. Right now I'm trying to take into account that I'm here now and there are things I need to work on. There are things I need to get better at. Once the Mets decide I'm ready, hopefully I'll get that call."
So far, it has been a struggle for Syndergaard, who sports a 7-4 record and a 5.31 ERA in 16 starts. He has struck out 82 batters in 79 2/3 innings while allowing 23 walks and 97 hits, including nine home runs. Opponents are hitting .303 against him.
"I feel like some hitters are getting too comfortable against me," he said. "It doesn't matter how good your stuff is if they're comfortable in the box."
Syndergaard has a plus fastball that can reach 98 mph, with a good curveball and developing changeup. The problem, he said, is that he has been using one of his pitches too often.
"Right now, what the Mets are really harping about is for me to not be too fastball-oriented," the Mansfield, Texas native said. "I threw way too many fastballs. Once they see the fastball four times in a row, they're going to time it up eventually. I think that's what the hitters are doing here. I'm playing against guys who are professional hitters who have been in the big leagues before. They're waiting up there and they're taking a really good approach, looking for a certain pitch."
Syndergaard said he is working on becoming more unpredictable by mixing up his pitches. And it worked out for him Sunday against the Albuquerque Isotopes as he allowed one run on six hits over seven innings for the win. He struck out eight and didn't issue any walks.
"Last year, I thought I was becoming more of a complete pitcher, but this year kind of really humbled me and opened my eyes a little bit," he said. "I'm thinking this will [help me] advance to next level. I'm working to become a more well-rounded pitcher."
One thing Syndergaard will not do is blame the hitter-friendly stadiums of the PCL for his struggles.
"You've just got to be able to handle adversity," he said. "That's something totally out of my control. The only thing I can control is pitching, basically. If I locate the ball down in the zone, pitch to contact, get ground balls, you can't really get hurt. When you start elevating pitches, that's when hitters start putting the ball in the air, which can hurt you."
In brief
Asher to ashes: Oklahoma City right-hander Asher Wojciechowski is another prospect struggling, though he missed the start of the season due to injury. In five starts since returning, the Astros' No. 13 prospect has gone 0-1 with a 5.75 ERA, allowing 27 hits and eight walks in 20 1/3 innings.
Not easy in Big Easy: New Orleans lefty Adam Conley has been up and down since coming off the disabled list June 22. In two starts, the Marlins' No. 4 prospect has allowed one run in 11 1 /3 innings, but the start in between saw him give up seven runs in 4 2 /3 innings.
Grizzly goings-on: Fresno lefty Edwin Escobar is another top prospect who has struggled for most of the season. The Giants' No. 2 prospect has gone 3-8 with a 5.31 ERA, allowing 119 hits (15 homers) in 100 innings.
Chris Jackson is a contributor to MLB.com. This story was not subject to the approval of the National Association of Professional Baseball Leagues or its clubs.
View More