PCL posing no problems for Aces' Weber
Twelve games after callup, D-backs prospect boasts .455 average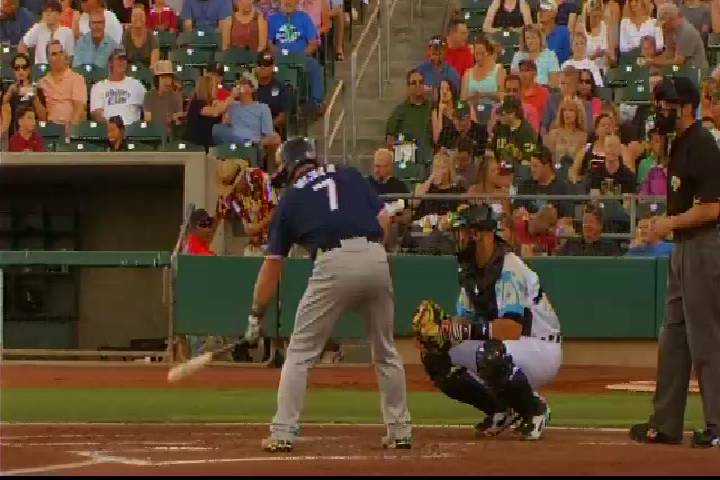 By Josh Jackson / MiLB.com | July 20, 2014 2:25 AM ET
A funny thing happened after Garrett Weber climbed from Double-A to Triple-A on July 1: hitting got easier for him.
"There's not a huge difference in stuff, not that the fastballs and curveballs are much better," Weber said. "It's more that [pitchers are] more consistent around the strike zone. And when guys are around the zone more like that, to some extent it makes it a little more easy to hit, gives you a little more confidence."
The D-backs prospect went 3-for-4 with three RBIs and missed the cycle by a triple on Saturday night in Reno's 7-1 victory over visiting Tacoma.
Weber is batting .455 with three homers, two triples, four doubles and 13 RBIs through his first 12 Pacific Coast League games.
"Obviously, I feel pretty good," he said. "It's all about approach and getting good pitches to hit and not missing them. I'm being patient and waiting for that pitch that I want."
Batting leadoff for the Aces, Weber grounded out on the second pitch of the game from Rainiers starter Jordan Pries (6-6). He faced the 24-year-old right-hander twice more, though, and saw six pitches in each of those at-bats.
"I like to take guys deep into the count. I do think hitters get the advantage the deeper you go into a count," said the 25-year-old middle-infield prospect.
"I say that, but at the same time I do like swinging early and being aggressive. It's mostly that I like looking for that one pitch, and when I get that fastball or curve where I want it, I've been able to hit it right now."
Weber doubled off Pries in the second, then homered in the fourth. The roundtripper came with two outs and plated Blake Lalli and Argenis Diaz after Weber put up a real fight to hit it.
"That fastball, I wasn't getting it where I wanted it. It was just off the plate for me, and in the middle of that at-bat, I was sitting on a breaking ball twice in a row and he threw fastballs down," he said.
"The 3-1 fastball just missed and the catcher went out on 3-2. I knew they were talking about what to throw and I knew I had to get every pitch. Runners in scoring position and a 3-2 count, I knew I had to stay on everything."
The right-handed hitter got a fastball over the plate and sent it to the opposite field over the fence in right.
In the seventh, Weber faced reliever Andrew Carraway with one out. With two big hits under his belt and Reno holding a six-run lead, the California native was "real confident" that he'd end up with another base knock.
"The big thing is -- and I know this first-hand -- to never settle for 2-for-3 or 2-for-4," Weber said. "You always want that third or fourth hit because at the end of the season, you always think, 'A couple more hits, I'd have hit .300 or .320 instead of .319.'"
He again saw six pitches in the at-bat, slapping the last one into left field on a soft line.
Alfredo Marte also had three hits, including his 11th homer, for the Aces.
Mark Serrano (2-0) allowed a run on five hits and a walk with one strikeout over five innings in his first start of the season after 13 relief appearances for Reno and one for Double-A Pensacola.
Jesus Montero doubled in a run for Tacoma, giving him 24 RBIs in his last 13 games.
Josh Jackson is a contributor to MiLB.com. This story was not subject to the approval of the National Association of Professional Baseball Leagues or its clubs.
View More