PCL Preview: Enter the Chihuahuas
Triple-A circuit features new team, new park, new sluggers in 2014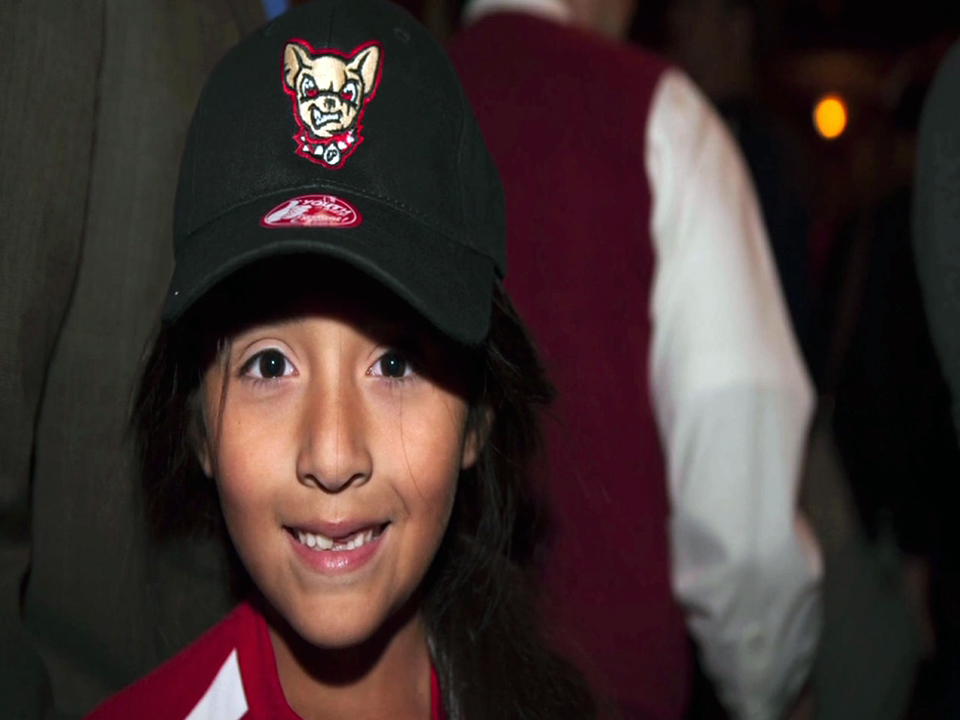 By John Parker / MiLB.com | March 31, 2014 11:30 AM
The Padres' Triple-A affiliate has spent the past several years bouncing around the country. After 10 seasons as the Portland (Ore.) Beavers, the team moved to Tucson's Kino Stadium in 2011, becoming the Tucson Padres. When plans fell through to build a stadium for the club in Escondido, Calif. -- just 32 miles north of Petco Park in San Diego -- the team instead moved to El Paso, Texas and became the Chihuahuas.
In charge of the team's debut season preparations is general manager Brad Taylor, who held the same position with the Class A Bowling Green Hot Rods for five years after spending nine seasons with the Double-A Trenton Thunder. The El Paso club has conducted a team-naming contest (the other four finalists, chosen from among over 5,000 submissions, were the Aardvarks, Buckaroos, Desert Gators and Sun Dogs), enticed founding corporate partners like PepsiCo and Southwest University and successfully built buzz about affiliated baseball's return to the region after a nine-year absence. (The El Paso Diablos played in the Double-A Texas League from 1974-2004.)
Before the team even played a game, the Chihuahuas received celebrity endorsements from such disparate sources as Pauly Shore and Cheech Marin.
"There's a committed local ownership group, and [MountainStar Sports president] Alan Ledford has had tremendous success elsewhere," said Taylor. "That, along with affiliated baseball at its highest level in one of the greatest stadiums in Minor League Baseball, is a perfect recipe for success."
Groundbreaking on Southwest University Park, which has a capacity of 9,500, took place last May 31. The goal of being ready for Opening Day proved slightly too optimistic -- the Chihuahuas will play their first four "home" games at their old park in Tucson before opening a new era of El Paso baseball on April 28 against the Fresno Grizzlies.
"We have one chance to do Opening Day right and we owe it to the community to make sure that first impression of every detail in the ballpark is unforgettable," said Ledford. "This is as much about the whole ballpark experience as it is about playing baseball. April 28 will be worth the wait."
Boom time for Baez
Only one Minor Leaguer (Rangers prospect Joey Gallo) hit more home runs than the 37 taters by Javier Baez in 2013 -- and more than half of Baez's season was spent in the Florida State League, whose parks allow homers at a lower rate than any other full-season circuit. He led the Minors with 75 extra-base hits and 111 RBIs.
A shortstop with offensive numbers like that is guaranteed to make scouts drool. The ninth overall pick in the 2011 Draft, Baez reached Double-A at age 20 and made a strong impression this spring, clubbing five homers, before being reassigned to Minor League camp by the Cubs.
With 24-year-old Starlin Castro already manning shortstop in Chicago, the Cubs experimented with Baez at second base during Spring Training. Though he has solid range and a strong arm, Baez committed 44 errors in 123 games at short last season. Nevertheless, the slugger will open the season as Triple-A Iowa's starting shortstop.
"We're sending him down to play shortstop, and that's what we told him," Cubs manager Rick Renteria told MLB.com.
Baez is likely to do serious damage to ballpark environs and pitchers' self-esteem in the PCL. He generates tremendous bat speed with his violent swing, and though he needs to better recognize pitches, he's also a great bad-ball hitter. Last year then-Cubs manager Dale Sveum compared Baez to a young Gary Sheffield.
"I think he's made a lot of progress," Renteria told MLB.com. "One of the things we talked about is to make sure he continues to work on his defense, continue to go down there and put together some good at-bats, try to get on base a little more through the process and just go out there and be a professional.
"He's been hustling and busting his rear end out here this spring and he's looked good."
The height and the humidity
It's about 2,100 miles as the baseball flies from Tacoma's Cheney Stadium (elevation: 325 feet) to Zephyr Field (elevation: 0 feet) in Metairie, La. Roughly midway between them is Security Service Field in Colorado Springs (elevation: 6,531 feet).
All three parks are home to teams in the Pacific Coast League, whose 16 clubs sprawl across a vast swath of the American West and play in a variety of climates and conditions -- some of which are more amenable to baseball than others.
The circuit has long been known for inflated offense and home-run statistics, particularly in high-elevation environments such as Colorado Springs, Albuquerque, N.M. (5157 feet) and Reno, Nev. (4498 feet). All three of those parks, plus the league's new El Paso, Texas (3750 feet) entrant, will feature humidors this season in an attempt to both keep balls in the park and present prospects with more realistic conditions akin to those in the Majors.
Game balls are stored in the humidor, which is set at 70 degrees and 50 percent relative humidity, for at least two weeks before being "first pitch" ready. Once baseballs are rubbed with mud and ready for game use, they are returned to the humidor for at least two days before the game.
Colorado Springs has seen a 31 percent drop in long balls since installing its humidor in 2012 and home runs in Albuquerque fell 28 percent last season, its first with a humidor.
Around the horn
With ground already broken at Sulphur Dell, 2014 will be the Nashville Sounds' last season at Greer Stadium. ... After being named pro baseball's Field of the Year by the Sports Turf Managers Association last season, Albuquerque's Isotopes Park is adding a videoboard that will have the largest HD10 LED display in the Minors. ... The Fresno Grizzlies will continue to celebrate their community with their Farm Grown program, which this year will feature an agriculture zone inside Chukchansi Park and "Home Grown Gnome" giveaways throughout the season. ... PCL stalwart Tony DeFrancesco, who guided Sacramento to three championships between 2003 and 2007, has been diagnosed with cancer and will miss the start of the season. Now Oklahoma City's manager, DeFrancesco is expected to make a full recovery and hopes to join the RedHawks in May. ... Despite a 70-74 record last season, the Omaha Storm Chasers won their second PCL title in three years and topped Durham in the Triple-A Baseball National Championship. They'll be without manager Mike Jirschele for the first time since 2002 as they try to repeat in 2014. Jirschele has joined the Royals coaching staff after 14 seasons in Omaha, which will be led by former Northwest Arkansas manager Brian Poldberg.
Last things last
Here's a look at some significant lasts around the Pacific Coast League.
Last season's Championship Series: Omaha over Salt Lake in four games MiLB.com coverage »
Last perfect game: Brandon Hynick, seven innings, Colorado Springs vs. Portland, June 30, 2009 MiLB.com coverage »
Last no-hitter: Jhoulys Chacin, Joel Peralta, Juan Rincon and Randy Flores, Colorado Springs vs. Oklahoma City, Aug. 18, 2009 MiLB.com coverage »
Last 200-strikeout pitcher: Juan Berenguer (220), Tacoma, 1979
Last cycle: Carlos Triunfel, Tacoma vs. Fresno, April 17, 2013 MiLB.com coverage »
Last three-homer game: Edgar Gonzalez, Iowa vs. Tacoma, Aug. 6, 2013 MiLB.com coverage »
Last 30-homer hitter: Mike Hessman (35), Oklahoma City, 2012
John Parker is an editor for MiLB.com. This story was not subject to the approval of the National Association of Professional Baseball Leagues or its clubs.
View More