Peraza collects three hits, two steals
Top Atlanta prospect reminding G-Braves coaches of a young Ichiro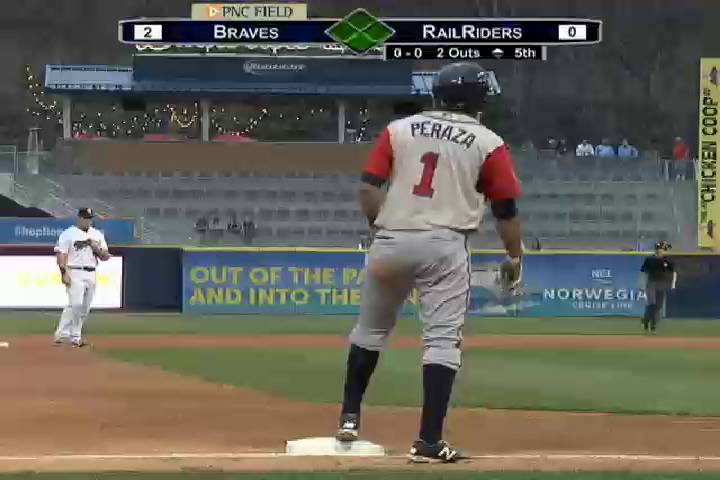 By Ashley Marshall / MiLB.com | May 5, 2015 11:14 PM
With his ability to hit, run and create mayhem atop a lineup, Atlanta Braves prospect Jose Peraza is starting to warm up and he's doing it in a way that reminds his hitting coach of a 10-time Major League All-Star.
Peraza went 3-for-4 with a triple and two steals in the Triple-A Gwinnett Braves' 3-1 win over the host Scranton/Wilkes-Barre RailRiders.
"He's a hitter that makes adjustments and he reminds me of a right-handed Ichiro when I first saw him in Seattle," said Gwinnett hitting coach John Moses, who spent seven of his 11 years as a big league outfielder with the Mariners and later coached in the same organization during Ichiro's first three years stateside.
"He has a knack of finding base hits. Nobody goes about their business like Ichiro does, because he is just so dedicated to what he does prior to the game and after the game. But he reminds me of him as a right-handed hitter, with Ichiro being a left-handed hitter. He has this ability to get infield hits and hitting the ball to all fields. He's fun to watch. He's now around that 90 at-bat range and he can catch fire with the best of them. That also reminds me of Ichiro because once he got going, he never stopped."
The outing raised the average of MLB.com's No. 38 prospect to a season-high .320, helped him record his 10th multi-hit outing of the season and gave him 10 hits in his past four games. Peraza has swiped nine bases in 10 attempts and four in his past three appearances, showing a similar kind of secondary threat like that posed by Ichiro, the 2001 American League MVP and Rookie of the Year, as well as a lifetime .317 hitter with 2,864 hits and 489 steals over 15 Major League seasons.
"He had another good game," said Moses, who served as the hitting coach for Class A Advanced Lynchburg in 2013 and who worked with Peraza at Double-A Mississippi in 2014. "He's really starting to come on. He was struggling a little bit early on in the season, but he's finding his way now at the Triple-A level. He's feeling comfortable and confident and he's putting together some good at-bats."
Moses attributed the 21-year-old's slow start -- four singles in his first six International League games -- to missing the end of the season with a strained hip flexor and choosing to rest instead of playing in the Venezuelan Winter League in the offseason.
"He didn't really know what to expect," Moses said of Peraza, who went 4-for-4 with a walk and season-high three RBIs on Sunday. "He had the opportunity to go to Major League camp this year, but he was a little bit overwhelmed. He started to play well in Minor League camp and he felt his way through it. Now he's finding his stride, putting together good at-bats and playing good defense at second base, which we're trying to get him to do."
Signed by the Braves as a non-drafted free agent in 2010, Atlanta's top prospect is getting his first look at Triple-A pitching this season. He hit .339 with 44 RBIs and 79 runs across two levels between Lynchburg and Mississippi last year after advancing from Class A Rome, where he played 114 South Atlantic League games in 2013.
"He's a guy that will hit at the top of the lineup and make things happen. Once he gets on base, he's a threat to steal second," Moses said of the Venezuela native, who takes Rosetta Stone classes several times a week to improve his English. "He's got his legs back which were not there in Spring Training. We're trying to get him to stay through the ball and work the alleys a little bit rather than trying to hit the ball through the three-four hole or to right field.
"He's really working on staying through the middle of the field and that is what we are doing in batting practice and in our early work sessions. We're all excited for him to get the call to the big leagues soon, but he's working hard every day and he's done a great job."
Braves designated hitter Joe Benson was 2-for-4 with two RBIs and third baseman Adonis Garcia extended his hit streak to five games but saw his average drop to .366. The 30-year-old Cuban has hit safely in 20 of 22 contests this season.
"I've been very impressed," Moses said of Garcia. "He can really hit. I wasn't sure what kind of player he was, but I had heard he was a good hitter. He's been hitting well in the four slot after [left fielder] Cedric Hunter and in front of [center fielder] Todd Cunningham. He has been a great asset to this ballclub."
Gwinnett starter Matt Wisler (1-3) allowed a run on five hits and a walk while striking out seven batters over 5 1/3 innings.
Scranton/Wilkes-Barre starter Kyle Davies (2-2) surrendered three runs on 10 hits over seven innings. He recorded three punchouts and did not walk a batter. Center fielder Slade Heathcott went 3-for-4 with a run at the top of the lineup to lift his average to .330.
Ashley Marshall is a contributor to MiLB.com. Follow him on Twitter @AshMarshallMLB. This story was not subject to the approval of the National Association of Professional Baseball Leagues or its clubs.
View More