Phillies Prospect Primer: Frankly Franco
Top hitter surges through Minors; Buchanan poised for breakout year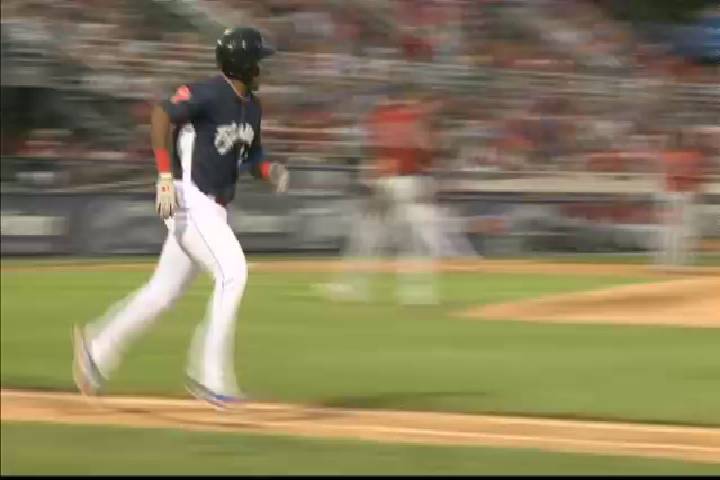 By Kelsie Heneghan / MiLB.com | March 31, 2014 10:00 AM ET
Some players are on the verge of stardom, others are entering a crucial phase of their development and still others are getting their first tastes of full-season ball. With the 2014 season approaching, MiLB.com takes a look at the most intriguing prospects from each MLB organization.
Shining Star: Maikel Franco, 3B
Maikel Franco has one Triple Crown to his name, and it won't be long until he has the opportunity to earn another at the Major League level. The power hitter led all Phillies farmhands with 31 homers, 103 RBIs and a .320 average after splitting time between Class A Advanced Clearwater and Double-A Reading last season. On top of that, he only struck out 70 times in his 541 at-bats.
"Those are big-time power numbers, it shows you that he's got great eye-hand coordination," Triple-A Lehigh Valley manager Dave Brundage said. "It is pretty impressive at 21 years old."
After seeing the 6-foot-1 third baseman during Spring Training, Brundage is most impressed with Franco's hands, both at the hot corner and at the plate. The Phillies have tested MLB.com's No. 26 overall prospect at first base -- as a possible backup to Ryan Howard -- but it is likely Franco will stay at third.
"He works really hard, he loves playing baseball and that's just a great guy to have in the clubhouse and a really good guy for team chemistry," said Jesse Biddle, Franco's teammate last season at Reading.
Breakout Prospect: David Buchanan, RHP
Over four seasons and five leagues, David Buchanan hasn't made any top prospect lists or won any year-end awards, but 2014 could be his year. Posting a 2.25 ERA in his first five spring appearances, the 24-year-old hurler has been considered a possible fill-in for senior circuit ace Cole Hamels, who will start the season on the disabled list.
"I think sometimes you get overlooked or underestimated, [and] he's taking it as a personal challenge," Brundage said.
Though the right-hander may not be ready to join the Phillies' rotation full time this season, getting his feet wet may work in his favor. The Georgia State product ended last season with six starts at Lehigh Valley, posting a 3.00 ERA with 22 strikeouts, and he will probably spend most of 2014 there.
"He's worked his tail off to get where he is at and taking no prisoners along the way," Brundage said. "I think he's pitching like there's no tomorrow and it really shows out there on the mound."
At the crossroads: Jesse Biddle, RHP
Jesse Biddle could fit into most categories; it just depends on the day -- and sometimes the inning. The right-hander began spring as an Opening Day roster hopeful, but was reassigned after giving up four runs on five hits over three innings in two appearances.
"Maybe he's not quite ready yet, but I think there's a learning process and I think there's a learning curve along the way," Brundage said. "Some of those things he's had to endure have made him a stronger player and person."
In 2012, the Philadelphia native led the Florida State League in strikeouts, but after contracting whooping cough and dealing with injuries, a hot-and-cold 2013 campaign with Reading followed. Through the ailments and rough patches, Biddle's potential was still evident as he earned a trip to the Futures All-Star Game and eventually his first invitation to big league camp.
Considered the Phillies' top pitching prospect, Biddle will take his time in the Minors to lengthen his starts and look to become more consistent on the mound with a decent fastball and above-average curve in order to be ready for a call from Philadelphia.
More to keep an eye on: With Chase Utley manning second base at the big league level, Cesar Hernandez will venture to the left side of diamond. Brundage plans to give the 23-year-old time at short and third this season. … While he had a wrist injury that cut his 2013 campaign midway through June, 20-year-old Roman Quinn managed to steal 32 bags in 41 opportunities in the South Atlantic League. Look for the switch-hitter to further capitalize on his speed in what -- barring other injuries -- should be his first full season. … The Phillies' first pick in the 2013 Draft, J.P. Crawford, got off to a strong start, hitting .308 with 32 walks in 52 games across the Gulf Coast and South Atlantic Leagues last season. The shortstop is likely to repeat at Class A Lakewood, but will advance quickly if he continues to show that he is comfortable at the plate.
Kelsie Heneghan is a contributor to MiLB.com. Follow her on Twitter @Kelsie_Heneghan. This story was not subject to the approval of the National Association of Professional Baseball Leagues or its clubs.
View More