Phillies Prospect Primer: Lots on doorstep
Crawford, Alfaro, Williams, Appel stock Triple-A; Moniak on the move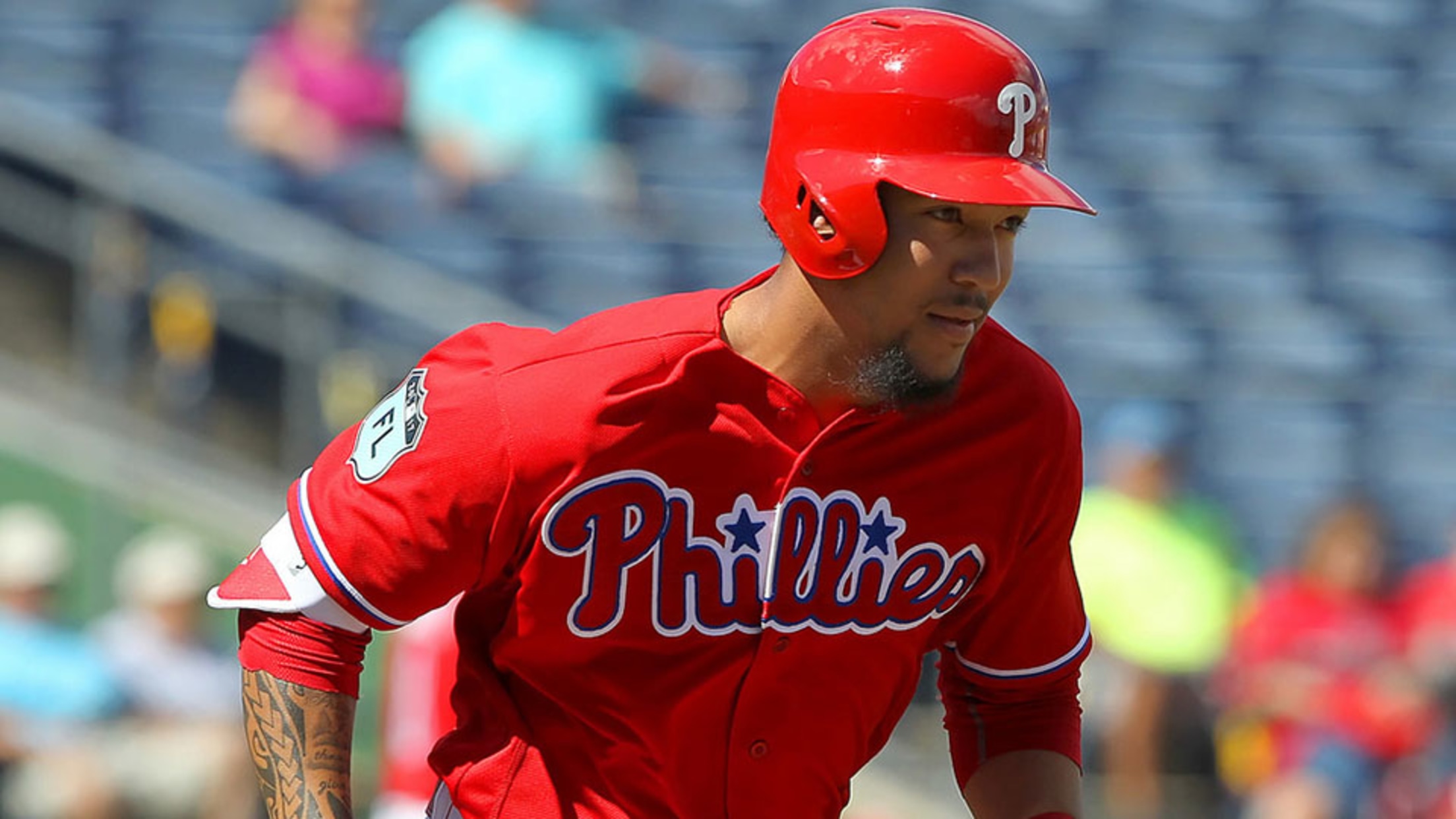 J.P. Crawford will try to push his way through to Philadelphia at some point during the 2017 season. (Cliff Welch/MiLB.com)
Some players are on the verge of stardom, others are entering a crucial phase of their development and still others are getting their first tastes of full-season ball. With the 2017 season approaching, MiLB.com takes a look at the most intriguing prospects from each MLB organization.Shining star: J.P. Crawford, SSCrawford
Some players are on the verge of stardom, others are entering a crucial phase of their development and still others are getting their first tastes of full-season ball. With the 2017 season approaching, MiLB.com takes a look at the most intriguing prospects from each MLB organization.
Shining star: J.P. Crawford, SS
Crawford will only be 22 on Opening Day, making him one of the International League's youngest players despite the fact it'll be his second trip through the Triple-A circuit. Despite his youth, the left-handed-hitting shortstop's first go-round with Lehigh Valley was largely seen as a disappointment as Crawford hit just .244/.328/.318 with 16 extra-base hits over 87 games with the IronPigs. That's well below his career slash line of .278/.372/.387 over four seasons in the Minor Leagues.
Crawford has admitted he pushed too hard to make that last jump from Triple-A to the Majors, and by "trying to hit .600" he lost the advanced approach and discipline that helped him find success at the lower levels. The Phillies, though, caution that everyone needs to take those 2016 offensive results with a heavy dose of perspective.
"He got away from his game," Philly's director of player development Joe Jordan said. "That's it. Nothing more than that. He just needs to be himself. Hit line drives. Hit doubles. He'll hit his home run every now and then. But he might be three, four, five years away from that part of his game. He doesn't even need to think about that right now. Just play shortstop. He's had a great camp defensively, and he's fine. J.P.'s ready to go."
Indeed, Crawford still slots in at No. 6 overall in MLB.com's Top-100 ranking of prospects, thanks to his youth and plus grades for his fielding ability and arm at shortstop. He probably could be of significant Major League value with the glove alone right now, but the Phillies want to see him stay true to his word and not get ahead of himself with the bat before pushing him up to that level this summer.
One last bit of perspective: Of the 39 players taken in the first round of the 2013 Draft, 15 have made their Major League debuts, and all 15 played at the college level. It's likely a race between Crawford, Austin Meadows and Clint Frazier to be the first Class of 2013 high schooler to reach MLB, and Crawford has the most Triple-A experience of that bunch. So he's still well ahead of the curve, even if 2016 proved to be a speed bump.
Major League-ready: Jorge Alfaro, C
The Phillies already gave baseball's No. 72 overall prospect this moniker in September, when they brought him up for a six-game cameo after rosters expanded. He earned that promotion by hitting .285/.325/.458 with 15 homers and throwing out 44 percent of attempted basestealers in 97 games with Double-A Reading.
The 23-year-old catcher didn't exactly take it easy after that productive 2016 campaign. He played 31 games in the Venezuelan Winter League and went 3-for-12 with Colombia's only home run in three games during the World Baseball Classic.
Alfaro's bat, especially the power contained within, could likely handle the game's top level right now, and his arm, given a 70 grade by MLB.com this offseason, would certainly play in the Majors as well. But it was the other aspects of catching, such as game calling and framing, that the Phillies believe needed work after 2016, and they're pleased with what they've seen in the spring.
"I think overall defensively, he did a real nice job in Venezuela," Jordan said. "Ramon Hernandez was on that staff as a former big league catcher. I think he really benefited. Since we had him over here in camp, his setup and his positioning is really good compared to last year. He looks more comfortable. He's made some adjustments. Jorge just needs experience. He's going to be a hell of a player."
Alfaro is just one of three catchers on the Phillies' 40-man roster but was optioned to Lehigh Valley on March 17, meaning he'll start 2017 behind Cameron Rupp and Andrew Knapp. His road got a little clearer, however, on Tuesday when the Phils released veteran backstops Ryan Hanigan and Bryan Holaday, both in camp on Minor League contracts. As solid as Rupp and Knapp can be, neither is likely to stand in the way of Alfaro's ascent, and that will come quickly if he continues to show defensive growth during his first trip to Triple-A.
Full-season debutant: Mickey Moniak, OF
Try to think of another sport in which the No. 1 overall pick doesn't automatically become the focal point of a club's rebuild. It speaks to the depth and top-heavy nature of the Phillies system that Moniak won't be pressured to move quickly in his first full season, starting at Class A Lakewood.
After signing for $6.1 million, Moniak, who won't turn 19 until May 13, didn't seem to miss a beat during his 46-game stint in the Rookie-level Gulf Coast League, helping the club go a circuit-best 43-15 last summer. The left-handed-hitting center fielder produced a .284/.340/.409 line with 16 extra-base hits and 10 stolen bases in his first taste of the pro game, all the while looking the part defensively at a premium position.
High-school talent can sometimes get tripped up when trying to tackle the everyday nature of a 140-game schedule, but the Phillies trust him to take to the assignment with aplomb.
"I think he's got a tremendous feel to hit," Jordan said. "I like his approach. It's an advanced approach. He can control the strike zone. If he's on the Lakewood club, I expect him to be able to handle it."
At the crossroads: Nick Williams, OF
Acquired in the same Cole Hamels deadline deal in 2015 that netted Alfaro, Williams' first full season in the Philadelphia farm system came to a crashing close. The 23-year-old outfielder was hitting .290 for Lehigh Valley as late as July 29 but produced just a .161/.180/.298 line over the season's final 31 games to finish at .258/.287/.427 over 125 contests. His .287 OBP ranked 57th out of the International League's 62 hitters, and a big reason for that was the left-handed slugger's lack of plate discipline. Williams struck out in 25.8 percent of his plate appearances (sixth-highest in the league) and walked in only 3.6 percent (fourth-lowest).
Ranked as the No. 64 overall prospect last spring, Williams has since fallen out of the Top 100 because of those issues. He has the bat speed and the power to work his way back into that conversation in 2017. Since the Phillies aren't exactly strong in the corner outfield spots, there is space for the 2012 second-rounder when he shows improvement.
"He's got to control the strike zone," Jordan said. "He's got to learn that if you're sitting middle-in, a fastball away is not a good pitch to hit 0-0. You get in hitters' counts, and good hitters narrow things down. This is what we talk about when we discuss controlling the strike zone as a hitter. Those are the things he's working on. If he does that stuff, he'll be fine. But that's what he needs to do. He knows that."
To his credit, Williams showed small-sample improvements by going 8-for-28 (.286) with four walks in 32 plate appearances (12.5 percent walk rate) this spring. But it'll take more than a good performance over a short span to thrust Williams back into Major League consideration early in 2017. Otherwise, a repeat of 2016 could see fellow Triple-A outfielders Roman Quinn or Dylan Cozens (the 2016 Minor League home run leader) get looks before him.
Back and healthy: Mark Appel, RHP
The Phillies have two No. 1 overall Draft picks in their pipeline in Moniak (2016) and Appel (2013) -- both at very different points in their careers. While Moniak is just getting his pro career going, Appel is trying to get back on track after he made only eight starts for Lehigh Valley last season before a shoulder injury in May and elbow surgery in June ended his season prematurely.
Find out more info on his recovery and return to the mound in Kelsie Heneghan's piece on Appel. The 25-year-old right-hander made four Grapefruit League appearances this spring before being optioned back to Triple-A and should be available in the IronPigs rotation come Opening Day next week. When he's on, Appel has the plus fastball and above-average slider to thrive as a starter, as he showed last spring when he sported a 1.64 ERA through April. But with a career 5.04 ERA in the Minors, the Stanford product has to do more than stay healthy to force his way to the Majors, though his addition to the 40-man roster in November could help.
.

Others to keep an eye on: As Reading teammates, Cozens and Rhys Hoskins famously battled it out for Minor League home run supremacy in 2016 with Cozens' 40 nipping Hoskins' 38. The powerful pair are set to head to Lehigh Valley, joining Crawford, Williams, Alfaro and Quinn in what could be the International League's most intimidating offense. ... No. 12 prospect Nick Pivetta is also likely joining the Triple-A club after making five starts there in 2016. The 24-year-old right-hander had a standout spring with two earned runs allowed over three starts (eight innings) with the Phillies and one earned run surrendered in a four-inning outing for Canada against Colombia in the World Baseball Classic. (Hear Pivetta talk about his WBC experience in last week's MiLB podcast.) ... Sixto Sanchez jumped onto the scene in 2016 by leading the Gulf Coast League with a 0.50 ERA in 54 innings. The 18-year-old right-hander has the stuff to back up the stats with a fastball that can reach the high-90s, an above-average curve and impressive control (as evidenced by his 1.3 BB/9 last season). Jordan said earlier this month that Sanchez is a candidate for Lakewood, and if sustains that type of dominance over a longer sample at the higher level, expect his stock to soar.
Sam Dykstra is a reporter for MiLB.com. Follow and interact with him on Twitter, @SamDykstraMiLB.