Phinley riding momentum into Mascot finals
Dogs, birds and a groundhog among contenders vying for Minors glory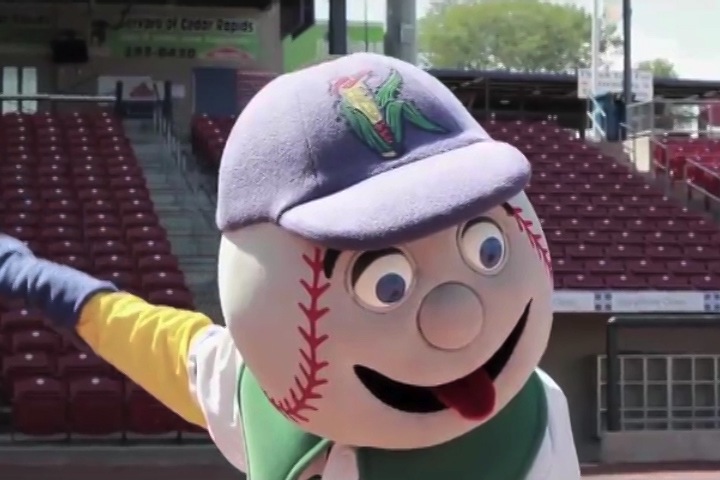 By Danny Wild / MiLB.com | August 4, 2014 5:00 PM ET
Seeking revenge for last year's narrow defeat, Clearwater's Phinley swims into the Mascot Mania finals as the top vote-getter after the first round, but he's got a pack of dogs with which to contend.
The Threshers' shark mascot stormed through the Florida State League last month to emerge as a favorite entering the final round of balloting for MiLB.com's Mascot Mania, a fan-voting contest that crowns the Minor Leagues' best mascot. Reigning champion LouSeal of Columbus failed to advance to the finals, which was also the case for 2012 champ Orbit of Albuquerque.
The field of finalists includes El Paso's Chico, a newcomer who joined the battle this season when the Chihauhuas moved into West Texas, as well as veterans like Cedar Rapids' Mr. Shucks and Brooklyn's Sandy the Seagull, who finished second and third in total first-round voting, respectively. Mr. Shucks overcame Great Lakes' Lou E. Loon, the leader after the first week, as well as Fort Wayne's Johnny Tincap to earn the Midwest League championship.
Gwinnett's Chopper owned the Triple-A International League, while Pensacola's Kazoo (Southern League), Springfield's Louie (Texas League) and Trenton's Rookie (Eastern League) took home first-round wins among Double-A teams.
Winston-Salem's Bolt took the Carolina League, Lake Elisnore's Thunder won in California and Savannah's Gnate the Gnat again saw strong support in the South Atlantic League -- he also finished No. 4 among total vote-getters in the first round. Bolt also overcame an early deficit, knocking out Carolina's Muddy the Mudcat and Myrtle Beach's Splash, both of whom were ahead after the first week.
In the Pioneer League, Billings' Homer beat Helena's Clark the Cougar to advance, while Hillsboro's Barley just barely edged Spokane's Otto the Spokanasaurus to claim the Northwest League. Princeton's Roscoe raced to a win in the Appalachian League ahead of runner-up Gizmo of Greeneville.
The 14 finalists will now start fresh in the Championship Round, which run from Aug. 4-11. Fans can continue voting for their favorite mascots as many times as they'd like on MiLB.com and up to 25 times daily via Twitter. Votes on Twitter are recorded when users include their favorite mascot's Twitter hashtag.
The field offers a variety of furry creatures and ballpark icons from which to choose. Three birds (Roscoe, Louie and Sandy) face off against a groundhog (Chopper), a shark (Phinley), an insect (Gnate), three dogs (Chico, Thunder and Rookie) and a horse (Homer). There's also some more gender and identity-neutral finalists like Kazoo, who describes itself vaguely as an "aquatic creature," and Bolt, who claims to simply be a "Bleacher Creature."
Rookie, who is arguably the Minors' best example of mascot royalty, is the only real, living, breathing mascot in the group -- the 43-pound golden retriever will aim to beat a fellow dog and mascot who bears the name of the team he represents in Lake Elsinore Thunder, an off-roading green canine who lists vaccuums and baths among his dislikes.
Fans who vote on MiLB.com or via Twitter can also enter for a chance to win a subscription to MLB.TV, MiLB.TV and other prizes.
Mascot Mania League Champions
| Name | Club | League | MLB Org | Hashtag |
| --- | --- | --- | --- | --- |
| Chopper | Gwinnett | International | ATL | #ChopperFTW |
| Chico | El Paso | Pacific Coast | SD | #VoteChicoChihuahuas |
| Rookie | Trenton | Eastern | NYY | #VoteRookieThunder |
| Kazoo | Pensacola | Southern | CIN | #VoteKazooBlueWahoos |
| Louie | Springfield | Texas | STL | #VoteLouieCardinals |
| Thunder | Lake Elsinore | California | SD | #VoteThundertheDog |
| Bolt | Winston-Salem | Carolina | CWS | #VoteBoltDash |
| Phinley | Clearwater | Florida State | PHI | #VotePhinley |
| Mr. Shucks | Cedar Rapids | Midwest | MIN | #VoteMrShucksKernels |
| Gnate the Gnat | Savannah | South Atlantic | NYM | #Vote4Gnate |
| Sandy the Seagull | Brooklyn | New York-Penn | NYM | #VoteSandytheSeagull |
| Barley | Hillsboro | Northwest | ARI | #VoteBarley |
| Roscoe | Princeton | Appalachian | TB | #VoteRoscoePrinceton |
| Homer | Billings | Pioneer | CIN | #VoteHomerMustang |
Danny Wild is an editor for MiLB.com. Follow his MLBlog column, Minoring in Twitter. This story was not subject to the approval of the National Association of Professional Baseball Leagues or its clubs.
View More