Pioneer notes: Daniel, Owlz step it up
Orem focused on playoffs despite losing top producers to promotions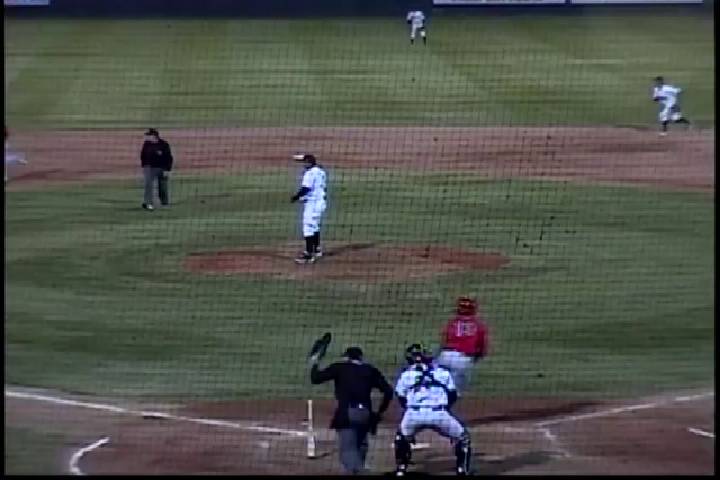 By Greg Rachac / Special to MLB.com | August 14, 2014 10:00 AM ET
The first job of a Minor League manager is to develop players and advance them to the next level without hesitation. For that, first-year Orem skipper Dave Stapleton and his staff have earned high marks.
But a subsequent task, naturally, is to fill holes and keep the club competitive in the face of turnover, which the Owlz are attempting to do as the second-half of the Pioneer League season rolls deeper into August. Led by oufielders Bo Way and Trevor Gretzky and a bona fide league MVP candidate in third baseman Zach Houchins, Orem won the first-half title in the South Division. The team clinched a playoff berth by winning at a .632 clip.
Offensively, the Owlz were a juggernaut. In 39 games before his promotion to Class A Burlington of the Midwest League, Houchins hit .388 with six homers, 39 RBIs and 39 runs scored. Way played 32 games before moving up, and hit .345 with a pair of homers, 27 RBIs and 29 runs.
Gretzky, the son of former NHL great Wayne Gretzky, earned a quick promotion to Burlington by hitting .429 in 11 games. The Owlz also lost pitchers Greg Mahle and Ronald Muck to the Bees along the way.
No team in the Pioneer League has been decimated by call-ups quite like Orem.
"I'll go back to what I said the first day: I think our scouts did a good job," Stapleton said. "All we keep telling our players is that somebody else has to step up. That's pro ball. At this level you're going to see lots of movement, lots of changes, and that's a good thing."
But the results have been mixed. Through the 16 games of the league's second half, Orem was two games under .500 and in last place in the South at 7-9. In the first half, Houchins, Way, infielder Andrew Daniel and outfielders Nathanael Delgado and Caleb Adams combined for 20 homers and a whopping 114 RBIs. In July alone, the Owlz hit .315 as a team, blasted 36 homers and scored 212 runs.
Entering Wednesday, Orem was hitting just .210 in August and was averaging only 3.3 runs per game. The pitching staff had a collective ERA of 4.12.
"I still think we have a great team," said Daniel, who was hitting .320 with four home runs through 43 games. "We can put up just as many runs as we did with them. Obviously we'd like to have them back, but I think we still have a lot of great guys on our team. Hopefully we'll be able to start heating up with the bats."
Daniel has been a staple in Orem's lineup all year as a triggerman at the leadoff spot. Stapleton has looked to the 11th-round pick out of the University of San Diego for even more leadership in the second half.
"I've told him over and over that there will be times where it seems like nothing is going to fall right, but he's done such a tremendous job not only at second base but also in the leadoff spot," Stapleton said. "He's one of the leaders on this team, and I looked for him after Way left and Houchins left to really be that guy that steps up."
The Owlz will participate in the playoffs for the first time since 2011. Prior to that, the organization had reached the postseason in 11 consecutive seasons, winning five league championships.
In brief
Charged-up Chukar: Idaho Falls first baseman Ryan O'Hearn remains one of the frontrunners for the Pioneer League MVP award. O'Hearn is fresh off a seven-game stretch in which he hit .407 with five consecutive multi-hit games. He entered Wednesday hitting .388 with nine homers and 37 RBIs and was just named the league's Player of the Month for July.
Calculating Cuddy: Michael Cuddyer's Pioneer League rehab stint ended Sunday in Great Falls, where he went 4-for-6 with three doubles and three RBIs in a 9-4 Grand Junction victory. In five games with the Rockies, Cuddyer hit .579 (11-for-19) with six extra-base hits and nine RBIs. He joined Double-A Tulsa of the Texas League on Tuesday.
August heat: With Cuddyer's help, the Rockies shot to the top of the South Division in the second half as the push for the playoffs heats up. With a 13-5 victory over Billings on Wednesday, Grand Junction had won six in a row and owned the league's best second-half record at 10-5.
Greg Rachac is a contributor to MiLB.com. This story was not subject to the approval of the National Association of Professional Baseball Leagues or its clubs.
View More