Pitchers of the Week
For the week ending July 20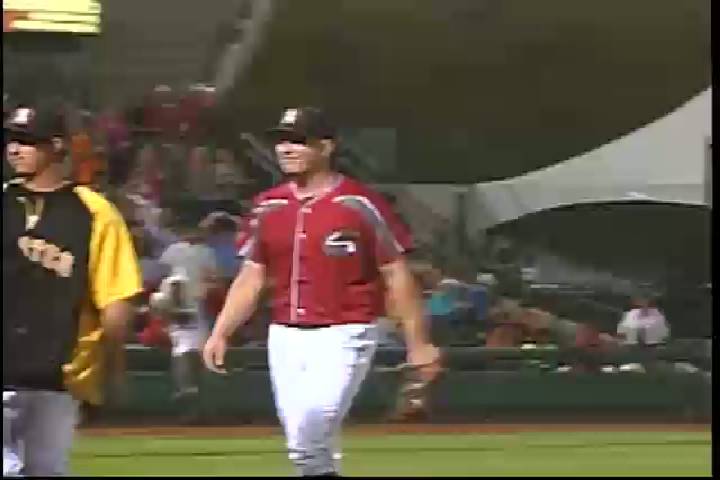 By John Parker / MiLB.com | July 21, 2014 5:45 PM ET
Here's a look at the top pitching performers in each league for the week ending July 20:
International League
Brandon Cumpton, Indianapolis
(1-0, 0.00 ERA, 1 G, 1 GS, 8 IP, 2 H, 0 R, 0 ER, 0 HR, 0 HBP, 4 BB, 3 K)
Cumpton has bounced back and forth between Indianapolis and its parent club in Pittsburgh this season, going 3-3 with a 4.98 ERA at the big league level, where he's been stung by an unusually high .340 batting average on balls in play. The luck has gone the other way in Triple-A, where he is 5-1 with a 1.50 ERA. He produced his finest start at any level at Columbus on Thursday, holding the Clippers to a pair of hits over eight scoreless innings. The 25-year-old right-hander has been particularly tough against lefty hitters, who are batting just .213 against him in the International League.

Indians' Cumpton finishes eight scoreless
Pacific Coast League
Caleb Clay, Salt Lake
(1-0, 0.00 ERA, 1 G, 1 GS, 1 CG, 1 SHO, 9 IP, 3 H, 0 R, 0 ER, 0 HR, 0 HBP, 1 BB, 6 K)
Most pitchers coming from the eastern half of the country have issues in the thin air of the PCL. Clay has done just fine so far since joining Salt Lake after six seasons in the Red Sox's system and one with the Nationals. He tossed his second career shutout Sunday, holding visiting Las Vegas to three hits and a walk while fanning six. Clay needed only 101 pitches in the nine-inning gem. In five starts with the Bees, he's 3-1 with a spiffy 2.97 ERA despite yielding five home runs.

Salt Lake's Clay finishes complete game
Eastern League
Adrian Sampson, Altoona
(1-0, 0.00 ERA, 1 G, 1 GS, 1 CG, 1 SHO, 9 IP, 1 H, 0 R, 0 ER, 0 HR, 0 HBP, 1 BB, 2 K)
Last season Sampson gave up 18 home runs for Bradenton -- the most in the Florida State League, which is not a home run-hitters circuit. He's only allowed five in Altoona this year, and none in his past five starts. One result is that his ERA dropped from 5.14 in 2013 to 2.58 this season, earning him an Eastern League All-Star spot and propelling him into the Pirates' top 20 prospects. He very nearly added "no-hitter" to his 2014 resume Friday night before yielding a one-out double in the ninth, forcing Sampson to settle for a one-hit shutout.

Altoona's Sampson seals one-hit shutout
Southern League
Jay Rogers, Jacksonville
(1-0, 0.00 ERA, 1 G, 1 GS, 1 CG, 1 SHO, 7 IP, 1 H, 0 R, 0 ER, 0 HR, 0 HBP, 1 BB, 9 K)
A 36th-round pick out of Rice in 2010, Rogers has split time between Jacksonville and Triple-A New Orleans this year, with considerably more success in the Southern League. His finest effort came Thursday, when he held visiting Pensacola to one-hit while fanning nine over seven innings in the first game of a doubleheader. It was the 26-year-old right-hander's first shutout since 2010 when he was with the GCL Marlins, and his strikeout total matched a career high.

Suns' Rogers seals one-hitter
Texas League
Andy Ferguson, NW Arkansas
(1-1, 1.69 ERA, 2 G, 2 GS, 1 CG, 1 SHO, 16 IP, 13 H, 4 R, 3 ER, 1 HR, 0 HBP, 2 BB, 8 K)
Ferguson had never tossed a complete game of any kind before spinning a four-hit shutout of Springfield on Saturday night. The 25-year-old Arkansas native fanned four, walked two and needed just 101 pitches to put away the Cardinals. 2014 marks Ferguson's second full season with the Naturals, with much better results than his first: he went 3-5 with a 5.16 ERA in 34 appearances (13 starts) in 2013 and is 7-8 with a 3.19 mark working almost exclusively as a starter this season. His seven wins lead the Naturals and his ERA ranks second among the team's starters.
California League
Chris Lamb, Stockton
(0-0, 0.00 ERA, 1 G, 1 GS, 6 IP, 6 H, 0 R, 0 ER, 0 HR, 0 HBP, 0 BB, 11 K)
Lamb started the season working primarily as a reliever for Beloit in the Midwest League but moved into the Stockton rotation upon his promotion to the Cal League. The results have been impressive, with the left-hander posting a 2.35 ERA in his last 10 starts for the Ports. On Thursday he got the nod at High Desert -- one of the most hitter-friendly parks in baseball -- and held the Mavericks scoreless while fanning a career-high 11 batters over six innings. It was the second time in three starts that Lamb had reached double digits in strikeouts.
Carolina League
Austin Voth, Potomac
(0-0, 0.00 ERA, 1 G, 1 GS, 7 IP, 1 H, 0 R, 0 ER, 0 HR, 0 HBP, 1 BB, 8 K)
Unsurprisingly, the Carolina League award goes to Voth for the second straight week -- it's the sort of thing that happens when one allows three hits over 14 scoreless innings in consecutive starts. Here are Voth's numbers in five starts since his promotion to Class A Advanced in late June: 2-0, 0.27 ERA, 33 IP, 1 R, 10 H, 5 BB, 36 K. After seven one-hit frames against Wilmington on Friday, Voth is holding Carolina League batters to a .092 average (with help from a .125 BABIP).
Florida State League
Mark Leiter, Clearwater
(1-0, 0.00 ERA, 1 G, 1 GS, 1 CG, 1 SHO, 9 IP, 5 H, 0 R, 0 ER, 0 HR, 0 HBP, 0 BB, 8 K)
The son of former big leaguer Mark Leiter (and nephew of Al), Mark Jr. has enjoyed success since his promotion to the FSL in late June. After going 1-1 in his first three starts for the Threshers, the 23-year-old right-hander threw his first-ever complete game Sunday, fanning eight in a five-hit shutout of visiting Charlotte. Leiter did not walk a batter and, with help from a double play, faced four over the minimum. Having struggled at times this season -- he posted an 8.06 ERA in six May starts for Class A Lakewood -- Leiter seems to be finding his groove in Florida.
Midwest League
Edwin Diaz, Clinton
(1-0, 0.00 ERA, 1 G, 1 GS, 6 IP, 3 H, 0 R, 0 ER, 0 HR, 0 HBP, 0 BB, 8 K)
Diaz was the Appalachian League's top pitcher with Pulaski last season. The 2014 campaign hasn't been nearly as dominant for the 20-year-old right-hander but solid nevertheless -- he owns a 3.32 ERA in 17 starts for the LumberKings. Thursday saw perhaps Diaz's finest outing of the season, as he held host Great Lakes to three hits over six scoreless innings in a 5-0 Clinton victory. It was Diaz's first win since May 21 and he matched a season-best with eight strikeouts without issuing a walk.
South Atlantic League
John Gant, Savannah
(1-0, 0.00 ERA, 1 G, 1 GS, 1 CG, 1 SHO, 7 IP, 1 H, 0 R, 0 ER, 0 HR, 0 HBP, 1 BB, 8 K)
With a seven-inning one-hitter in the first game of Sunday's doubleheader against Lexington, Gant joined a very select group of Minor Leaguers. The effort made him the fourth pitcher to record two shutouts this season, joining Portland's Henry Owens, Rochester veteran Yohan Pino and Montgomery's Dylan Floro. The 21-year-old right-hander struck out eight, walked one and lowered his season ERA to 2.76 -- fourth-best in the Sally League.
New York-Penn League
Corey Oswalt, Brooklyn
(1-0, 0.00 ERA, 1 G, 1 GS, 7 IP, 2 H, 0 R, 0 ER, 0 HR, 1 HBP, 0 BB, 5 K)
A seventh-round pick in 2012, Oswalt made only 12 appearances (all with Kingsport in the Appalachian League) in his first two pro seasons. Making regular starts with Brooklyn this year, the 20-year-old right-hander had his finest outing of the season against visiting Williamsport on Sunday, holding the Crosscutters to a pair of hits over seven scoreless innings. Oswalt struck out five and did not walk a batter, dropping his season ERA to 2.48. With nearly a strikeout per inning and a heavy dose of groundball outs, Oswalt is holding NYPL hitters to a .215 average over 32 2/3 innings.
Northwest League
Ben Eckels, Hillsboro
(1-0, 0.00 ERA, 2 G, 2 GS, 10 IP, 7 H, 0 R, 0 ER, 0 HR, 1 HBP, 3 BB, 17 K)
Eckels, an 11th-round pick in 2012, began the season with Class A South Bend but struggled mightily with his command, walking 15 batters in 19 innings. Back with Hillsboro for a second campaign, he's found his control and a whole lot more -- his 52 strikeouts (in 42 1/3 innings) are 12 more than anyone else in the league. In a pair of outings last week, the 20-year-old California native fanned 17 batters over 10 innings to help the Hops claim the first-half South Division crown and clinch their first-ever playoff berth.
Appalachian League
Alec Grosser, Danville
(1-0, 0.00 ERA, 1 G, 1 GS, 6 IP, 1 H, 0 R, 0 ER, 0 HR, 1 HBP, 2 BB, 7 K)
Professional ballplayers have to be able to put bad performances behind them, and the 19-year-old Grosser did just that last Wednesday. Coming off a start in which he'd given up five runs in 2 2/3 innings, the 2013 11th-rounder stymied Bristol with a heavy sinking slider in Danville's 4-0 win. Grosser yielded one hit over six innings and struck out seven to push him into what was, at the time, the Appy strikeout lead (he's now one behind Bluefield's Matthew Smoral). The right-hander notched nine groundouts and two flyouts in the win.
Pioneer League
Dane Stone, Great Falls
(1-0, 0.00 ERA, 1 G, 1 GS, 8 IP, 3 H, 0 R, 0 ER, 0 HR, 2 HBP, 1 BB, 6 K)
Of Stone's first 61 pro appearances, only one was a start. His move to the rotation this summer has been a resounding success for Great Falls and earned the 6-foot-7 righty his second straight Pioneer League Pitcher of the Week award. The first came after six scoreless, two-hit frames against Ogden on July 10; the latest comes after Stone held the Raptors to three hits over eight scoreless innings. The product of St. Thomas University in Florida leads the league in ERA (1.21) and WHIP (0.94) while ranking second in strikeouts (37) and innings pitched (37 1/3).
John Parker is an editor for MiLB.com. This story was not subject to the approval of the National Association of Professional Baseball Leagues or its clubs.
View More