Prospect Q&A: Almora eager for big year
Cubs outfielder talks injury, training with Heyward, patience, pizza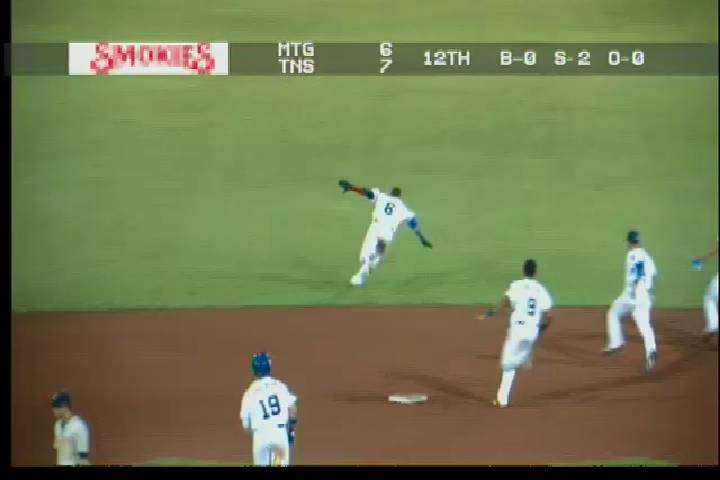 By Danny Wild / MiLB.com | February 16, 2016 10:00 AM
Albert Almora is ready to show why he belongs in Chicago.
The Cubs' 2012 first-round pick will turn 22 this spring as he begins his fifth Minor League season, but while age remains on his side, his career path has yet to be determined. A pair of concussions sidelined Almora in 2015, and a lack of power and speed have the Florida native fighting for an opportunity in a Cubs' outfield that was replenished with youth last summer. Chicago's newest center fielder, Jason Heyward, has actually helped mentor the prospect this offseason.
But Almora remains as positive as ever. He couldn't be happier to be a Cub after hitting .272 with six homers, 46 RBIs and eight steals at Double-A Tennessee in 2015. Known for his defense, the 21-year-old said he's becoming a more polished and patient hitter.
We saw down with the Cubs' No. 5 prospect ahead of Spring Training:
MiLB.com: How's your offseason been going, what are you up to at this point as Spring Training approaches?
Almora: I've been in Arizona since Jan. 15, I've been grinding and I'm ready to go. I was the first position guy here. Just came ready to go. Started working out with big league guys, so I'm excited to get everything going.
MiLB.com: How would you evaluate last season? A full year at Double-A, how did you feel it went?
Almora: I think it was a learning year. I feel I had started off not where I wanted to be, my swing was raw, I felt awkward. I got it going through the middle of the year and I had success after the All-Star break. So that's all it is: figuring it out. I'm happy the way it ended, I can't wait to start this year and move forward.
MiLB.com: You're a non-roster invitee this year for Spring Training. How exciting is that and what do you hope to prove while you're in big league camp?
Almora: I'm super honored, first and foremost. I'm gonna go out there and be Albert Almora. I'm not gonna do anything special, I'm gonna be me, that's worked so far. Come in with a smile every day -- I'm really happy. They treat me really well every day. This is to learn, and I've been with Jason Hewyard a couple days, he's had nothing but great advice toward me. I'm very grateful. We all just want to win.
MiLB.com: That's cool, what's the best advice Heyward has given you?
Amora: Just to own your own body -- everyone is different and you've gotta take what works for you. Everyone is different, we're all hitting in the offseason so just to do whatever makes you comfortable.
MiLB.com: The Cubs are obviously a hot team now, on the rise with a lot of youth and talent. What's it like being a part of this group now, with the excitement in the fan base and I'm sure within the system?
Almora: It's a super exciting time. I'm fortunate to be here since 2012 in the beginning. It's incredible -- even when I first got drafted, I said "This is going to be a big family." I'm not even part of the big league team, but I feel like I'm part of the family. There's no comparison. It's great and I'm super honored to be a part of it.
MiLB.com: You missed some time in September after running into the outfield wall on a catch. What happened on that play and how frustrating was it to miss time late in the year?
Almora: It was super frustrating -- I'm a gamer, I love playing, I hate not playing. I'm crazy when I play the outfield, I want to catch every ball and defend my pitchers. I tried to make the play. It was my second concussion of the year, so they shut me down. But I feel great, everything is perfect now. I'm happy to be healthy and have a full, healthy year.
MiLB.com: You left the Smokies in July to play for Team USA in the Pan American Games. What was that experience like? Seventh time joining Team USA, I believe.
Almora: Yeah, that's another big game-changer for me. I got back to why I play this game. I had so much fun with that team, just trying to get that gold medal for us. When I got back, it was like a fresh start and everything clicked for me.
MiLB.com: You're heading into your fifth Minor League season, though you're still just 21. Do you feel like things are progressing and you're getting closer? Will you be at Iowa to start the year?
Almora: I have no idea. I'm just controlling what I can and hope [that] I'm healthy. I'm ready to go, wherever they start me, I don't care -- I'm gonna show them I will play the game hard. I'm excited for this year. It's going to be a great year.
MiLB.com: You drew some more walks and cut down on strikeouts in 2015 compared to the previous season. Have the Cubs talked to you about your approach or anything? Do you see yourself developing into more of a power hitter, or how would you describe yourself?
Almora: I'm getting better. It's not that I'm being more patient, I'm getting my pitch to hit. I didn't understand it at first -- they wanted me to walk more, so I went up thinking walk instead of a hit. But now I've kinda got it. I get a pitch I can drive and if it's not that pitch, then I take it. That's how walks get created. I feel like I'm an all-around good player and I'm gonna go out and have fun and let my talent do the talking.
MiLB.com: Defense has always been a strong part of your game -- are you happy with where you're at in the field now? Are you working on anything specifically?
Almora: I'm working every day no matter what, if it's hitting, working out, in the field -- I'm trying to be come a better baseball player every day. I take defense very seriously and I love making pitchers happy. There's no better feeling, robbing a home run is better than hitting one to me. I'm happy where I'm at.
MiLB.com: Fans on Twitter voted for us to interview you, so we wanted to let them ask you a few questions. First one: Defensively, is there a current or former center fielder that you model yourself after?
Almora: 100 percent I model the way I catch after Andruw Jones. Everything with him was smooth.
MiLB.com: Another from Twitter -- what's the best advice you've ever been given?
Almora: To have fun, man; it's simple advice but it goes a long way. This game is a game of failure, and just to know the next day will be new day. If you don't have a good game all-around and your team won, then you just put a smile on your face and have fun. The game will never stop for anyone. Enjoy it.
MiLB.com: Who was your favorite team growing up, and now that you're in Chicago, what's your favorite part about being in the Cubs' organization?
Almora: My favorite team? To be honest, I didn't have one. I was more of a players guy. I loved Derek Jeter and Andruw Jones. [Albert] Pujols and [Josh] Hamilton. I didn't have a favorite team. Right now, being apart of this special moment, to be a part of the Cubs right now is special and I'm happy to be here right now. Everything here is really special. Something special will happen in the near future.
MiLB.com: Favorite pizza?
Almora: I don't like pizza. I don't like it.
MiLB.com: Really?
Almora: Throughout the Minors we eat so much of it, so I stay away from it now. All the grease, it's not good. My fiance tells me -- she's Italian -- she gets upset at me that I don't like pizza. Maybe I'm not giving it a fair try, but I'm over it.
MiLB.com: Maybe you just haven't had a good slice from New York or Chicago... Another from Twitter, what is your approach going up to bat?
Almora: I feel like, what I'm understanding now, is you put all your eggs in the basket when you're training, you're preparing yourself. But then in the game, it's you and the pitcher and the approach is different. You've gotta know the situation. My approach is to know I'm gonna get a hit. Having that confidence, the positive mentality is huge. Getting a good pitch to hit and hitting it hard. When I was doing well last year, everything was simple. I would laugh and be confident that I would hit it really hard. So you just have to be positive.
MiLB.com: What is the one aspect of your game that you need to work on before you're Major League ready?
Almora: I could always work on anything, but I feel like I could steal more bags. I've been healthy and my legs feel great. I know I can steal more bags.
MiLB.com: Did you buy anything cool with your signing bonus after the Cubs drafted you?
Almora: Yeah, I never had a car in high school so when I signed I got myself a nice little car.
MiLB.com: What kind?
Almora: I don't have it anymore, I traded it in for another one, but it was a Mercedes Benz AMG CLS 63.
MiLB.com: Any pre-game routines or superstitions before you take the field?
Almora: Jeez, yeah where do I start? I'm a very superstitious guy. I like to have an order... how I get dressed in a certain order. I like to be out there early. When I throw, I listen to music. After I finish throwing, I like to throw the ball on the white line. I try to roll it and make it stop on the line. It's a very hard thing, but it's something to get me going and make me giggle, makes sure I'm having fun. Then, I'm ready to go.
Danny Wild is an editor for MiLB.com. Follow his MLBlog column, Minoring in Twitter. This story was not subject to the approval of the National Association of Professional Baseball Leagues or its clubs.
View More