Prospect Q&A: Meadows bolsters resolve
Pirates outfielder has new training regimen after 2016 health issues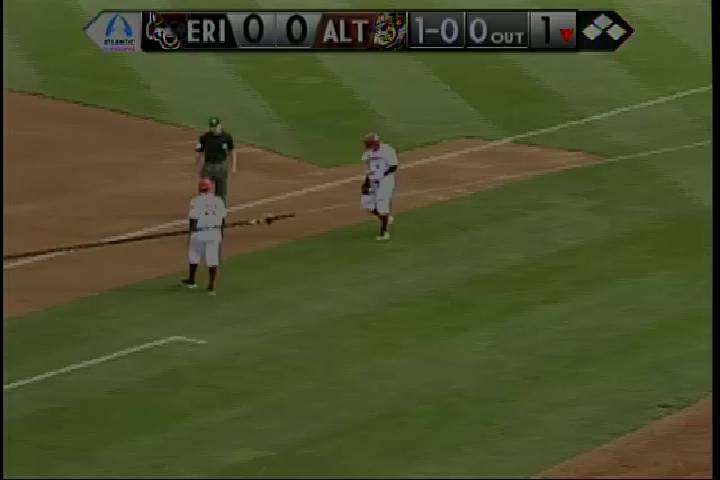 By Chris Tripodi / MiLB.com | February 22, 2017 10:30 AM ET
Austin Meadows is no stranger to injuries.
A bad hamstring sidelined MLB.com's ninth-ranked prospect for a chunk of the 2014 season before Meadows rebounded with a healthy and productive 2015 season. Then injury struck again.
A fractured orbital bone suffered in March delayed Meadows' 2016 debut until April 25, and Pittsburgh's 2013 first-round pick was slashing .192/.276/.301 on May 23, 21 games into the season. That marked his last day with a batting average below the Mendoza line.
Meadows went 2-for-3 with a triple for Double-A Altoona that night, the start of a 26-game hitting streak that earned him a promotion to Triple-A Indianapolis. But just over two weeks later, another hamstring injury put Meadows on the shelf for a month, and he never got back on track after that.
That didn't keep the Pirates from inviting their top offensive prospect to Spring Training this season, and we caught up with the 21-year-old outfielder recently for a quick chat.
MiLB.com: How was your offseason and what was different about it than past offseasons?
Meadows: The offseason was really good. I spent a lot of time with family and friends and got healthy. I did a ton of yoga to work on my flexibility, some cross-training -- treadmill, bike, ladder -- and tried to stay in good shape. [Went] running a lot to lose a little weight to try to stay more durable this year. I'm just looking forward to a healthy, full year.
MiLB.com: What did you weigh last year and what's your goal weight heading into 2017?
Meadows: My base weight last year was around 215-ish. I came into the offseason about 220 after being hurt, but I lost about 10 pounds and I'm trying to stay around that 208-210 range to keep my feet under me and be a little more mobile in the outfield. I'm definitely trying to maintain that weight this year.
MiLB.com: Last year was a bit rough for you. Were there any positives you could take away from being sidelined?
Meadows: I think you have to go through it. For me, hopefully that's the last of everything. Going through that has helped me learn more about my body and that if I'm feeling something to speak up and not try to push through it because that will definitely get you eventually. Just really knowing my body and knowing my limits, being smart about it and taking care of myself. Whether I'm feeling bad or good, you still need to take care of yourself. I can't be satisfied and I need to stay on top of my movements.
MiLB.com: Is yoga something you've incorporated into your training before?
Meadows: I haven't done it in the past -- the Pirates have done sessions like that with us -- but this is something I was just introduced to this offseason. I loved it and tried to do it twice a week. It will definitely pay off huge for me this year.
MiLB.com: This offseason in Pittsburgh was interesting with the trade rumors surrounding Andrew McCutchen. As somebody viewed as his potential replacement, what was going through your mind? What did you learn from watching how he handles a situation like that?
Meadows: First off, it's definitely an honor to be in that conversation. I just try to go out there every day and learn from these guys. Cutch is real humble and fun to be around. I definitely watch him and how he goes about his day. Being out there taking grounders and fly balls with him is an honor after looking up to him as a kid, and I definitely respect how he goes about his business.
MiLB.com: From the outside looking in, the highlight of your 2016 season was a 26-game hitting streak from late May into late June. What was your biggest personal takeaway from the season? How would you evaluate your play?
Meadows: [I was proud of] being able to make quick adjustments and recovering from the orbital fracture after getting hurt on the first day of spring. Mentally, it's hard, but you have to bounce back. I struggled for the first couple weeks, and then I figured it out and went on that streak. I went from Double-A to Triple-A, struggled a bit and had to go through adjustments. Being able to pick up on pitchers and their tendencies was a big takeaway for me last year.
MiLB.com: What was the biggest adjustment you had to make once you moved to Triple-A Indianapolis?
Meadows: The speed of the game was the same but obviously the crowd -- you have more noise and more pressure depending on the person. I think a lot of people would say the pitching was more experienced, you get older guys who've been to the big leagues -- guys with better stuff. Picking up on how pitchers are trying to pitch you, shifts in the infield and outfield. It definitely had more of a big league feel to it.
MiLB.com: Despite playing 40 fewer games, you nearly doubled your home run total from 2015. Was there any particular reason for the power spike?
Meadows: I think me and my hitting coach [Kevin Riggs] in Double-A, we really drilled down on being able to use my lower half -- being a tall guy and being lanky and having a strong lower half. Certain drills I was able to get into my legs, and that's when I took off with my hitting streak and unlocked my power.
MiLB.com: Is this the first time you've paid particular attention to working your lower half?
Meadows: That's something I've worked on and always will work on. That's the fun part of hitting -- there's always something you can work on, and that's the major one for me
MiLB.com: Your first experience in the Arizona Fall League in 2015 didn't go as well as hoped. Was it disappointing missing this year's version?
Meadows: That's the best competition you're gonna face. It was a great experience with those guys and the experience with the coaching staffs and the players you see. Anything that gets you prepared for the bigs like that is huge. It was a bit of a disappointment missing it, but I was able to get home and learn how my body responds, and that was huge for me, learning how to stay healthy.
MiLB.com: The Pirates invited you to Spring Training this year as a non-roster player. What has that experience been like so far and what are you looking to show the organization?
Meadows: I've really enjoyed being out there with those players. We all jell very well, us younger guys try to pick from their games and what they do through their work days. ... I'm really looking forward to proving myself and not trying to get outside of my comfort zone. Just trying to be myself, play my game and stay healthy -- controlling what I can control out there through spring and the rest of this year.
MiLB.com: Are there any current or former Major League players you model your game after or feel you compare favorably to?
Meadows: Everybody tries to model themselves after different players and I like to be my own player, but I like Christian Yelich. He's a solid player, can swing the bat very well, the power is there, [he's a] good defender. That's a guy that I like to watch. Obviously there are other guys out there, but he's one that comes to mind when it comes to my type of game.
MiLB.com: What part of your game do you feel you need to work on most to prepare yourself for the Majors?
Meadows: I think every aspect of the game, whether it's baserunning, defense, situational hitting, everything like that. If I improve every aspect of the game, I can definitely help the team win. That's what matters at every level, especially the big leagues.
MiLB.com: You're a pretty big Clemson and Atlanta Falcons fan, right? What was this season like for you on both ends up until, well, you know?
Meadows: That was pretty cool -- just being a fan of both teams it was pretty crazy that Clemson won and the Falcons ... (laughs) ... came close to winning. I was actually telling my family that my high school won a state championship this year, Clemson won the national championship and it would've been too perfect of a story if the Falcons won the Super Bowl. Even with the Falcons losing, it was cool to cheer guys on -- I played football with some guys at Clemson -- and being a Falcons fan my whole life [the Super Bowl] was pretty special.
MiLB.com: Which Clemson players did you play with?
Meadows: Nick Schuessler, their backup quarterback; Wayne Gallman, their running back, and Ryan Carter, the cornerback. We all won states junior year [of high school]. It was definitely cool to see those guys progress, and they're all great people.
MiLB.com: What position did you play in high school?
Meadows: I was a slot receiver, running back and punter. Played all the way up until my senior year of high school, [played] a little basketball too. I played basketball through eighth grade and stopped playing to focus on football and baseball.
MiLB.com: Which was your top sport growing up?
Meadows: Baseball was, for sure. I was like 3-4 years old and that's where it all started on the baseball field. Football just came along, being athletic I was able to catch on and play the sports that my dad pushed me to. It was definitely cool to be part of something like that growing up. Especially football with the mental grind, and having that [experience] for baseball.
MiLB.com: Your younger brother, Parker, is a pretty good baseball player himself. Is there any particular advice you've given him based on your own experiences in the game?
Meadows: Just try not to listen to the noise or what people have to say and for him to be himself and play his game and have fun doing it, because you never know when the last time will be. With freak injuries like the eye, you really can't take this game for granted, it will get you for sure. He's got a lot of tools and I'm excited for his future, whether it's at Clemson or beyond that.
Chris Tripodi is an editor for MiLB.com. Follow him on Twitter @christripodi. This story was not subject to the approval of the National Association of Professional Baseball Leagues or its clubs.
View More