Prospect Q&A: Reyes ready to work hard
Cardinals right-hander enters 2017 as Rookie of the Year candidate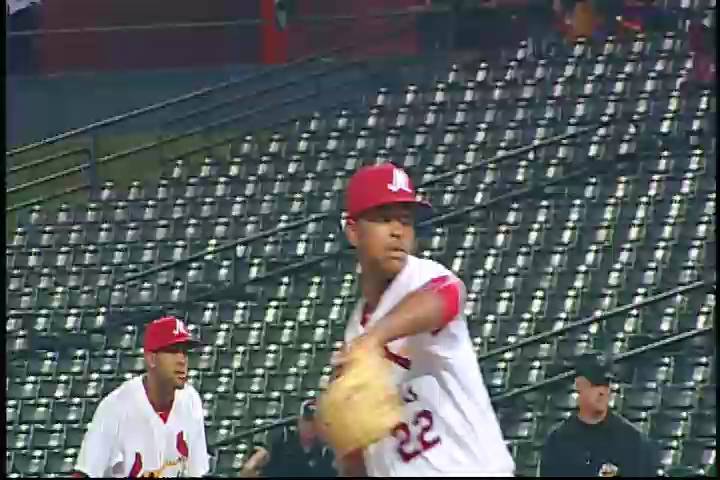 By Danny Wild / MiLB.com | January 23, 2017 10:00 AM ET
Alex Reyes' journey to St. Louis has been unlike any in recent memory. A New Jersey high school pitcher, he left the country in hopes of fast-tracking his way to a Major League contract.
The plan worked and Reyes is an early favorite for National League Rookie of the Year honors after dazzling in his first taste of the Majors last summer. The 22-year-old right-hander, ranked by MLB.com as the Cardinals' top prospect and No. 7 overall, boasts a fastball that touches 100 mph and the makeup that projects him to be a key part of the Cards' rotation going forward.
A 6-foot-3 starter, Reyes went 4-1 with a 1.57 ERA and 52 strikeouts over 46 innings in the Majors last year after making his Triple-A debut in May. He's expected to earn a spot in the Cards rotation this spring after working primarily out of the bullpen for the team last year. In the Minors, he was 2-3 with a 4.96 ERA in 2016.
Reyes made the bold decision to leave high school in New Jersey and move to the Dominican Republic, where he worked out and lived with his grandmother in hopes of bypassing the First-Year Player Draft and signing as an international free agent. The Cardinals invited him to a workout at their Dominican academy and, six months later, Reyes signed for just under $1 million.
After parts of four seasons in the Minors, the two-time Futures Game All-Star is ready for the biggest step of his career.
MiLB.com: So what have you been up to this offseason?
Alex Reyes: Pretty much just in the Dominican Republic for a while, a month and a half down there. I started my workout, throwing program and getting everything going again.
MiLB.com: Were you worried at all last month around the Winter Meetings that teams would try to trade for you? Cardinals general manager John Mozeliak said, "Alex has such high value, we would have had to have been overwhelmed to do something."
Reyes: Not worried, just preparing myself for whatever happens and being ready for whatever is thrown at me. Being able to adapt to a new organization or anything else -- I don't think about it, just more about how ready I am.
MiLB.com: You enter this season not only primed to have a spot in the St. Louis rotation, but many people think you're a strong candidate for National League Rookie of the Year. Do you agree and does that give you any added confidence or pressure heading into Spring Training?
Reyes: Nothing in baseball is given, you've gotta work for it. It feels good to hear those comments, but until I'm out there doing my job, there's not much I can say or do. I'm just going to go out there and pitch and see what happens.
MiLB.com: You're first headed to the World Baseball Classic with the Dominican Republic. Was it a tough decision to accept that invitation and how excited are you to be a part of that?
Reyes: Yeah it was tough, just because you're going into Spring Training and this being my first big league camp. It's going to be new, not knowing what that brings, but it was a pretty easy decision because I always wanted to represent my parents' country and go out there and compete with those guys. It will be a lot of fun and a huge honor.
MiLB.com: What was last season like for you? Your numbers in the Majors were noticeably better than at Triple-A Memphis.
Reyes: The year was long, but it was pretty fun and interesting the way things turned out. My numbers, I really don't know where that comes from. Just kind of being able to compete and going out there and being able to repeat my delivery.
MiLB.com: What was it like when you first were told you were going up to the Majors? How did you find out?
Reyes: Our Triple-A manager called me, I was out eating with teammates and it was a crazy moment. Being told you're going to the big leagues, it was shocking. Being able to call my parents and tell them was a dream come true.
MiLB.com: You had an unusual road to baseball, leaving high school in New Jersey to move to the Dominican Republic. What was that whole process like?
Reyes: It was a tough decision just because I was in high school with all my friends and family, leaving everyone behind and going to the Dominican Republican. It was a huge sacrifice, but it all worked out at the end of the day. I'm thankful for my family and everyone who helped me. It was a decision that changed my life.
MiLB.com: What did you miss most about Jersey?
Reyes: Just the normal high school stuff, like going to prom, all that good stuff, being around my friends and playing baseball with the guys I'd been playing with since I was 6 or 7.
MiLB.com: The Cardinals and Cubs are obviously longtime rivals. What was it like to see the Cubs finally win the World Series last year and how eager are you guys to stop them in 2017?
Reyes: They have a great team and a great organization, they do things right there. It was nice seeing them win, but when I'm on the field, I'll try to compete against them the best I can and do my job to the best of my abilities.
MiLB.com: The Cardinals have a knack for producing talented pitching prospects -- you got called up last season alongside Luke Weaver to replace another former top prospect, Michael Wacha. Why do you think the organization is so successful in that regard?
Reyes: I think they do a great job throughout the Minor League system, teaching the same thing from top to bottom. That's pretty much it. They're consistent on giving you information and they do it well. The communication they give you, tips and stuff, and freedom as well for you to grow into yourself as your own pitcher. The coaching staff, you can't describe the help they do down there and at the big leagues. All around, they collectively do a great job.
MiLB.com: What do you think is the biggest hole in your game at this point? Do you feel like you need to improve your control?
Reyes: Definitely my command, just being able to go out there and go deeper into games is something I'm looking forward to [this] year.
MiLB.com: There are reports that you were throwing about 88 mph in high school and you're now hitting 100. How did you add so much velocity in a relatively short amount of time?
Reyes: Honestly, I think it was growing into my body, and it didn't come all at once. I worked hard through the offseasons and I worked hard before I signed to get stronger in general. I think it's come along with my body, and most of it is God-given.
MiLB.com: What's the most challenging thing about being a Minor Leaguer?
Reyes: It's tough. Everything is tough. The bus trips to the not-so-nice stadiums, the clubhouses, the food is different -- there's many things in the Minors that can be better, but those are good things to go through. It turns you into a grown man. The Minor Leagues are tough, but I feel like there's a reason for it.
MiLB.com: Do you have any routines or pregame rituals?
Reyes: Not really. I'm not really superstitious. Same routine in my stretches and how far I throw or how many pitches I throw in the bullpen. Not a certain number, I just go out there and do the same thing with my stretches and throwing.
MiLB.com: You're from New Jersey -- did you grow up a fan of the Yankees or Mets?
Reyes: I grew up a Yankees fan, but once you sign your name to a contract to a team -- I feel like the Cardinals, they've always been a team in the playoffs and they won a [recent] World Series, so it was easy becoming a Cardinals fan. Just watching the guys here, how they do it, like [Adam] Wainwright and [Chris] Carpenter, they go about their business and it shows you how much of a family more than just a team the organization is.
MiLB.com: Did you have a favorite player on the Yankees?
Reyes: Robinson Cano was definitely one of them. My older brother liked Derek Jeter and we always followed him.
Danny Wild is an editor for MiLB.com. Follow his MLBlog column, Minoring in Twitter. This story was not subject to the approval of the National Association of Professional Baseball Leagues or its clubs.
View More