Prospect Q&A: Robertson always ready to go
A's infield prospect discusses his role in the system, love of the game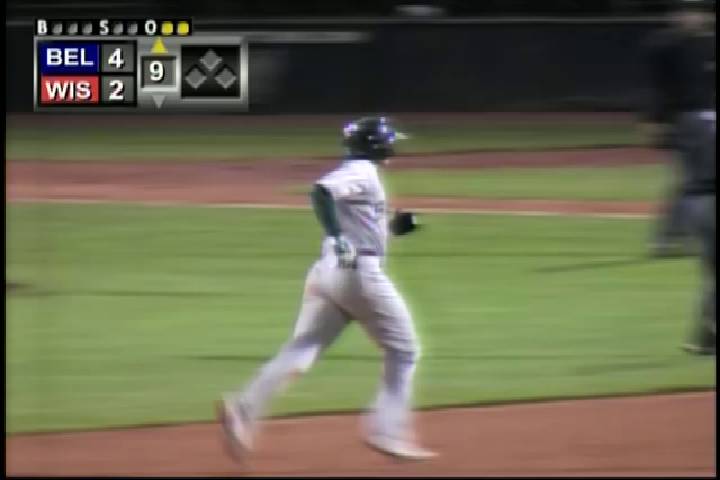 By Josh Jackson / MiLB.com | March 18, 2014 10:00 AM ET
If they made "I'd rather be playing baseball" bumper stickers, by now somebody would have stuck one on the back of Daniel Robertson's ride.
The A's infield prospect has a love of the game noteworthy even among his peers, meaning that this spring he's been a very happy shortstop. As of mid-March, he's played in eight Cactus League games (batting .429) while spending the bulk of his time in Minor League camp. Compare that to last year's Spring Training and it's easy to see why he's been all smiles lately.
Robertson, the 34th overall pick in the 2012 Draft, was the victim of a freak accident in the instructional league that year. One day while taking batting practice, the set of spikes on his right foot got stuck in some recently laid turf. As he swung, his knee didn't twist with his body. The result was a torn meniscus, surgery from Dr. Lewis Yocum and a very boring first Spring Training.
"I came into Spring Training [last] year excited," said Robertson, who turns 20 on Saturday. "I hate missing out on stuff. In my eyes, I was ready to go. But on the A's side, they thought I needed to take it slow. At the time, I was [saying], 'Oh, come on! I want to play!' But, of course, I followed their program. Looking back, I wouldn't change a thing.
After completing rehab, "I played about 110 games [counting the Midwest League playoffs] and there was not one issue with the knee, and it feels good now," he added. "I'm just glad to be in a Spring Training where I get to be in the action."
During a break in that action, Robertson took a few moments to speak with MiLB.com.
MiLB.com: In the fall, A's director of player personnel Billy Owens said that if baseball was played 365 days a year, you'd be the first guy at the ballpark every day. Is that accurate?
Robertson: I think he hit that one on the nose. That's about right.
MiLB.com: How did you first fall in love with the game?
Robertson: My parents have pictures of me in diapers holding a glove and a bat, so I couldn't tell you. But my big brother played and my dad coached. Whenever they had a game, I dressed up in the uniform and ran around the ballfield. It definitely started at a young age.
MiLB.com: And at what point did you get the idea that you were going to actually have a shot at making a career out of it?
Robertson: It really hit me around my freshman or sophomore year of high school. Before, I just played because it was fun and I love to do it. I didn't know what a Perfect Game showcase was until junior year, but I went to a few college showcases, one at UCLA. It sort of hit me that I could do something out of this, maybe play in college and then make it a career.
MiLB.com: Speaking of high school, you batted .560 your senior year. A lot of guys put up big numbers in high school, but was it kind of weird to be getting a hit in most of your at-bats?
Robertson: You know, now I'm fine with three out of 10, so it is funny looking back. Another funny thing is that I had 30-some-odd walks in 25 or 26 high school games, so it's funny that I got drafted by the A's, who are all about drawing walks and getting on base. I was getting hits every game, so it got to the point where they'd pitch around me or go to the intentional walk. Senior year was definitely a good year.
MiLB.com: Was it a challenge to then come to the pros and have results like a more normal player?
Robertson: I did the whole circuit my junior year -- Area Code games and Perfect Game and little showcases here and there, so I knew some of the guys I was going up against. I knew it'd be good competition.
[But] when I came into Rookie ball, I was 0-for my first [six]. That was kind of a shocker for me because I was coming from the high school days when everything came really easy, but that's where being mentally prepared came through. After I got my first hit, which was a home run, everything worked out and I had a really good Rookie ball debut.
MiLB.com: And what has this experience been like for you, being in Spring Training and playing in big league games alongside those guys?
Robertson: Amazing. I'm really blessed to have the opportunity to come over from the Minor League side and be a part of big league games. I'm really watching and seeing how the guys handle themselves in the clubhouse and on the field. It's a really cool experience and I think it prepares me for down the road. I'm just getting my feet wet and I feel like a different player just being over there. It puts the game in perspective for me.
The guys are all top-notch. It's a really special organization. I feel like I can talk to any one of them like we've been teammates for years.
---
"If a day comes where, because he's at short, I'm playing second or third base in the infield with him, that's icing on the cake for me."

-- Daniel Robertson on being in a system with friend and fellow shortstop Addison Russell.
---
MiLB.com: For a while before the Draft and after you were drafted, there was a lot of speculation that you'd move to third base. All last year, you played short and it seems like the organization is happy with how you played there. What are your thoughts on that?
Robertson: Wherever they tell me to play, I'll play. They drafted me as a "third baseman," but I feel comfortable at short. If they tell me to play third or second -- shoot, throw me in left or right field -- I'm just happy to be on the field.
But I do feel really good at short. I'm definitely not shying away from it. I'm going to keep sticking and working to stay there as long as I can. I love playing shortstop.
MiLB.com: Are you and Addison Russell roommates in Arizona?
Robertson: We are. Addison and me and Matt Olson. It's awesome. We're inseparable when we're not playing baseball. You don't find that very often: three high schoolers who were drafted the same year by the same organization and all feel close. We're all on our own paths and we all understand that and push each other forward.
MiLB.com: As far as staying at short goes, you must see some minuses about having Russell in the organization.
Robertson: To be honest, with how close we are, we feed off each other. We talk about [playing shortstop] sitting on the couch while we're watching TV. He helps me and I might say something that helps him, too.
We don't look at it like we're battling for a position. We look at it as motivating and trying to pump each other up. I'm going to keep working at short. I know he's in front of me there -- he's doing what he's doing and he's a top prospect -- and I'm going to keep working. If a day comes where, because he's at short, I'm playing second or third base in the infield with him, that's icing on the cake for me.
MiLB.com: Out of high school, you had committed to UCLA, not too far from home. How easy or difficult was the decision to turn pro after the A's drafted you?
Robertson: Well, senior year, you have [pro] scouts sit down and talk to you and you can tell them this or that, whatever you want them to know. I simply told them, 'Hey, I want to play pro ball.' I never threw out dollar signs, I just said, 'I want to play.' When my name was called that day, since that's how I felt in my heart, it was not a tough decision. I knew what I wanted to do and I went for it.
MiLB.com: Would you be excited to spend some time in the California League?
Robertson: Oh, how awesome that'd be. I'd be in Stockton, but we'd come down and play in Rancho Cucamonga or Lake Elsinore or San Bernardino, all of which are between five and 30 minutes from where I grew up. I'd be playing pro ball in my hometown. There's not anything better than that. And just playing in California all summer, I can't explain how cool that would be for me.
MiLB.com: Lastly, what's the most important thing for you this season?
Robertson: If I can just go out there and keep playing solid, fundamental defense and not try to do too much at the plate, I think I'll be happy. I know the Cal League is known as a good hitters' league and people say this and that about what the ball does there. I don't want any of that in my head. I might hit one out every now and then, but I like to think of myself as a gap-to-gap guy. I want to go up with a solid approach, focused on getting my hits, getting my doubles and not worrying about how far the ball flies.
About all I can do is play hard and have fun and put my faith in God, if He has a plan for me, to go with that. But I really just want to play the game of baseball. What could be more fun than that?
Josh Jackson is a contributor to MiLB.com. This story was not subject to the approval of the National Association of Professional Baseball Leagues or its clubs.
View More