Prospect Q&A: Zimmer soaks up Spring
Royals ace talks recovery, learning lessons from his team's veterans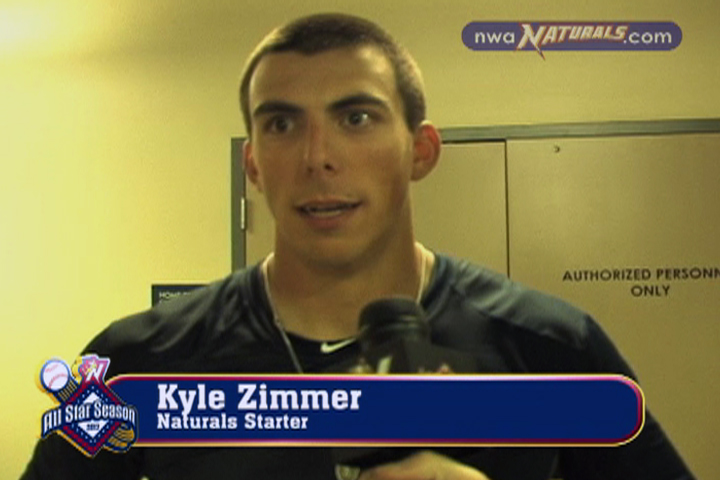 By Kelsie Heneghan / MiLB.com | March 14, 2014 10:00 AM ET
As the youngest player at Royals big league camp, MLB.com's No. 25 prospect Kyle Zimmer has been on the receiving end of good-natured ribbing as well as valuable instruction courtesy of his veteran teammates.
The 22-year-old now knows the value of career longevity and is beginning to understand what not to say in interviews -- for example, he used the phrase "old guys" to describe some of his veteran teammates, leading to an an amiable response from the Royals' more seasoned citizens.
The fifth overall pick in the 2012 Draft, Zimmer is preparing for his third professional season -- one that may include his Major League debut -- while still trying to fully recover from biceps tendinitis that ended his 2013 season in mid-August. The 6-foot-3 right-hander took a break from spring practice to talk to MiLB.com about how he's making the most of his time at camp.
MiLB.com: Since starting to throw again after offseason setbacks, how has your spring been?
Kyle Zimmer: It's going great. It's great being around all the big league guys in the clubhouse and just learning a lot from the veterans. It feels great just getting back out there and getting the feel of the ball in my hand and I'm getting going.
MiLB.com: Since you haven't been able to pitch in a game yet, how have you taken advantage of Spring Training so far?
Zimmer: Just being around all the guys. I've been doing everything pretty much with the whole team as far as PFPs [pitchers' fielding practice] and mound throwing and progression and stuff like that, just not pitching in games. So I'm getting the full experience of what it's like to pitch in big league camp and what it's like to be around the big league team. It's been a real sense of winning and urgency in the locker room. So getting around that environment in a place where guys are hungry to win and around a fan base that is hungry for a winning season and a playoff run, it's great being around that -- just getting in the mind-set, ready to go for the year.
MiLB.com: Who have you learned the most from so far this spring?
Zimmer: Probably [James] Shields -- I've been in his group for most of the stuff. Just sort of picking his brain about how he goes about his business and how he gets through such a long year and how he stays healthy and how he goes about his offseason routine and stuff like that. I've been talking to him a lot.
MiLB.com: It looks like you are having fun and are comfortable with your teammates, especially after the "old guys" comment and subsequent jersey gag (see video below) with Shields.
Zimmer: I think it was a good learning point for me: Never refer to the veterans as old in any sense. I got some grief for it, but I think it was all in good fun. I think it was a good way for them to actually get to know me and [they] took it well.
MiLB.com: Tell me about the recurring bicep tendinitis you dealt with this past offseason.
Zimmer: I had a little bit of discomfort as I started my throwing program in December. It was minor, but they just wanted to take it slow, especially that time of year. Early, there's no point in trying to rush it now and then have anything spark back up in a few months. I'm feeling great now, throwing without pain, feeling fine, feeling great. So just keep looking forward and hopefully get ready for a healthy 2014.
MiLB.com: What are the next steps in your recovery?
Zimmer: Not sure exactly -- [the training staff is] sort of just taking it day by day and telling me day by day, so I don't get too anxious or ahead of myself. So we're just going through the throwing program as usual. Whatever they tell me is what I'm going to be doing.
MiLB.com: Of course you're no stranger to injury with a groin strain in college, surgery in 2012 and your first full season was cut short due to injury.
Zimmer: It's definitely been frustrating. I think injury is the great equalizer. It doesn't matter how good you are, an injury can slow anybody down. So I just try to take it in stride and take all this as a learning experience. I think it's actually been good for me to sort of learn how my body works and how to adapt to all the stress of the full season. So I think I'm going to be ready to go and hopefully put the injury behind me and stay healthy and throw some quality innings.
MiLB.com: Now that you've learned from the process, how will you try to stay healthy this season?
Zimmer: Just figuring out a consistent workout regimen and keeping my shoulder strength and my rotator cuff [exercises] pretty consistent throughout the year. I've talked to some of the veterans about how they go about their lifting routines and their shoulder programs throughout the long season, and so I've picked up some good tips from them. I've got a pretty good plan that I'm ready to implement and work through throughout the year.
MiLB.com: The Royals have said they think you could make your debut by midseason, what do you need to do to be ready for that?
Zimmer: I think just go about my business like I always do. Just take it day by day and not worry about the big picture really, just sort of keep the blinders on and focus on keep getting better at some specific tasks every day.
MiLB.com: You were a third baseman in high school but were moved to the mound in college. What was that transition like?
Zimmer: It was not easy. I didn't take an immediate liking to pitching at first -- I wanted the bat back in my hands. But as I started going along and started learning really how to pitch instead of just going up there and throwing, I think that that was something I adapted to and started to love, even more I think than playing a position.
MiLB.com: Do you think your history at third base gives you an edge fielding on the mound?
Zimmer: I think so. I think just try to take that and be an athlete out there. Being able to field my position, I think, is a plus out there.
Kelsie Heneghan is a contributor to MiLB.com. Follow her on Twitter @Kelsie_Heneghan. This story was not subject to the approval of the National Association of Professional Baseball Leagues or its clubs.
View More