Q&A: Pederson looks to stand out in crowd
Dodgers outfielder talks hitting vs. defense, potential 2014 MLB bow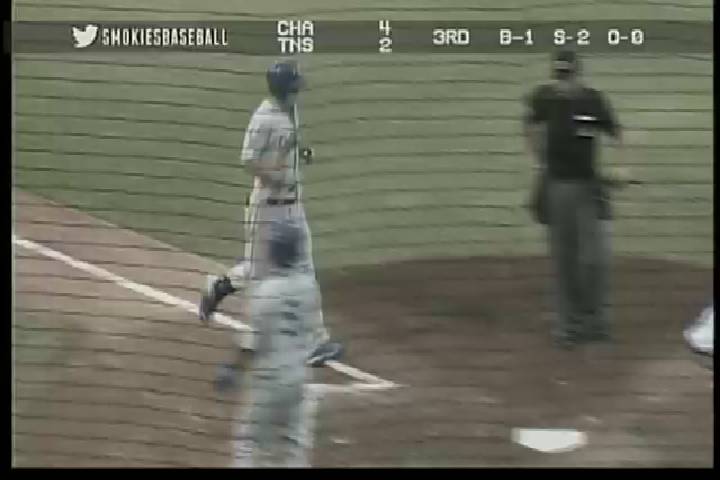 By Sam Dykstra / MiLB.com | March 6, 2014 10:00 AM ET
Joc Pederson could be the next big thing for the Dodgers. He's widely believed to be the organization's No. 2 position player prospect and is ranked as the No. 36 overall prospect by MLB.com entering the 2014 season. Only Corey Seager (No. 34) ranks ahead of him in the Dodgers' system.
This comes one year after he slashed .278/.381/.497 with 22 homers, 58 RBIs and 31 steals last year for Double-A Chattanooga, collecting such honors as an Topps Double-A All-Star spot and an appearance in the Futures Game along the way.
If only the Dodgers had room for him...
Los Angeles' senior-circuit squad has a clogged outfield with Matt Kemp, Carl Crawford, Andre Ethier and former Pederson teammate Yasiel Puig competing for four starting spots.
That leaves Pederson, who is entering his third full Minor League season after being taken in the 11th round back in 2010, on the outside looking in with Triple-A Albuquerque his likely destination. But for now, the 21-year-old center fielder is appearing in his first Major League Spring Training camp. With that comes a chance to leave enough of an impression that the big club may not wait long to give him the big call, especially given Kemp's injury history.
Pederson talked to MiLB.com after a recent Cactus League contest about how he sees himself in that Dodgers outfield, how he views himself as a player overall and whether he was a Dodgers fan growing up in Palo Alto.
MiLB.com: You got your first homer of the spring under your belt last week. How did it feel to get that out of the way?
Pederson: It was definitely a relief, I can say that, especially since it was my first hit too. It's a little bit easier to relax now at the plate knowing I've already got one, so it's a good feeling right now.
MiLB.com: You made a good catch in center as well this week. What gets you more jazzed -- a home run or a nice play in center field?
Pederson: Definitely the homer. I think more of myself as a hitter or a hitting outfielder than anything else. I definitely take pride in my defense because obviously it's a part of the game. But still, hitting is my favorite thing to do in the game.
MiLB.com: Where does that love of hitting come from?
Pederson: Part of it was growing up with my dad [Stu Pederson, who played in eight games for the Dodgers in 1985], because he was a hitter too. But a big part is, if you can hit the ball well, you play. There are a lot of people who play defense very well that don't have a job. You get paid and have a career if you can hit in this game, I know that. So I've take more pride in that stuff.
MiLB.com: What's been your focus in your first turn at Major League Spring Training?
Pederson: The biggest thing is you're learning, trying to take a look at everyone's maturity and how they handle the mental sides of everything. I've been watching guys go about their business, and now I'm trying to build my own routine based on what I've watched so I can be the same in that aspect.
MiLB.com: Who are you keeping your eye on the most?
Pederson: All the outfielders, I guess, just because I'm around them the most. But it's still overall, I'm looking at everyone and how they act in the clubhouse and in the training room lifting weights and all that. It's mostly an eyes-open, mouth-shut thing for me right now.
MiLB.com: Going back to last year at Chattanooga, what stood out to you most about your jump to Double-A ball?
Pederson: Overall, I think it was a pretty good year. The big thing was adjusting to some of the pitchers at that level because they're pretty good up there too. But the biggest thing for me was kinda realizing you're going to fail at points and you have to learn how you should go about coming back from failing. Not everything is going to go your way, and I definitely figured that out last year after not really having to go through that before. Every at-bat counts, and you have to treat it like that.
---
"It was special to see him play, for sure. There are so many unbelievable things he can do out there. I was just excited to come to the park every night to see what he would do next. He's a freak."

-- Joc Pederson on playing with Yasiel Puig
---
MiLB.com: Was there a particular moment you came to those conclusions?
Pederson: I think I hit under .200 for a whole month. [Ed note: Pederson hit .203 in July.] But I came back and finished stronger, and that was a real positive for me. It's probably the worst I've ever played for a month. I just had to come back, get back on the horse and push through it. No matter how bad it is, you have to stick with your game. This is a very humbling game at times, and you have to stay humble throughout it if you want to be successful.
MiLB.com: One of the highlights of last season was probably at the beginning of the year when you and Yasiel Puig shared an outfield before he moved up and made a big name for himself in the Majors. What was it like playing with him?
Pederson: It was special to see him play, for sure. There are so many unbelievable things he can do out there. I was just excited to come to the park every night to see what he would do next. He's a freak.
MiLB.com: After the season ended, you spent some time in the Venezuelan Winter League. Characterize that experience.
Pederson: Oh, it was an awesome experience. The culture, the style of play is so different down there, so it was great to experience that. They play every game to win even though it's a winter league, and the fans are so loud and so rowdy at each game. It's a good atmosphere to play.
MiLB.com: Coming back to this year, one of the big storylines in Dodgers Spring Training is the whole "four outfielders for three spots" deal. But you might be right there too. How do you see yourself fitting into that conversation right now?
Pederson: That's not something I'm all too worried about right now. I just have to go about my business at it stands. Who knows what's going to happen this season? You can't predict it. I just need to be ready for anything.
MiLB.com: If that call does come this year, what do you think that first game as a Major Leaguer will be like?
Pederson: You know, it's always been my dream to make it to the big leagues, and I'm just excited to think I'm this close. That being said, nothing is ever true until it actually happens. If and when that day comes though, I'm sure it'll be special.
MiLB.com: What has your dad said about the potential of that happening?
Pederson: He usually gives me small advice. There are going to be ups and downs in this game, and he's always there for me when the downs happen. Keep grinding. Keep your head up. Everybody's going to fail. You don't realize that stuff until you actually do fail, so I'm blessed he's there to help me through it.
MiLB.com: How often do you talk to him during the season?
Pederson: Quite a bit, but it's mostly father-son talk and not too much baseball. If he sees something though, he'll tell me. He always reminds me to hustle and to give it my all as far as that goes.
MiLB.com: All things considered, you're likely to start at Triple-A Albuquerque. How much do you know about playing there?
Pederson: Not much, to be honest. I haven't played there yet, so I guess I have to start asking some questions to the guys who have.
MiLB.com: What do you plan on asking?
Pederson: Just how the ball plays, where people live while they're there, what the travel is like, just certain run-of-the-mill Minor League stuff. And for the ones who have had some success there, I'll definitely talk to them about how they went about their business in a successful manner down there.
MiLB.com: One of the few knocks against you last year was your inability to hit left-handers. How are you addressing that this year?
Pederson: I've been doing some stuff with some of my hitting coaches to work on that.
MiLB.com: What kind of stuff?
Pederson: Oh, I can't really say that. I don't want to give away any secrets.
MiLB.com: Going back to your Draft year, how close were you to going to USC instead of signing?
Pederson: It was within an hour or two actually. I had everything packed and ready to go, even my bike, my cruiser. It was a really late decision, but I'm happy I made it.
MiLB.com: What changed your mind?
Pederson: Like I said, my dream was to play in pro ball, and at that point, this was the best possible way for me to do that. So I made the decision to go this route.
MiLB.com: You're a California guy, albeit from the northern half, and your dad played for the Dodgers. How much did it matter that it was the Dodgers who were trying to sign you?
Pederson: I don't know. My dream was to play in the big leagues, so I don't know if it mattered. I'd like to think if I was in the same boat with another team, nothing would have changed.
MiLB.com: Were you a Dodgers fan growing up?
Pederson: [pause] I just liked to watch baseball. I'm from the Bay, so . . .
MiLB.com: When you joined the Dodgers back in 2010, the Major League club was a .500 team. Now, they're considered one of the best teams in baseball. Have you felt a shift in the whole organization since you signed?
Pederson: Yeah, absolutely. There are a lot of good vibes around here now, and it makes all the more exciting to come to the park every day. I feel like I'm in the best situation in the best organization I can be right now.
Sam Dykstra is a contributor to MiLB.com. This story was not subject to the approval of the National Association of Professional Baseball Leagues or its clubs.
View More