Ranaudo impresses among big league crowd
Red Sox's No. 8 prospect hurls 5 2/3 shutout innings, strikes out four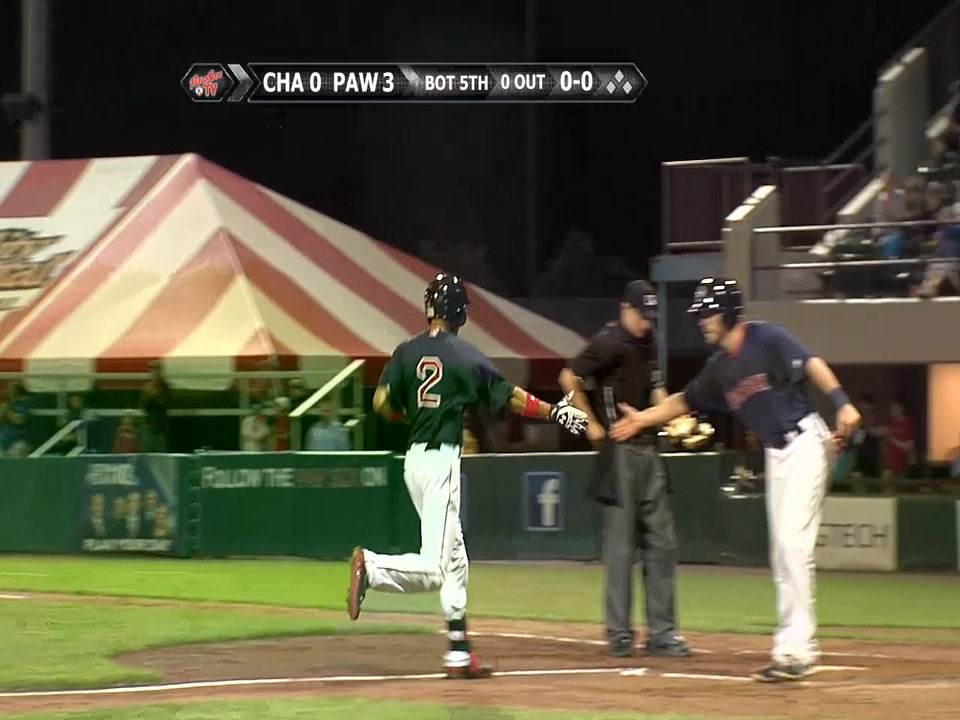 By Mark Emery / MiLB.com | June 15, 2014 1:53 AM ET
The presence of Clay Buchholz, Will Middlebrooks and Shane Victorino would normally be enough to overshadow the doings of most prospects, but Anthony Ranaudo isn't just anybody.
Besides, those guys lost the first game of Saturday's doubleheader.
With the veterans not participating in Game 2, the Red Sox's eighth-ranked prospect turned in another scoreless outing, his fourth in six turns. Triple-A Pawtucket took the nightcap, 3-0, after Charlotte won the opener by the same score.
"After any loss, it's good to get back on track and get a win," said Ranaudo, who hadn't pitched since June 6. "And fortunately, we were able to do it in the same day. Hopefully, we can come tomorrow and finish up the series strong."
Over 5 2/3 innings, Ranaudo allowed four hits, ending with four strikeouts and a walk. He threw 96 pitches while improving to 7-4 and lowering his ERA to 2.58, which ranks seventh in the International League.
In his past six starts, MLB.com's No. 95 overall prospect has allowed four runs across 37 innings.
"I made some mechanical adjustments about two weeks ago," Ranaudo said. "Being able to repeat my delivery, being able to command the fastball, it's been a lot better."
The pitcher got a boost from Mookie Betts, Boston's No. 5 prospect. The leadoff hitter smacked a two-run homer in the fifth inning to cap Pawtucket's scoring.
Ranaudo also benefited from the presence of Buchholz, who was rehabbing a hyperextended left knee.
"He doesn't want to be here; obviously, he wants to be in the big leagues," Ranaudo said. "But anytime a Major League pitcher comes down, it's good for us guys to watch how he goes about his business, how he goes about his routine.
"He's obviously very successful at the Major League level. His numbers speak for themselves. Anytime we get a chance to watch him and watch how he goes about his business, it's great for us. I thought he looked really good today, threw the ball well. Hopefully, he can bet back on track and get back up to Boston."
Buchholz allowed three runs -- two via solo homers -- on four hits across 4 2/3 innings, striking out five without issuing a walk. He threw 42 of 62 pitches for strikes. The veteran right-hander is 2-4 with a 7.02 ERA in 10 starts for Boston this year and has not pitched for the Red Sox since May 26.
"Overall, I felt really good with everything, how I came out," Buchholz said. "Command was pretty good. When I missed with a pitch, I was able to correct it. That was the struggle for me for the last couple starts up there, so that's the main thing I wanted to get down here and do.
"I threw a lot of first-pitch curveballs for strikes. Lot of changeups, cutters, fastballs. ... I mixed in everything that I had. "
Victorino, who is coming back from a strained right hamstring, went 0-for-2, batting second and playing right field for five innings. As the DH, Middlebrooks hit third, played the whole game and went 1-for-3 with a strikeout as he returns from a fractured right index finger.
Mark Emery is a contributor to MiLB.com. Follow him on Twitter @Mark_Emery. This story was not subject to the approval of the National Association of Professional Baseball Leagues or its clubs.
View More