Rangers' Trevino seizes spotlight with glove
Ninth-ranked catching prospect excels in opportunity created by WBC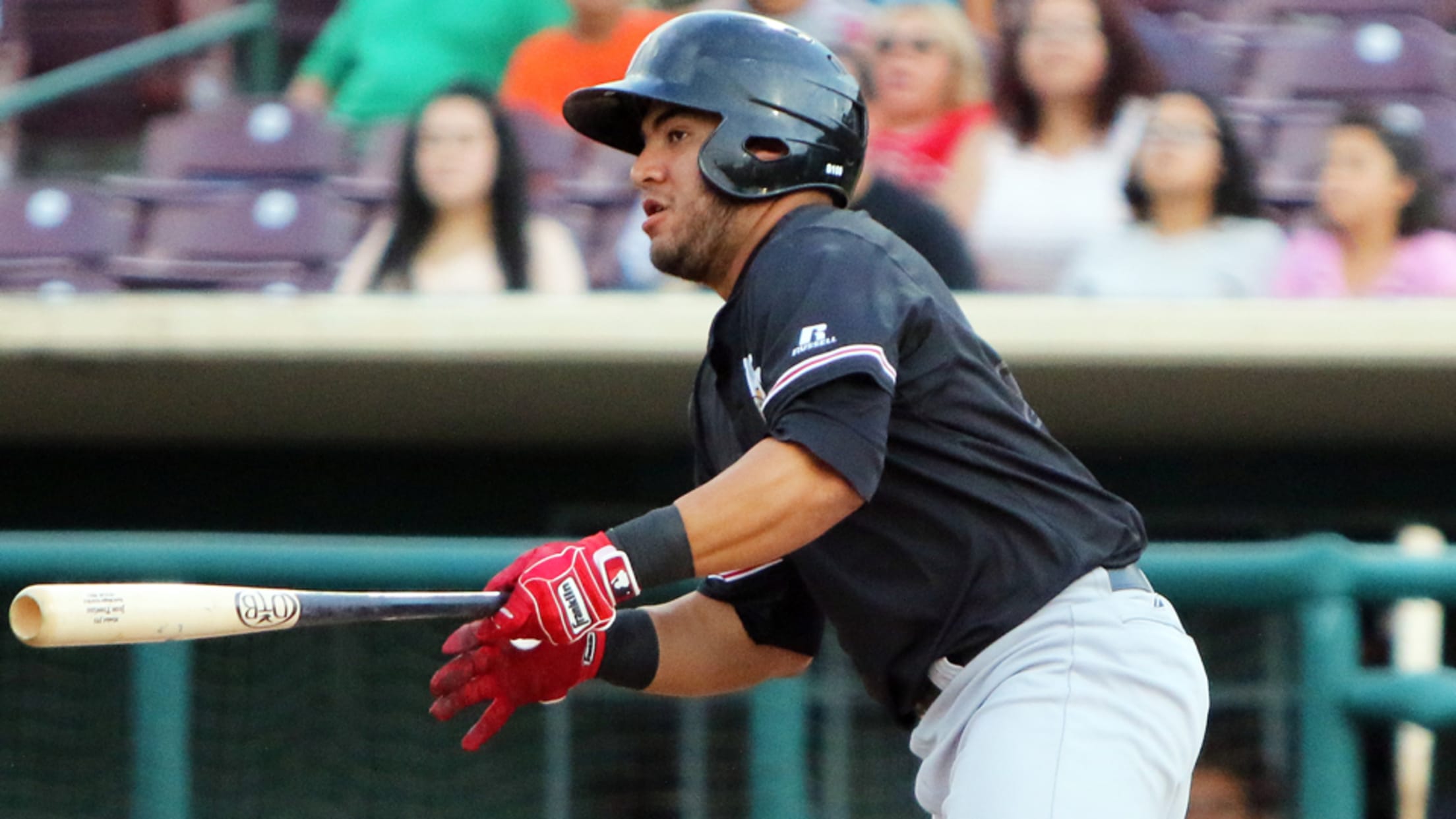 Jose Trevino hit 41 points higher in 2016 than in 2015, his first full season as a pro. (Fernando Gutierrez/MiLB.com)
SURPRISE, Arizona -- Perhaps nobody in the game has a greater appreciation for the World Baseball Classic than Jose Trevino.The international tournament has allowed the No. 9 overall catching prospect to showcase himself in the Cactus League as Rangers backstops Jonathan Lucroy and Robinson Chirinos are both absent from camp. Lucroy is
SURPRISE, Arizona -- Perhaps nobody in the game has a greater appreciation for the World Baseball Classic than Jose Trevino.
The international tournament has allowed the No. 9 overall catching prospect to showcase himself in the Cactus League as Rangers backstops Jonathan Lucroy and Robinson Chirinos are both absent from camp. Lucroy is suited up with Team USA, and Chirinos has donned the jersey of his native Venezuela.
"It's a great opportunity," Trevino said. "No doubt. I think it's just something in their eyes where they can see, 'Hey, what do we really got here?' It's not just, 'Oh, he's good in the Minors. Now let's throw him in some big league games.'"
The 24-year-old product of Corpus Christi, Texas, earned a non-roster spot with a strong showing for Class A Advanced High Desert last year. He put up a.303/.342/.431 line, 30 doubles and nine homers, but his defensive performance was the real head-turner. In 872 2/3 innings behind the plate, he posted a .998 fielding percentage and threw out a whopping 47 of 98 (48 percent) would-be thieves en route to picking up a Gold Glove.
He also handled a pitching staff that at one point featured the likes of Yohander Méndez (MLB.com's No. 56 overall prospect) and Ariel Jurado (Texas' No. 3 prospect) while helping the Mavericks take the California League title. He wrapped up the year with 18 games in the Arizona Fall League.
<jsp:include page="/milb/include/spring_2017.html">
"I think as we've gotten around him even more the last two-and-a-half years, we've seen that this guy is a born leader," Rangers assistant director of player development Paul Kruger said. "You look at some of the pitchers he's worked with, they've taken those little steps. I think you have to give a lot of credit not just to the pitchers but to him himself."
Texas right-hander Chi Chi González first called Trevino a teammate during the latter's freshman year at Oral Roberts, where Gonzalez was a sophomore. After earning accolades as a third baseman his first college season, Trevino began catching occasionally, especially when Gonzalez pitched.
"I think I was drafted that high because of him," said Gonzalez, whom the Rangers took 23rd overall in that summer of 2013. "He played a big role in that."
The Texas organization noticed, plucking Trevino in the sixth round the next year and moving him permanently behind the plate.
"We saw that as something he had done. When he was in college, being able to catch Chi Chi Gonzalez, when he would do that, and then go play shortstop, play third base, you knew this was a special kid," Kruger said.
"He gets the most off his pitchers and his team, and he holds them responsible in the right way, where these guys trust and respect everything he does. You saw that: the two teams he played on the last two years of full seasons [High Desert and Class A Hickory] have won championships, and he's been the guy behind the dish directing traffic, putting together plans, understanding his pitchers -- what they can do, what they can't do -- and really maximizing their potential."
But he's made the conversion look easier than it was.
"It came with a lot of hard work, definitely in the offseason," Trevino said. "I've taken pointers from everybody, from catching coordinators in the past, catching coordinators now, Hector [Ortiz, now Texas' first base coach], Pudge [Rodriguez] even, but it comes with a lot of hard work."
It's paid off on a grand stage. In the third inning of Saturday's game against the White Sox, he made highlight reels with a diving catch on a bunt attempt by Peter Bourjos. He'd nailed Tyler Saladino trying to swipe second in the previous frame.

"It's what we have to do. We block the ball. We throw people out. Bunt coverage," Trevino said. "It just so happened that I had the opportunity to make a good play and went out there to the best of my abilities to make the play. That's all it was. It's stuff we should be doing. The great plays just come with [going for it] whether you catch them or not, but we should be covering bunts. We should be throwing people out. We should be good defensively."
With Venezuela's 4-3 victory over Italy on Monday night, both Chirinos' team and Lucros' are moving on to this week's WBC action in San Diego. However much more or little time Trevino gets in the Cactus League, Kruger sees him benefiting tremendously from it.
"It's huge. It gives you a chance to be around the big league staff. Even before Jonathan Lucroy and Robinson Chirinos left, it was a good opportunity for him to see what those guys do: their training regiment on and off the field, their routine pregame-wise," Kruger said. "Additionally, he gets the chance to go out and compete every day, whereas typically, if you'd come into camp as one of the non-roster invitees, you may not get all those opportunities."
Josh Jackson is a contributor to MiLB.com. Follow and interact with him on Twitter, @JoshJacksonMiLB.