Red Sox call up Vazquez for Majors debut
No. 10 prospect promoted from Triple-A Pawtucket; Pierzynski DFA'd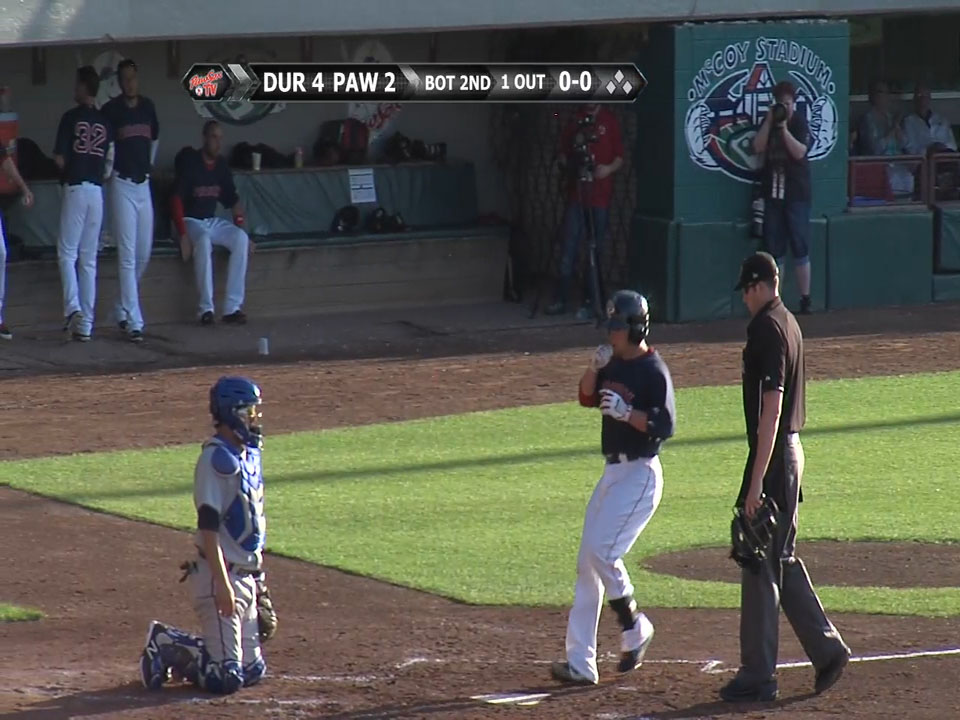 By Sam Dykstra / MiLB.com | July 9, 2014 3:57 PM ET
When the Red Sox signed veteran catcher A.J. Pierzynski to a one-year deal last offseason, it felt like a stopgap move with two of the organization's prized catching prospects -- Christian Vazquez and Blake Swihart -- climbing through the upper levels of the Minors.
But even then, the future wasn't supposed to arrive full-time until 2015.
Well, it came Wednesday.
The Red Sox have promoted No. 10 prospect Christian Vazquez from Triple-A Pawtucket to the Major League club after designating Pierzynski for assignment Wednesday. Manager John Farrell confirmed the news on Boston sports radio station WEEI and added that Vazquez will be the team's starting catcher Wednesday against the White Sox at Fenway Park.
The 23-year-old backstop was selected by the Sox in the ninth round of the 2008 Draft out of the Puerto Rico Baseball Academy High School in Gurabo, Puerto Rico. In the seven seasons he's spent in the system since, Vazquez has developed a reputation as a defense-first catcher and an impressive one at that.
MLB.com gave his arm a 60 grade last offseason, and he's backed that up by throwing out 39.6 percent of runners this season, second-best in the International League. He led the Eastern League in that category with a 46.5 percent caught-stealing rate in 2013. For reference, the Major League average this season is around 27 percent. In that respect, Vazquez is expected to give an immediate boost to a Boston catching corps that ranks 22nd in caught-stealing percentage at 22 percent, no thanks to Pierzynski's 19 percent success rate.
Although Vazquez's defensive prowess usually gets the bulk of the attention, he can also hold his own at the plate as well as behind it.
The right-handed-hitting backstop owns a .279/.336/.385 line with three homers, 17 doubles and 20 RBIs in 66 games for the PawSox this season. He's been particularly hot of late with hits in seven straight games entering Wednesday and a .342/.405/.474 slash line with a homer and two doubles in his last 10 games.
Vazquez was one of three catchers named to the IL All-Star team last week but will not participate in next Wednesday's game in Durham following the promotion.
The writing had been on the wall for Pierzynski's early exit for some time. The 37-year-old catcher was batting .177 (11-for-62) in his last 18 games, dating back to June 14. His overall line stood at .254/.286/.348 with four homers and 31 RBIs in 72 games. Of the 14 Major League catchers with at least 250 plate appearances this season, he ranked 13th with a .633 OPS and tied for 12th with a 0.1 fWAR.
The Major League job will be shared by Vazquez and backup David Ross for now, but even this move could be a placeholder for Swihart, who is enjoying a breakout season at Double-A Portland. The No. 3 Red Sox prospect has a .294/.347/.474 slash line with nine homers (a career high) and 44 RBIs in 71 games. He's thrown out a remarkable 53.2 percent of would-be basestealers, and it's that combination of offense and defense that has him surging not only through the Sox system but also prospect rankings everywhere. It's unlikely the 22-year-old switch-hitter sees Boston this season, but 2015 is a very realistic ETA.
Sam Dykstra is a contributor to MiLB.com. This story was not subject to the approval of the National Association of Professional Baseball Leagues or its clubs.
View More