Redbirds' Gast perfect for 5 2/3 innings
Cardinals left-hander exits after second rain delay interrupts gem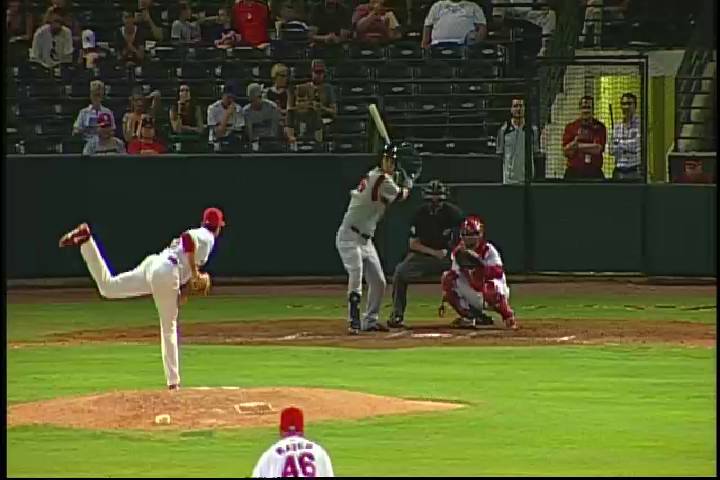 By Ashley Marshall / MiLB.com | July 9, 2014 12:52 AM ET
For the first time in 15 months, John Gast felt like he had everything working. A 20-minute rain delay couldn't cool him down, but a second interruption proved too much to overcome.
Gast fired 5 2/3 perfect innings and weathered the first storm, but he was reducted to a spectactor following a second delay as Triple-A Memphis dropped a 4-2 decision to visiting Nashville on Tuesday night.
Selected by the Cardinals in the sixth round of the 2010 Draft, the 25-year-old left-hander retired all 17 batters he faced. The first nine outs came before the first rain delay, the next eight once the trap came off the field. But when the rain returned, he knew his night was over.
"I heard the second [delay] was a little bigger and I figured that because I'm still on rehab they wouldn't let me have two delays," said Gast, who stayed loose in the dugout and stretched with bands in the training room. "It was pretty good. I felt like I had command of all three of my pitches. When things are going like that, you tend to have success.
"I was working everything pretty evenly. Just kinda had to mix it up pretty good on those guys."
Gast, who said it was the most comfortable he's felt since April 2013, threw 44 of 61 pitches for strikes and induced seven ground-ball outs before exiting with a 2-0 lead.
Angel Castro replaced Gast after the second delay, which lasted 36 minutes, and got Eugenio Velez to pop out to end the sixth. Third baseman Jermaine Curtis' error to begin the seventh ended the Redbirds' bid for perfection, and the no-hitter and shutout fell two pitches later when Hector Gomez smacked a two-run homer to left field.
Matt Clark hit an RBI double later in the inning to snap the tie and Pete Orr padded the lead with a leadoff homer in the eighth.
For Gast, the performance was more encouraging than the final result.
The Florida State product underwent surgery last July to repair a tear in his left lat after two months of rest proved insufficient to ease the discomfort or fully heal the muscle. The process took longer than Gast initially expected and he didn't return to live game action until his season debut for Class A Advanced Palm Beach in early June.
His fastball is topping out around 88 mph, down from the 92 mph range before the surgery.
"I had a pretty good streak last year to start the year, then I got hurt and I was out for a year," he said. "My velo is still way down and I'm still trying to get back from that. It's pretty big. It means I can't do some of the things I want to be able to do, like rely on my fastball. I know I can't really fall behind hitters now because my command has to be perfect to compete."
Gast, who went 2-0 in three big league appearances with St. Louis last year, has been largely inefficient rebounding from the surgery. He had a 9.43 ERA in his first five Pacific Coast League games, surrendering 22 runs over 21 innings. The low point of the season came on June 26, when he gave up nine runs on 10 hits and four walks in 3 1/3 frames.
Ashley Marshall is a contributor to MiLB.com. Follow him on Twitter @AshMarshallMLB. This story was not subject to the approval of the National Association of Professional Baseball Leagues or its clubs.
View More