Renfroe blasts off in Triple-A debut
Padres top prospect collects three hits, including homer, four RBIs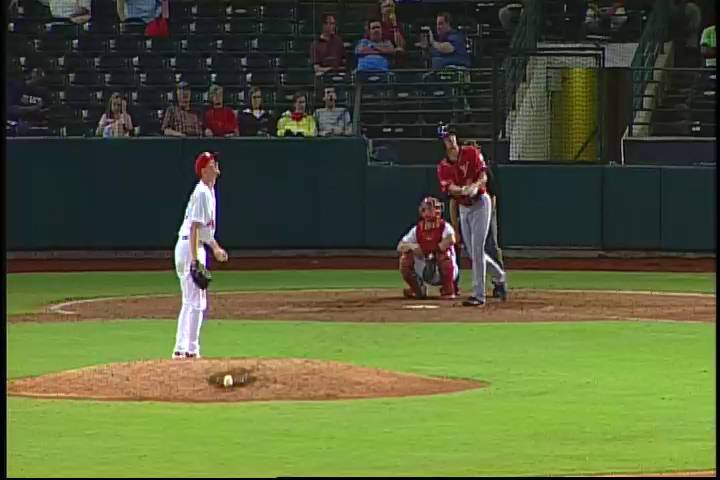 By Kelsie Heneghan / MiLB.com | August 20, 2015 2:49 AM
When Hunter Renfroe stepped to the plate at AutoZone Park for his first Triple-A at-bat, he didn't feel too nervous.
"I felt comfortable at the plate," he said. "It was like I was supposed to be there."
With that sense of belonging, the Padres' top prospect went 3-for-4 with a homer and a season-high four RBIs on Wednesday night as El Paso cruised to an 8-1 victory over Memphis.
"Being near my hometown and having some family come up for the few days and seeing them is great and having some fans that know me and my background, it will help a lot," the Crystal Springs, Mississippi native said. "Good to be out of San Antonio, just to have a new scenery. Felt good to be in the South again, really, on the east side of Mississippi."
Only 18 hours earlier, Renfroe was packing up his car and making the trip from \San Antonio to the stadium where he played whenever Mississippi State took on the University of Memphis.
Everywhere the 23-year-old looked, there was a familiar sight. In the dugout were longtime teammates he was happy to rejoin; in left field was the fence he homered past for the Bulldogs in 2013; and in the stands were his family and fiancé, Courtney.
Renfroe got his first Pacific Coast League hit out of the way with a single to left in the top of the first.
"I just gave it a whiff and I don't have to worry about going 0-for-what-have-you. There's always something in the back of your mind if you go 0-for- ... like, 'Do I actually belong here or not?'" said Renfroe, who had gone 2-for-11 when debuting at his previous three levels. "It was great to just to do it in the first at-bat and get it over with and have a great game like I did and really just be comfortable at the plate and not worry about it too much, just go up and swing the bat."
Renfroe flied out in the second and fifth, but the latter scored pitcher Daniel McCutchen and produced his first Triple-A RBI. MLB.com's No. 81 overall prospect continued to pick up "firsts." In the sixth, he battled back from a 1-2 count against reliever Chris Thomas and ripped a two-run double to left.
"I was just, 'See ball, hit ball' all night, and it happened to work out," Renfroe said. "I got a lot of base hits and I was really just trying to do my part and drive in runs and be a hitter, not just a swinger."
The 2013 first-round pick led off the eighth with a blast to deep left field, sailing over the spot where his college jack landed two years ago.
"It felt good. It was ... not a relief, but I was happy -- happy with myself, happy my family was here to see it," he said. "[My teammates] were excited. I played with these guys before and I've hit home runs and they've [celebrated] before, so it was the kind of thing where the dugout was business as usual."
Since the Padres drafted him 13th overall in 2013, Renfroe has been promoted in the middle of all three of professional seasons. He batted .259/.313/.425 with 14 homers and 54 RBIs in 112 games for the Missions.
Renfroe's big debut helped McCutchen (8-6) win his second straight start. The veteran right-hander held the Redbirds to two hits while fanning two over 5 1/3 scoreless innings.
Kelsie Heneghan is a contributor to MiLB.com. Follow her on Twitter @Kelsie_Heneghan. This story was not subject to the approval of the National Association of Professional Baseball Leagues or its clubs.
View More