'Riders' Alfaro homers on four-hit night
Rangers' No. 2 prospect collects four RBIs in fifth game at Double-A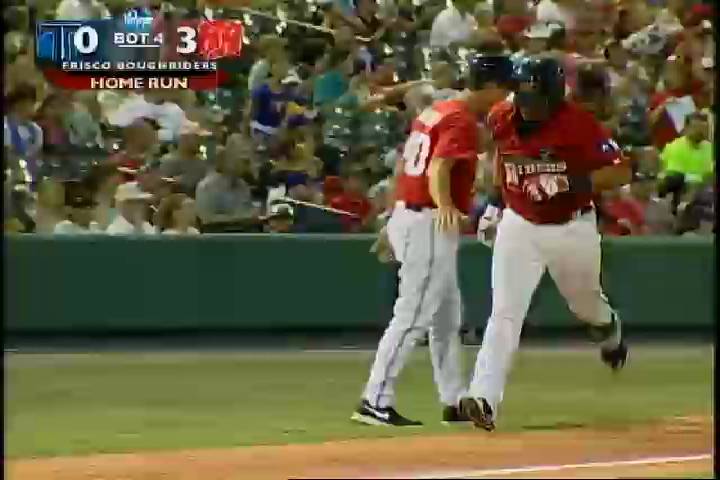 By Josh Jackson / MiLB.com | August 10, 2014 2:07 AM ET
If there was any doubt about moving Jorge Alfaro up to Double-A, his performance on Saturday night went a long way toward erasing it.
The Rangers' second-ranked prospect went 4-for-5 with a homer, four RBIs and two runs scored to lead Frisco to an 8-1 win over visiting Tulsa.
The 21-year-old catcher hit .261 with 13 homers and 73 RBIs in 100 games with Class A Advanced Myrtle Beach before making his Texas League debut on Tuesday. The four-RBI performance was his third of the year, one of which came on a 5-for-5 night for the Pelicans on May 27.
He also made defensive strides, which the front office in Arlington reportedly was eager to see.
"In Alfaro's situation, we put together a plan to challenge him, and if he thrived within that context, we would promote him to Double-A," Rangers assistant general manager Thad Levine told MLB.com. "He did."
"Jorge has done a good job slowing things down and separating his at-bats from his defense," general manager Jon Daniels told the Dallas Morning News' Rangers blog. "He's worked hard at handling the staff and the responsibility that comes with it. He still has a lot of work to do, but we felt the environment in Frisco and the quality pitching they have is the best spot to continue that work right now."
Alfaro clubbed his first homer at his new level on Wednesday and had two hits on Thursday. If an 0-for-3 Friday put a dent in his confidence, it didn't show on Saturday.
The native of Colombia lined out in the first inning against Drillers starter Richard Castillo but knocked a two-run single to right field in the second.
Alfaro went to the opposite field again against Castillo in the fourth, sending a 2-0 offering over the fence in right. It was his 15th homer of the season.
Facing Josh Mueller in the sixth with runners at the corners, he smacked a ground ball to the left side. Third baseman Jayson Langfels kept it in the infield, but Alfaro reached with a hit and earned another RBI.
MLB.com's No. 33 overall prospect cracked his third opposite-field hit of the ninth in the eighth, lining the first pitch he saw from reliever Ryan Arrowood into right. He came around to score on a single by Rangers No. 10 prospect Nomar Mazara, who went 3-for-5 with three RBIs.
Top Rangers prospect Joey Gallo walked three times, recorded his first Double-A stolen base and scored twice.
Rangers left-hander Derek Holland, recovering from microfracture surgery on his left knee, allowed three hits and struck out four over three scoreless innings for the RoughRiders.
"It felt really good," Holland told ESPNDallas.com. "The big thing was being able to command my fastball a lot better. ... Still a little bit that I'm disappointed with, fastball-wise, but overall the command was great, off-speed was good."
Tyler Featherston went 3-for-4 with a double for the Drillers.
Josh Jackson is a contributor to MiLB.com. This story was not subject to the approval of the National Association of Professional Baseball Leagues or its clubs.
View More