Righties Gray, Butler cut from Rockies camp
Top two pitching prospects in Colorado system headed back to Minors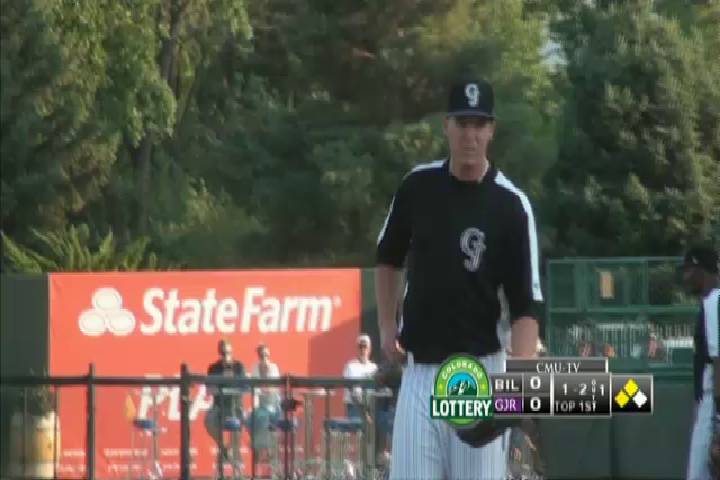 By Josh Jackson / MiLB.com | March 15, 2014 8:23 PM ET
For Colorado Rockies top pitching prospects Jon Gray and Eddie Butler, being cut from Major League camp on Saturday comes with a considerable silver lining.
Both of the right-handers profile to develop into starters but, thanks to a seven-man competition for a spot in the Rockies rotation, had been limited to relief work in the Cactus League. Gray, the Rockies' top prospect and MLB.com's No. 14 overall, posted a 5.40 ERA over 6 2/3 innings. Butler, ranked 41st overall, had a 3.86 ERA and pitched three solid innings on Friday night.
The move will enable both pitchers to log more innings in Minor League spring games, and each considers the time spent in big league camp an invaluable learning experience.
Gray, the third overall pick in last year's Draft, has only 37 1/3 innings of professional experience -- none higher than Class A Advanced. On Thursday, he was touched for three runs over 2 2/3 innings against the A's.
"People say you learn more from failure, and that's exactly how I feel," Gray told MLB.com. "The first couple of times, I had a lot of success sticking to the game plan, getting a lot of ground balls by staying down in the zone.
"But last time, I was feeling really good and I was trying to blow it by people. Now I know what I need to work on, and that game gave me a really good idea. I've got a plan. It's all about knowing when to use my fastball. I've got to control my aggression."
Neither Gray nor Butler has been given an Opening Day assignment, but Gray said his approach will not change no matter what Minor League level he's sent to.
"I've got to pretend like every time I throw there, I'm throwing here," he explained. "I've got to continue to learn. I'll find out what things work and what things don't work, find out different ways to win and cross off things that lead to losses."
Butler, a 2012 first-rounder, pitched his way through three levels last season and made six starts for Double-A Tulsa. While he's proud of his Cactus League performance, he admitted it highlighted some areas for improvement.
"I held my own up here, but there are some things that I need to work on that will make me an even better pitcher up here," he said. "But for me, it's not looking to the future, but taking it literally what's in front of me today.
"You can't go down [to the Minor Leagues] dreaming about this or you're going to lose touch with what you're doing. And next thing you know, you're having a bad year with no shot of being up here. Focus on what you're doing."
Josh Jackson is a contributor to MiLB.com. This story was not subject to the approval of the National Association of Professional Baseball Leagues or its clubs.
View More