Robertson relishes Whitecaps' return
Fifth Third Ballpark hosts home opener, three months after fire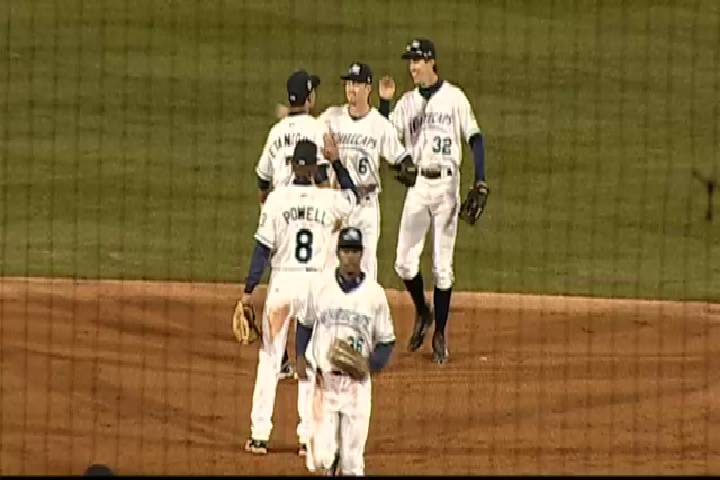 By Kelsie Heneghan / MiLB.com | April 9, 2014 1:17 AM ET
Montreal Robertson jogged in from the West Michigan bullpen in the ninth inning on Tuesday night. He felt great -- a little weird but great.
The last time the right-hander entered a game at Fifth Third Ballpark, he was leaving the first base dugout to start the first inning. Since that last game in Comstock Park, Mich., a lot has changed for Robertson and the stadium he's called home for the better part of a year.
In January, Robertson got a call from his former host family, which reported that the ballpark had been damaged by fire. The Arkansas native said he was dumbfounded by the news.
Three months and countless hours of reconstruction later, the Whitecaps -- and Robertson -- returned home.
"I remember last week standing on the concourse looking around and going, 'There's just no way,'" co-owner Lew Chamberlin told Mlive.com. "But lo and behold, here we are. And I remember saying the exact same words in '94 -- 'There's no way.' But they've found a way to get it done, and that is very meaningful to us."
In the emotional home opener, a crowd of 7,128 watched the Whitecaps hang on for a 3-2 triumph over the Wisconsin Timber Rattlers.
"Felt great, felt a little different being back, especially for me, because I was in the ninth inning," Robertson said. "But I made it interesting for the fans in the ninth."
West Michigan carried a 3-1 lead into the final inning, but the Timber Rattlers loaded the bases with no outs. Robertson fielded a comebacker from Omar Garcia and forced Christopher McFarland at the plate but walked Michael Ratterree to force in a run. Taylor Smith-Brennan was retired on a popup and Robertson got Brewers No. 12 prospect Clint Coulter to bounce into a force play for his second save of the season.
"It felt great to feel the fans' atmosphere, to have them all on their feet," the 23-year-old right-hander said. "Amped me up in a good way, made me focus in another level.
"We're a little more driven now to bring West Michigan a championship again. It's been a little while since they've had one, so we are focused. We have a good team chemistry and we are all focused. We've got each other's back. There's no bad apple on this team, everybody's a great guy, everybody's gong to sacrifice their body to win the game."
Robertson spent most of last year with the Whitecaps, going 3-7 with a 5.91 ERA in 16 starts. He made one relief appearance for Lakeland after a promotion to the Florida State League, and the Tigers decided to send him back to the Midwest League to begin the season as West Michigan's closer.
"It fits me better, fits my personality a little better, the best comes out of me," he said. "You get to see the best of Montreal Robertson."
Tigers No. 19 prospect Javier Betancourt helped build the lead that Robertson protected, going 3-for-4 with a stolen base and two runs scored.
"Betancourt has been tearing it up," Robertson said of the 18-year-old second baseman. "I'm proud of him [for] coming to the U.S., staying true to himself. He is working hard."
Julio Felix (1-0) pitched 2 2/3 innings of shutout relief for the win after Whitecaps starter Jeff Thompson allowed an unearned run on three hits and struck out six over 3 1/3 frames.
Wisconsin reliever Tyler Linehan (0-1) took the loss after allowing two runs on four hits in 3 1/3 innings.
Kelsie Heneghan is a contributor to MiLB.com. Follow her on Twitter @Kelsie_Heneghan. This story was not subject to the approval of the National Association of Professional Baseball Leagues or its clubs.
View More