Rocks' Manaea strikes out career-high 12
Royals prospect holds P-Nats to three hits in seven scoreless innings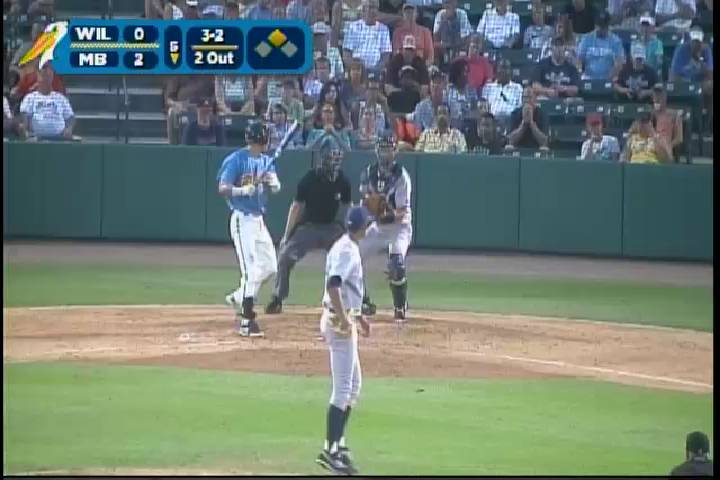 By Danny Wild / MiLB.com | August 29, 2014 10:31 PM ET
When Sean Manaea made his professional debut this spring, he envisioned turning in games like Friday night.
It didn't quite go as planned.
"The first half, it was really rough," he said. "Going through that, I'm happy I did. I know I'm going to struggle, but I've learned how to deal with that. And right now, it's been pretty helpful for me."
The 22-year-old left-hander is finally pitching like the first-round pick the Royals made him last year, and Friday's gem was the latest chapter in his late-season resurgence. He recorded a career-high 12 strikeouts while allowing three hits over seven innings as Class A Advanced Wilmington blanked Potomac, 2-0.
"[Tonight] was a pretty great feeling, but I feel like I could have executed my pitches better and gotten some ground-ball outs with less pitches," Manaea said. "But 12 strikeouts is great, it was definitely the best outing of my year. No walks is a bonus, that's something I've been trying to work on as I go deeper into the ballgames. Everything was working and moving along."
Manaea (7-8), the Royals' No. 3 prospect, threw 70 of 98 pitches for strikes and fanned at least one batter in each inning. He whiffed two in the first, second and seventh and struck out the side in the sixth while allowing only four baserunners.
"I felt like I was even-keeled the whole time, nothing felt different. Everything was feeling good the whole time I was out there," he said.
Kyle Bartsch struck out two over the final two innings to pick up his seventh save after Manaea gave up a leadoff single in the eighth. The Indiana State product said his goal this year has been to pitch deeper into games, and he had hoped to get through eight innings, despite a pitch count nearing 100.
"It was good, but if I was going to go out, I wanted to finish the inning," he said. "The pitch count was a factor and I just wish I could have gotten a better out. But I'm happy with everything and Bartsch closed the door and that was huge. It was a great game, good pitching."
The Blue Rocks finally gave their starter some support in the sixth when Jack Lopez hit a one-out triple and scored on a fielder's choice off the bat of Royals top prospect Raul Mondesi. Jared Schlehuber provided insurance in the eighth with his sixth homer.
Manaea has struck out at least nine batters in three of his last four outings. The dozen strikeouts on Friday bested his previous high of 10, which he set in his eighth professional start on May 21 against Carolina.
"Today was different, I was a lot better and it was a totally different outing," he said. "I remember that start -- I went four or five innings and I struggled a lot. I was struggling back then, but I learned a lot from the first half and how to deal with everything, and today was nothing like that. I was throwing strikes, first-pitch strikes, off-speed strikes."
Manaea said most of his strikeouts came off his slider, which he was throwing especially well.
"I was starting off with my fastball and most of the time ending with my slider," he said. "It's something I've really been working on. I don't know what it was, but backdoor sliders for strikes, I got a couple in the dirt and I got them to swing on top of them. It's been a long time that I've been working on my slider, so today was a great feeling."
Manaea was one of the Royals' first-round picks in 2013 but did not debut until this spring after recovering from hip surgery. He got off to a rough start, going 2-7 with a 4.66 ERA in his first 16 starts, but has come on strong in the second half. Since the Carolina League All-Star break, he's 4-3 with a 2.17 ERA in 12 games, including a 1.59 ERA in July and a 1.67 ERA in August.
"Learning through the mistakes has helped me have a great second half," Manaea said. "In my eyes, it's been good, and I'm happy about how it's gone for my first season."
"He's been working hard all year and tonight you got a glimpse of how good this kid can be," Blue Rocks bench coach Justin Gemoll. "For me, yes [it was his best start of the year]. He was in total control, he had his pitches down, he was getting ahead, he was throwing strikes and he was finishing them, which is really good."
Potomac starter Ian Dickson (5-9) had a 19-inning scoreless streak snapped, yielding one run on five hits over 6 2/3 frames. He struck out seven without issuing a walk.
Danny Wild is an editor for MiLB.com. Follow his MLBlog column, Minoring in Twitter. This story was not subject to the approval of the National Association of Professional Baseball Leagues or its clubs.
View More