Rodgers homers, collects four hits in debut
Third overall pick 'shaking' after first game with Rookie-level Rockies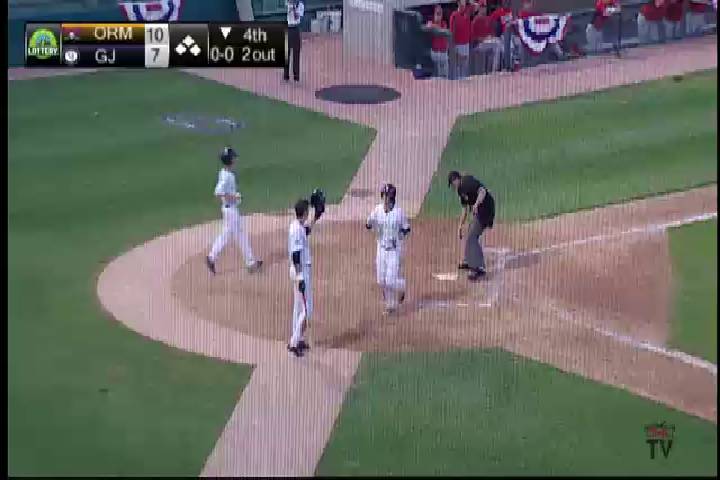 By Josh Jackson / MiLB.com | June 26, 2015 2:41 AM
Brendan Rodgers' pro debut went so well, he could hardly believe it.
"I was just in shock, like, wow, just to get my first hit, and then, two at-bats later, getting my first hit and my first professional home run in one game. ... It was unbelievable," said the 18-year-old shortstop. "I'm still shaking."
Rodgers, whom Colorado selected out of Lake Mary (Florida) High School with the third overall pick of this year's Draft, went 4-for-6, scored three runs and collected two RBIs in Rookie-level Grand Junction's 15-11 loss to visiting Orem. The Rockies set a franchise record with 20 hits in the defeat.
"We had them close, but it was a good feeling," collecting four hits in his first game, said Rodgers, who missed the cycle by a triple.
He hadn't played in a competitive game since his high school season ended more than two months ago, but Rodgers said he had no butterflies in his stomach about facing pro pitching.
"I try not to really think about that stuff. I just wanted to go out there and play the same game I've been playing ever since I was 6 or 7 years old," he said. "I got a read on their pitchers before as much as I could and tried to make it as easy as possible on myself to transition into pro ball.
"Obviously, I wasn't too happy with my season ending on April 20, so it was a little confidence booster, coming in and facing live pitching for the first time [since then]."
Rodgers, who signed with a $5.5 million bonus last Wednesday, was with Grand Junction for the opening series at Idaho Falls and enjoyed the chance to get acclimated to the Pioneer League before getting into game action.
"It was actually good to learn the pro ball game and pro ball way, to see the right way and the wrong way to do things on and off the field as a pro," he said. "It was really good to get to watch six games and have a good debut."
Each of the right-handed hitter's four knocks were to the opposite field. He poked a first-inning single against Owlz starter Jared Ruxer and then homered in the fourth off Jeff Malm. Rodgers knew immediately that the ball would clear the right-field fence.
"I'm not going to lie, I did," he admitted. "It had a good feeling off the bat. He left a fastball over the plate and I was able to put a good swing on it, and I knew when I hit it."
He added a double against Arjenis Fernandez to start the sixth.
"I just knew I was seeing the ball well," Rodgers said. "That was the third pitcher saw. I watched him warm up and was watching his stuff, and I drove a pitch he left over the plate."
Back in the dugout, he discovered he was close to making his already impressive debut special in another way.
"Somebody asked me if I was [a triple from the cycle], and I said, 'Oh, wow, I am,' because I realized after they asked me," he said. "But I wasn't going to really try to hit a triple or anything. I just went up there and tried to hit the ball hard."
He grounded into a forceout to Orem third baseman Michael Pierson to end the seventh, but reached on an infield hit to second base in the ninth.
One game into his pro career, Rodgers is batting .667 with a 1.333 slugging percentage.
"It's a great feeling," he said. "Hopefully, I can carry it into tomorrow."
Sam Hilliard, the Rockies' 15th-round pick, also went 4-for-6 in his pro debut. He doubled, plated two runs and scored once. Jensen Park, a 32nd-round pick, was 4-for-5 with a home run to raise his Pioneer League average to .471.
Kyle Survance Jr, an Angels eighth-round pick, homered twice during a 4-for-5 performance for Orem, collecting three RBIs and scoring three times. Ranyelmy Mendoza homered and doubled on a five-RBI night.
Josh Jackson is a contributor to MiLB.com. This story was not subject to the approval of the National Association of Professional Baseball Leagues or its clubs.
View More