Rojas plates five off bench in Indy's win
With swing adjustment, Pirates outfielder sets career high in RBIs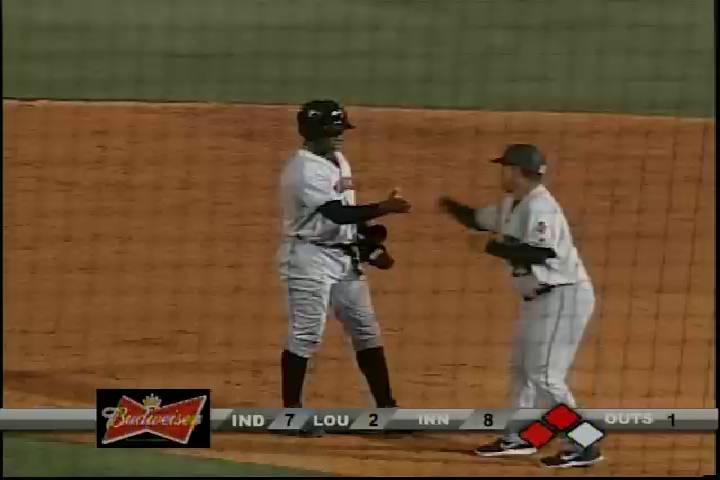 By Jake Seiner / MiLB.com | July 4, 2014 12:58 AM
Mel Rojas Jr. came into Thursday night hitting .174 with runners in scoring position in Triple-A, and by his own estimation, that number was no mirage.
"I've been struggling here in Triple-A with guys in scoring position," Rojas said. "I went and watched some video in [Double-A] Altoona when I was doing well with runners in scoring position. I took that approach, and I've been working on that the last few days."
The fix was on full display Thursday, when the 24-year-old set a career high with five RBIs off the bench. The effort helped Triple-A Indianapolis snap a five-game losing streak in a 9-3 win over Louisville.
Rojas entered as a pinch-runner for right fielder Jose Tabata in the top of the third inning after Tabata was plunked on his forearm at the plate. The outfielder advanced to second base on Matt Hague's walk before Rojas entered in his spot.
"I was ready right from the get-go," he said. "We were playing an NL team, so you never know when you're going to pinch-hit. Unfortunately, Jose got hurt, hit by a pitch. But I was ready."
Rojas had three plate appearances with men on and delivered in every one. His issues had been mostly mental -- in placing too much pressure on himself, the 2010 third-rounder was abandoning his swing mechanics in RBI situations.
"I saw that I was jumping on balls," he said. "Lately, I've been letting the ball get deep, let it get to me so I can put a good swing on it."
The Indianapolis native started his barrage in the fifth, plating Jay Jackson from second on a ground-ball single into center field. In the sixth, Rojas drove in two more runs with a line-drive single into center, advancing to second on a throw home.
Rojas picked up two more RBIs in the eighth, following Jaff Decker's double with his own two-bagger -- another base hit to center.
That all three knocks went to center was encouraging to Rojas, as the switch-hitter was working on staying back to drive the ball to center in clutch situations.
"I'm trying to get a fastball and go up the middle or the other way, and be ready for a hanging breaking ball," he said. "I'm just trying not to do too much. Not to pull off. Stay up the middle, take what they give me."
Aside from his struggles with men on, this season has been an excellent one for Rojas, whose father was a Major League reliever by the same name.
The youngest Rojas has made steady progress with his pitch recognition since being drafted out of Wabash Valley Community College (Illinois) in 2010. His numbers ticked up in 2013 with Double-A Altoona, where he hit .274 with five homers and a .742 OPS.
This year, he hit .303 with five homers and an .825 OPS with Altoona in 53 games before getting a promotion to Indianapolis. He's batting .316 with an .835 OPS through 31 games.
"I'm really trying to get my pitch, not swing at the pitcher's pitch," Rojas said. "Put some backspin on the balls too. … I'm getting more hits, more extra-base hits. It's paying off, all the hard work from the offseason."
Jake Seiner is a contributor to MiLB.com. Follow him on Twitter at @Jake_Seiner. This story was not subject to the approval of the National Association of Professional Baseball Leagues or its clubs.
View More