Roomies Almora, Russell get job done
Two of Cubs' top five prospects combine for eight hits, four runs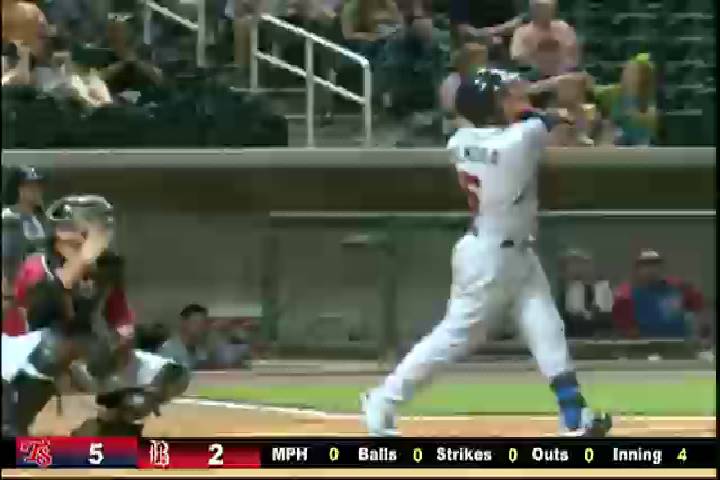 By Kelsie Heneghan / MiLB.com | July 29, 2014 2:49 AM ET
Smokies roommates Albert Almora and Addison Russell might have seemed like rivals trying to one-up each other with every base knock they collected Monday night.
It was nothing of the sort, but the pair of top-five Cubs prospects combined for eight hits and three RBIs in Double-A Tennessee's 11-8 victory at Birmingham.
"It looked like that," Almora said of the possible competition. "I got a hit and then he would get a hit, but we're in it for the same purpose, to win ballgames."
The Cubs' No. 5 prospect had tallied just one hit over his first four games with the Smokies since being promoted from Class A Advanced Daytona, where he hit .238 with 50 RBIs over 89 games.
With a new approach, he broke out against the Barons, going 4-for-6 with a double, three runs scored and two RBIs.
"When you first get here, you're emotional and you really want to do well and join the team like you've been here all year," Almora said. "[Tonight I] simplified everything, cut down [the extra] motion I had going on the first couple games."
Hitting behind MLB.com's No. 41 overall prospect, No. 7 Russell also went 4-for-6 with a double. He scored once and drove in another. It marked the first time since 2012 that he collected four hits.
"I'm always just happy that I got hits tonight and that I was able to back him up," Russell said. "I felt good, seeing the ball well. It helps whenever people get on base around me."
Chicago's third-ranked prospect has 12 hits, three homers and seven RBIs over his last five games, as he has particularly been focused on not trying to do too much at the plate.
With the addition of Lars Anderson -- who joined Daytona the same day as Almora -- the second, third and fourth hitters in the Smokies lineup have combined for 15 hits and plated seven runs in a span of four games.
"We're doing pretty good. Albert gets on and I move him over or something like that and Lars cleans up and tonight was a good example of that," Russell said. "We're just gelling right now."
After hitting .287 over 34 Triple-A Iowa games, Anderson was sent to Tennessee. He is posting a .412/.500/.706 slash line from the cleanup spot.
"It's an impressive two through four. Having Addy and Lars behind me, I have to be on my toes on base because every time is a chance to score," the center fielder said. "Scoring a lot -- it's a great feeling…it takes a lot of pressure off our pitcher and our staff and you have a lot of fun doing it."
Starter Eduardo Figueroa (2-1) was the latest beneficiary of Tennessee's hot hitting. The right-hander allowed five runs on four hits and three walks while striking out four over six frames.
Kelsie Heneghan is a contributor to MiLB.com. Follow her on Twitter @Kelsie_Heneghan. This story was not subject to the approval of the National Association of Professional Baseball Leagues or its clubs.
View More