RoughRiders' Wise continues power surge
Rangers prospect extends streak with two homers, drives in five runs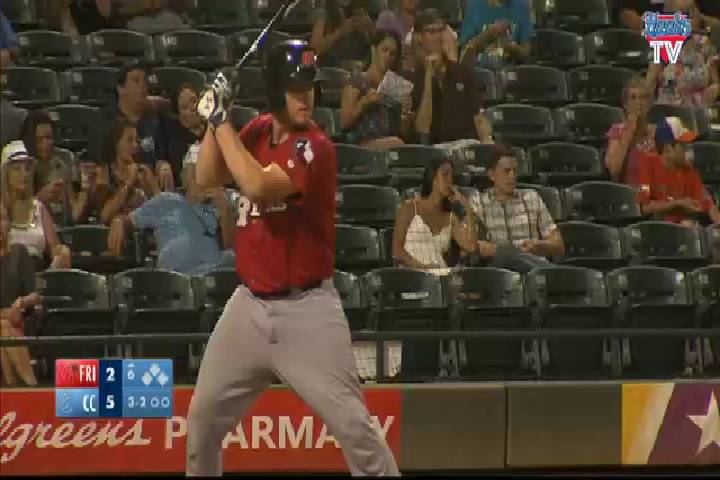 By Tyler Maun / MiLB.com | September 1, 2014 1:23 AM ET
Three months ago, J.T. Wise didn't have the option of being involved in an affiliated playoff push. Now that he's here, the former independent leaguer is doing everything he can to make it one to remember.
Wise homered for the fourth straight game on Sunday, blasting two dingers and matching a career high with five RBIs as Double-A Frisco held off a late charge and beat Midland, 12-9.
A fifth-round Draft pick of the Dodgers in 2009, Wise continued his blistering August in his first trip to the plate. With two runs already home in the first inning, he connected on a grand slam to left field to give the RoughRiders a 6-2 lead.
"The first inning got off to a rough start for [Rangers No. 6 prospect Jake] Thompson," Wise said after Midland scored twice. "It was good for us to answer and give him a little cushion, so he doesn't have to put a lot of pressure on himself. He could go out there and pitch like he did."
Wise led off the bottom of the fourth with his 11th homer of the season and fifth during the streak. In 19 games in August, the 28-year-old designated hitter is batting .377/.442/.826 with eight homers and 18 RBIs.
"Fortunately, I've been lucky to be up at the plate with guys in scoring position," he said. "There's been a couple of them where I haven't succeeded. I had one tonight where I was a little frustrated. I was happy I got the one in the first inning, and then I came up in the second inning with a guy on third and less than two outs [and struck out]. I guess I tried to do a little too much. I have been seeing the ball lately. I've always tried to be, my whole career, the RBI guy, hit a double or hit a guy in in any way, shape or form I can.
"The home runs," he added with a laugh, "I don't know what's going on with that. But I'm not going to complain any. I'm just trying to put runs up on the board to get the lead or climb us back into games."
Wise was a member of the Wichita Wingnuts of the American Association until the Rangers signed him in June. He's provided a steady offensive presence for the playoff-bound RoughRiders since.
"They expect the same things out of you as in affiliated ball," he said. "They want you to play hard, play tough, grind it out, and you have that mentality there. It's the same thing coming here.
"Being able to be a part of it, being given the opportunity by the Rangers to keep playing professional ball, I'm very grateful for it. I'm very thankful they gave me another shot."
The RoughRiders took a nine-run lead into the ninth, but the RockHounds sent 11 men to the plate and scored six times. Frisco appeared to have the game won when the umpires initially ruled Kent Matthes out on a grounder to third baseman and top Rangers prospect Joey Gallo. Midland's staff argued the call and, after a lengthy delay, it was overturned, sparking an argument and the subsequent ejection of Frisco manager Jason Wood.
The RockHounds got within 12-9 on D'Arby Myers' two-run double, but Francisco Mendoza retired Hiroyuki Nakajima with two men in scoring position to pick up his eighth save.
Midland starter Murphy Smith (2-5) retired two batters and was charged with six runs -- five earned -- on three hits and two walks with two strikeouts.
Thompson (3-1) earned the victory after allowing three runs on seven hits and three walks while striking out six in five frames. The win was Frisco's league-leading 79th.
"The atmosphere is awesome," Wise said. "We've been having big crowds lately, and the back-and-forths we've been having, especially with Midland. We've been seeing them a lot lately and we'll see them here in the playoffs soon. I guess you could say it is playoff baseball right now."
Tyler Maun is a contributor to MiLB.com. Follow him on Twitter @TylerMaun. This story was not subject to the approval of the National Association of Professional Baseball Leagues or its clubs.
View More