Royals Prospect Primer: Starling-studded
Outfielder brings glove, O'Hearn has bat as Kansas City seeks repeat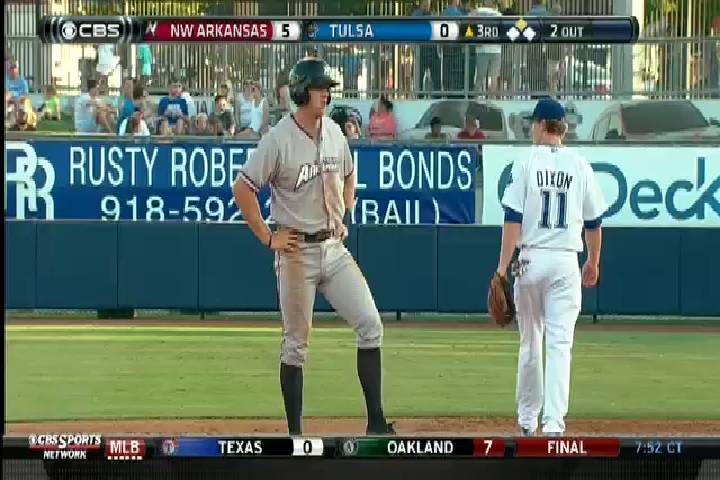 By Kelsie Heneghan / MiLB.com | March 31, 2016 10:30 AM
Some players are on the verge of stardom, others are entering a crucial phase of their development and still others are getting their first tastes of full-season ball. With the 2016 season approaching, MiLB.com takes a look at the most intriguing prospects from each MLB organization.
Loudest tool: Bubba Starling, OF
For Starling, his highly touted defense features two tools that create perfect harmony. Those tools, of course, are his arm and glove. After going an entire season -- across two levels -- without committing an error, the Royals' seventh-ranked prospect received the organization's Frank White Defensive Player of the Year award.
Spending most of his time in center field, Starling recorded 220 putouts and four assists with Class A Advanced Wilmington and Double-A Northwest Arkansas.
"He's just a great instinctive ballplayer that has the ability to cover the gaps. He has great first-step quickness, good instincts, and he really covers some ground," said Royals director of Minor League operations Ronnie Richardson. "He has an above-average arm in the outfield and he's shown ability to be an elite defender at that position."
While his bat has yet to catch up to his defense, it's improving. This spring, the 23-year-old homered off Major League veteran Jason Motte.
Shining Star: Ryan O'Hearn, 1B
O'Hearn's brief career has been filled with honors, milestones and noteworthy numbers. And the 22-year-old first baseman is showing no signs of slowing down.
After being named Pioneer League's MVP in 2014, the Royals' No. 13 prospect led the system with 27 homers and ranked second with 77 RBIs in his first full season. O'Hearn also shared the South Atlantic League lead with 19 homers, despite playing only 81 games there. All that added up to the George Brett Award as the Royals' top Minor League position player.
"If you look at his track record, he's produced at every level that he's played, so we're just excited about Ryan. He's a gamer, he gets after it and he's really continued to make strides with our hitting coaches at every level," Richardson said. "I think Ryan has a lot of potential, a lot of upside. He has ability to play first base, he's played some outfield. Offensively, he showed a great ability to hit, as well as some power production.
"So from that standpoint, I think he has a very high ceiling and it's our job to continue to help him develop and get the most out of his ability."
Back and healthy: Brooks Pounders, RHP
After sitting out most of the 2014 season following Tommy John surgery, Pounders was set for a comeback. Unfortunately, the Royals' 29th-ranked prospect tore his lat muscle in Spring Training and did not return until June 29. A month later, he made his Double-A debut.
"We think Brooks did a phenomenal job working through the rehab last year. Unfortunate injury in Spring Training, [but] he bounced back and competed well," Richardson said. "We're excited about what Brooks can do. For him to get out there, get a chance to compete, get some innings and really showcase his ability is a priority for him."
In his limited 2015 season, the 25-year-old right-hander notched a 2.50 ERA with 51 strikeouts over 68 1/3 innings in 15 starts, then threw 12 scoreless frames in the Arizona Fall League.
"He's a competitor; he competes. He likes to take the ball and he goes out there and gives you everything he has each and every time out," Richardson said. "And that's a mark of a true competitor when he goes out there regardless of the situation and competes."
Full-season debutant: Ashe Russell, RHP
It was a pretty successful first year for the 21st overall pick in the 2015 Draft. Russell quickly got to work for Rookie-level Burlington, making his first start three weeks after the Royals selected him. The Indianapolis native held Appalachian League foes to one run or fewer in eight of 11 starts while totaling 24 strikeouts over 36 1/3 innings.
Russell finished the campaign with his longest outing -- five innings -- on his 19th birthday. The club's third-ranked prospect will get to display his above-average fastball and slider in his first full season.
"Right now, we're just excited about Ashe and his development; being a high school pitcher, continue to compete and learn," Richardson said. "He's doing a great job of that with our pitching coaches and we'll continue to help him grow and develop, and we'll go from there."
Breakout prospect: Hunter Dozier, 3B
Selected eighth overall in the 2013 Draft, Dozier has yet to fully realize his potential. The Royals' No. 15 prospect returned to Northwest Arkansas last year after a midseason promotion in 2014. There, he hit .213/.281/.349 with a career-high 12 homers.
Dozier also struck out a career-highi 151 times in 475 at-bats. When the 24-year-old finds his swing, there's nothing stopping him from validating his high Draft status.
"He's continued to work hard in all that he's doing, looking at the ability right now to play above-average third base and offensively. He didn't produce as well as he would've liked last season, [but] he's still made a lot of strides," Richardson said. "We think he's going to continue to grow and develop and really have a chance to tap into that potential that he truly has. We think highly of Hunter and we think he's going to have a really good season this year."
More to keep an eye on: Kyle Zimmer again battled injuries and spent a lot of time in the bullpen. But the Royals' top pitching prospect will begin the season as a starter for Triple-A Omaha, where he'll try to find a groove with his above-average arsenal. ... After spending two seasons in Rookie ball, Italian Marten Gasparini is ready to show off his speed and arm. ... Outfielder Brett Eibner (No. 23) has worked his way up the ladder since being selected in the second round of the 2010 Draft out of the University of Arkansas. The Majors are the next step for the 27-year-old after he hit .303 with 19 homers at Triple-A Omaha in 2015.
Kelsie Heneghan is a contributor to MiLB.com. Follow her on Twitter @Kelsie_Heneghan. This story was not subject to the approval of the National Association of Professional Baseball Leagues or its clubs.
View More