SAL notes: Asheville's Prime slugging away
First baseman out to prove he's more than a 'McCormick Field hitter'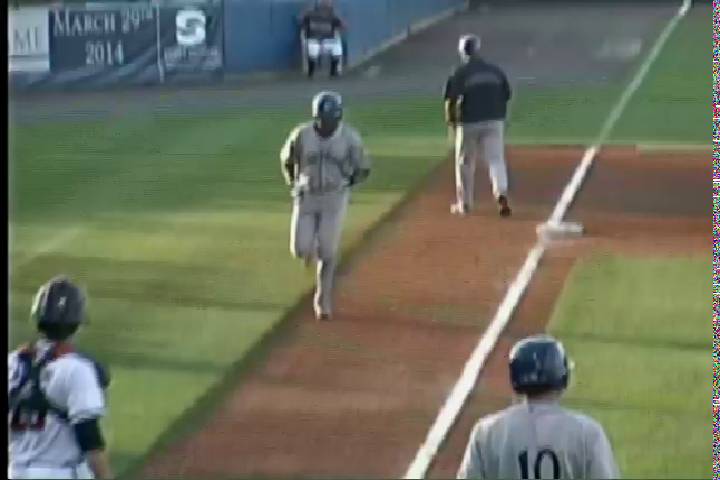 By Bill Ballew / Special to MiLB.com | July 10, 2014 10:00 AM ET
History has not been kind to slugging first basemen who played their home games in the South Atlantic League at McCormick Field. Many who posted impressive power numbers used the cozy right-field dimensions to their advantage before moving up the Minors, finding it difficult to match those figures.
Time will tell whether Asheville's Correlle Prime falls into that category. Through July 8, the 6-foot-5 first baseman owned a .270 batting average while tying for first in the Sally League with 44 extra-base hits, tying for second with 14 home runs and 28 doubles, and ranking fifth with 157 total bases. Those numbers helped earn Prime a spot in last month's All-Star Game.
Contrary to many of his hard-hitting predecessors, Prime swings from the right side of the plate. As a result, he doesn't fixate on the tall right-field wall that stands only 300 feet from home but instead uses the entire field to generate his numbers, an approach he knows will help him as he continues his development at higher levels.
"I'm just trying to see pitches up that I can handle," Prime said. "It's the same teams we see, home and away, so I try to take the same approach every game. I may struggle on a road trip or during a homestand here and there, but it's a long season and I try to not let anything bother me. As far as playing in Asheville is concerned, it's a short right field, but the [36-foot high] wall will take away a lot of doubles and home runs from you. You just have to play the game the right way and make things happen."
There is no question that Prime approaches the game of baseball in the proper manner. No member of the 2014 Tourists does more from a leadership standpoint than the big first baseman, who is constantly talking up his teammates on the field and in the dugout. Part of that approach centers around his outgoing personality. The other part comes in Prime believing it is his responsibility to help his fellow players in any way possible, such as welcoming those who were new to Grand Junction in 2013 while Prime was back for a second trip through the Pioneer League.
"I don't shut up on or off the field," Prime said. "Everybody who came to Grand Junction last year, the new draftees, I went up, shook their hand, introduced myself and let them know I was there if they needed anything. I knew the ropes a little bit last year. I think if you can give a guy a heads-up, it helps tremendously. I try to be a leader on the field because that's just my personality. To me, helping out is simply the right thing to do."
Born in Plant City, Florida, before moving south to Bradenton, Prime was always one of the better athletes in the three major sports while growing up. He was also one of the tallest, which naturally led to a lot of activity in basketball. As he reached the varsity level at Manatee High School, Prime realized that some chronic knee problems were not going to improve if he continued to compete on the hardwood. As a result, he started to focus his efforts on baseball, which led to being drafted by the Colorado Rockies in the 12th round in 2012.
"When I was younger I was always one of the better kids at baseball, and I had a good background in terms of coaching," Prime said. "My mother drove me everywhere, from various practices and lots of tournaments. I really worked on developing my game by getting better each year, each week and each day. In high school I knew I had a chance with my big frame but it took a while for everything to click. I pitched a lot in high school, so the Rockies took a chance on drafting me and I'm really grateful for that. Everything is starting to work out and happen for me."
Prime reported to Grand Junction shortly after signing and had a solid pro debut, hitting .283 with seven doubles, a home run and 11 RBIs in 36 games. He returned to the Pioneer League in 2013 and displayed an impressive increase in power, resulting in 12 doubles, seven homers and 39 RBIs in 59 contests. While some players might have been frustrated by spending a second year in a short-season league, the first baseman believed it was a move made in his best interests, which gave him time to gain experience and mature.
"In the offseason we always talk about the process," Prime said. "Going to [Grand] Junction for a second year, that was all part of the process. For me to be here in Asheville, that's part of the process, as is getting invited to go to the All-Star Game. I'm just grinding every day and trying to get better, finding ways I can improve while getting bigger and stronger in the offseason. I feel all of the hard work I've been putting in is starting to show. It's cool to see yourself grow from where I was two years ago. I don't know if I would have survived in this league back then. But to see where I've come from while I continue to grow and improve is very rewarding."
In brief
Wade rolling: The second half has been good thus far for Asheville's Konner Wade. Since the All-Star break, the right-hander owns a 3-0 mark with a 0.32 ERA in four outings and has surrendered only one earned run in his last 28 1/3 innings.
Gnats gnawing competition: Savannah had its 11-game winning streak end July 8 in a 6-4 loss to Augusta. That streak is the longest for the franchise in at least 22 years and matches previous 11-game strings accomplished in 1993, 2000 and 2011. Despite having six players promoted at the mid-season break, the Sand Gnats are 15-5 in the second half and own the league's best overall record at 59-27.
Ramirez streaking: West Virginia outfielder Harold Ramirez owns the SAL's longest hitting streak of the season. Ramirez, who was placed on the seven-day DL last week, has hit safely in 23 straight games, during which he has gone 35-for-101 (.347) and raised his batting average from .272 to .309.
Drive struggling: Greenville has lost 15 straight to fall 15 games under .500 this season at 37-52. Shoddy defense has hurt the Drive's cause in recent outings. On July 6, Greenville committed six errors in a 10-5 loss at Augusta. That performance occurred one night after the Drive made four defensive miscues in a 6-5 setback to the GreenJackets.
Bill Ballew is a contributor to MiLB.com. This story was not subject to the approval of the National Association of Professional Baseball Leagues or its clubs.
View More