SAL notes: Braves going slow on Sims
Last year's first-rounder addressing command issues in Rome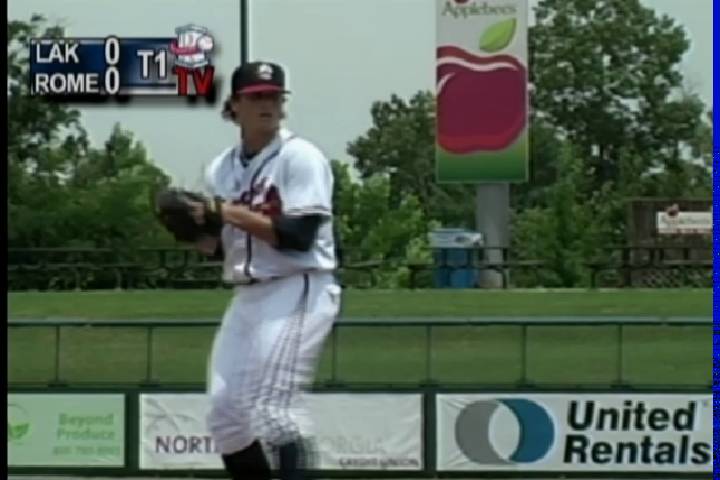 By Bill Ballew / Special to MiLB.com | August 1, 2013 6:00 AM ET
To the Atlanta Braves, Lucas Sims is like a new car. The organization is being careful with the right-hander by easing the young hurler into the battles of pro ball while keeping the mileage as low as possible as he gains experience on the road to the top.
Sims, who opened the season in the Rome Braves' bullpen and made his first 10 appearances in relief, was limited to 22 2/3 innings through his final outing as a reliever on May 17. During that span, he posted a 1-1 record with a 3.18 ERA.
His performance has been similar since joining the R-Braves' rotation. In his first 12 starts, Sims was 5-3 with a 3.17 ERA, giving him an overall mark of 6-4 with a 3.17 ERA.
Some of his other numbers are equally impressive. The Braves' No. 2 prospect has allowed only 60 hits in 82 1/3 innings and held opponents to a .208 average with 88 strikeouts to 35 walks.
"I'm loving it so far, and I'm learning a lot," Sims said. "My goal is to make progress every time I go out there. I've improved my command -- that's been the biggest thing I've accomplished so far this season."
Command, Sims said, is what has gotten him into trouble previously.
"The times I've struggled have happened because of walks, which seem to come around and bite you in the butt," he said. "I've been trying to eliminate those while filling up the zone with all three pitches."
The Braves took a similar plan of attack during Sims' first taste of the Minors. After drafting him No. 21 overall last June, Atlanta limited Sims to 34 innings with low pitch counts between stints in the Gulf Coast and Appalachian Leagues. With Sims having a long spring season at Brookwood High School in nearby Snellville, Ga., and an extended agenda over the previous year that included pitching in the Prospect Classic and several other events, the Braves wanted to make certain Sims remained healthy as he continued to build arm strength.
That approach has been paying dividends as the current campaign enters the dog days of August. The 19-year-old says he feels strong even though he is going through his first full season of pro ball. Sims also said his difficult outings in mid-July -- when he gave up four earned runs in consecutive starts -- centered on a lack of command as opposed to any fatigue.
Those outings, he said, were learning experiences, particularly after he bounced back by tossing six shutout innings against Lakewood on July 23.
"There are ups and downs, but I enjoy having the opportunity to go to the ballpark every day and do what I love for a living," Sims said. "It's something I don't take for granted. The coaching staff we have here is great, and they've taught me so much about the game, both on and off the field. They've helped me develop as a player and as a person."
Sims also enjoys picking the brains of his teammates in order to fine-tune aspects of his game. He says all of the Rome hurlers share ideas about their craft and aspects that have worked, thereby leading to success.
"There's a lot of that that goes on," Sims said. "Even the smallest thing that I can pick up on and possibly improve my game is important. That's a big part of loving what you do and coming out here every day. I look at it as a learning experience every day I come to the ballpark."
In brief
Blazing BlueClaw: Lakewood second baseman Alejandro Villalobos capped a strong month by going 7-for-8 against Hagerstown from July 29-30. That performance allowed Villalobos to reach the .300 mark for the first time all season -- he was hitting just .211 at the end of May before batting .328 in June and .355 in July.
Thieving Tourists: Asheville leads the Minor Leagues with 186 stolen bases, 41 more than second-place Kannapolis in the South Atlantic League. The Tourists also paced the circuit with a .279 team batting average, 17 points higher than second-ranked West Virginia, but are only 54-51 overall due to a league-worst ERA of 4.56.
Drive players traded: Greenville pitchers Francelis Montas and J.B. Wendelken were part of the three-team, seven-player deal that enabled Boston to acquire pitchers Jake Peavy and Brayan Villarreal on July 30. Wendelken, who was 2-0 with a 2.77 ERA and 10 saves for the Drive, and Montas, who was 2-9 with a 5.07 ERA in 19 games, including 18 starts, were dealt to the Chicago White Sox.
Bill Ballew is a contributor to MiLB.com. This story was not subject to the approval of the National Association of Professional Baseball Leagues or its clubs.
View More