SAL notes: Crawford flashing many talents
Phillies shortstop prospect shows 'big league ability' with BlueClaws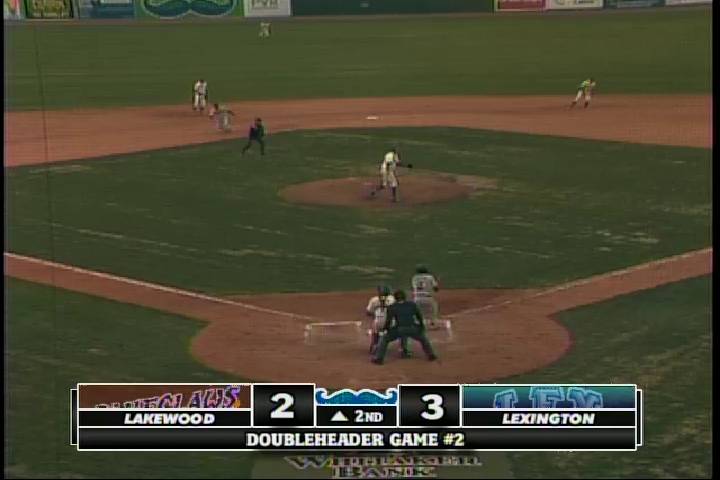 By Bill Ballew / Special to MiLB.com | May 29, 2014 10:00 AM ET
It's no secret that a handful of the Philadelphia Phillies' longtime standouts are on the wrong side of 30. That group includes Jimmy Rollins, who at age 35 is considered to be in the twilight of his career as the greatest shortstop in franchise annals.
Philadelphia brass is well aware of the situation, which is why the Phillies selected J.P. Crawford with the 16th overall pick in the 2013 Draft. Possessing impressive all-around athleticism with outstanding hand-eye coordination, Crawford has wasted no time emerging as an heir apparent to Rollins.
Over the past year, Crawford has gone from Lakewood High School in California, where he batted .452 as a senior, to toiling in Lakewood, New Jersey, for the Phils' South Atlantic League affiliate, located approximately 70 miles from the big club's Citizens Bank Park. After leading the Gulf Coast League with a .345 batting average in 39 games last year, Crawford has ranked among the top hitters in the SAL in 2014 and currently is tied with teammate Willians Astudillo for first among all active players on the circuit with a .344 norm.
"He's learning more about himself and more about the game every time he takes the field," said Lakewood manager Greg Legg. "He came up here at the end of last season [for 14 games] and looked a little tired. This season he's been completely different, showing us the energy and ability to ignite our lineup on a daily basis."
Crawford comes from a long line of pure athletes. His father, Larry Crawford, played college football at Iowa State before garnering all-star recognition on five occasions as a defensive back in the Canadian Football League. His cousin, Carl, is an outfielder for the Los Angeles Dodgers, while his sister, Eliza, is a red-shirt junior who plays first base for the Cal State Fullerton softball team.
"My sister is actually the one who really got me interested in baseball," Crawford said of his sibling, who is three years older. "When I was young I'd hang around her teams, and as we got older we'd have competitions in the batting cage and doing different things. She really motivated me to be as good as I could be."
For as long as he can remember, Crawford's primary goal centered around playing at the game's highest level. He admired the ability of Rollins and fellow shortstop Derek Jeter and knew prior to last year's Draft that he had options after signing a letter of intent to play baseball at the University of Southern California. As promising as the opportunity to play for the Trojans may have been, his future resided in the professional ranks shortly after the Phillies called his name.
"My dream has always been to play Major League Baseball," Crawford said. "When the Phillies called my name, it was the realization of a dream come true."
At age 19, Crawford realizes there will be peaks and valleys in his development, adding that the key during those periods is "keeping my head up while realizing it's a long season." One of those learning experiences occurred Sunday, when Legg pulled Crawford from the game at West Virginia after the shortstop failed to run hard on a ground ball. Fortunately, those moments have been rare, which is what Legg wants to make sure remains the case.
"He has the ability to be a big league shortstop, no doubt about it," Legg said. "He gets on base with his ability to put the ball in play, and he has outstanding hand-eye coordination. Defensively, his hands are soft and he gets to a lot of balls with his range and quick feet. Like I said, he's still learning, but he has everything you want to see in a young player."
In brief
Skid stopper: James Dykstra won his first game in more than a month May 27, limiting Hickory to two hits and a walk over six innings in Kannapolis' 3-0 victory over the Crawdads. Dykstra retired 14 consecutive batters at one point to improve to 3-5 on the season while helping the Intimidators end a seven-game losing streak.
Streaking 'birds: Mike Yastrzemski's three-run homer in the seventh inning broke a 3-3 tie May 27 and helped guide Delmarva to a 6-3 triumph, its seventh consecutive notch in the win column. The Shorebirds received another stellar start from Sebastian Vader, who retired the first 13 batters en route to his sixth straight triumph. Vader is 7-1 on the season, tying him for first in the South Atlantic League in wins.
Long completes sweep: Charleston's Jaron Long earned his first win as a starter this season after allowing only two hits and a walk while striking out a career-high nine in a 3-0 shutout of Greenville in the second game of a May 27 doubleheader. Four of the nine whiffs occurred in the fifth inning as he escaped a Drive scoring threat that included runners on the corners. Long has not allowed a run in his four starts, spanning 22 2/3 innings.
Bill Ballew is a contributor to MiLB.com. This story was not subject to the approval of the National Association of Professional Baseball Leagues or its clubs.
View More