SAL notes: Luplow looking for a title
Hot-hitting third baseman focused on leading Power to championship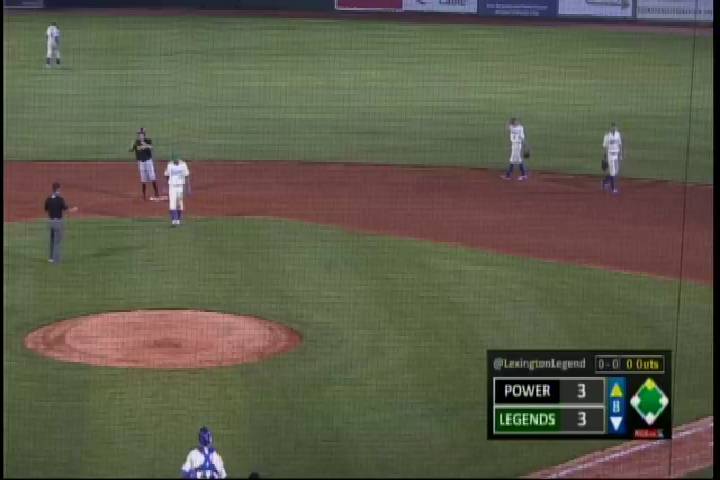 By Bill Ballew / Special to MiLB.com | August 13, 2015 10:00 AM
Jordan Luplow is not shy about admitting what he and his Power teammates have in mind for the remainder of the 2015 South Atlantic League season.
"We're going to get that ring this year," said the West Virginia third baseman.
Without question, the Power are headed in the right direction. West Virginia entered games Aug. 12 in first place in the Northern Division's second half with a 31-14 record, five games ahead of Lakewood. The team also owned an overall mark of 68-46, which represents the second-best ledger on the circuit, only two games behind Hickory, winner of the division's first half.
Luplow is a major reason for his team's success. After hitting .235 in the first half, the infielder has been hotter than a volcano since the All-Star break. In addition to posting a .306 average since mid-June to raise his overall norm to .266, Luplow batted .305 with four home runs and 21 RBIs in July and owned a .364 average with two round-trippers and 10 RBIs in his first 11 contests of August, which included a 10-game hitting streak through Aug. 11.
His torrid second half has Luplow leading the SAL with 34 doubles and 47 extra-base hits and tying for fourth with 60 RBIs. He also paces the Power with 67 runs scored, is tied with Pablo Reyes and Chase Simpson for the team lead with 10 home runs and ranks second to Michael Suchy with 60 RBIs.
"I don't pay attention to the stats and that sort of thing," Luplow said. "My focus is coming out here and playing as well as possible day by day for 140-plus games and winning as many of those games as we possibly can."
Luplow's second half of the season is reminiscent of his college career at Fresno State. The Bulldogs right fielder put together an outstanding junior campaign, leading the Mountain West Conference with a .377 batting average and a .475 on-base percentage while ranking second with a .609 slugging percentage. He was named the MWC Player of the Year, garnered Second Team All-America honors from three outlets and was a finalist for the Gregg Olson Award, which recognizes college baseball's breakout player of the year.
His performance led to Luplow being drafted by the Pirates in the third round in 2014. He had a solid professional debut at Jamestown in the New York-Penn League, hitting .277 with six home runs and 30 RBIs in 62 games. Luplow has made some adjustments over the past 14 months as evidenced by his ratio of 53 walks versus 60 strikeouts thus far this season.
"Professional baseball is a job, but at the same time it's still a kid's game," said the 21-year-old Luplow. "There are a lot better players here and the game speeds up compared to college. What everyone at this level is working toward is slowing the game down and getting used to the fact that most guys throw in the low 90s. Everything happens at a faster pace."
Nowhere has the increase in speed been more evident for Luplow than third base. He moved to the hot corner in instructional league after playing right field throughout most of his collegiate career. His daily routine includes early work on the infield with manager Brian Esposito to better understand the nuances associated with playing the position. The shift initially featured bumps in the road, including errors in each of his first two games and four miscues in the campaign's first nine contests, but since then he has grown more comfortable and shown signs of developing into an above-average defender.
"It's a process, but it's all done with the intent of contributing to a World Series title in the big leagues," Luplow said. "It was a little shaky early on because I had not played third base since I was in high school. The key is to keep going out there every day and trying to improve."
In brief
Castellani gets the win! Asheville right-hander Ryan Castellani won his first game of the season Aug. 11 when he worked a career-best six innings and allowed two earned runs on four hits in a 9-2 victory at Greenville. Castellani notched his first triumph in his 22nd start of the year to improve to 1-7 with a 4.04 ERA for the Tourists.
Rocky debut: Erick Fedde pitched in his first SAL game with Hagerstown on Aug. 11 and wound up on the wrong end of a 9-1 decision at Augusta. The 18th overall pick in 2014, Fedde underwent Tommy John surgery just prior to the Draft and made his professional debut earlier this season at Auburn in the New York-Penn League, where he went 4-1 with a 2.57 ERA. The Nationals prospect touched 95 mph with his fastball against the GreenJackets and combined the heater with a sharp slider despite allowing six runs in 4 1/3 innings.
Making a name for himself: Lakewood manager Shawn Williams has been impressed with BlueClaws right fielder Herlis Rodriguez, who is hitting .302 with 10 home runs and 55 RBIs and owned a 13-game hitting streak through Aug. 11. "I think he's the most exciting player to watch in this league," Williams told the Asbury Park Press. "He does something every night that makes you notice him. … He does so many little things that can help you win games. Defensively, he's leading the league in outfield assists. He's an instinctual baseball player and a big part of our success."
Streaking continues: Hickory's Jairo Beras and Kannapolis' Michael Suiter now own the longest hitting streaks in the SAL this season at 21 and 20 games, respectively. Beras is batting .384 since July 17 while going 33-for-86 at the plate. Suiter, whose streak began July 19, is hitting at a .313 clip with 26 hits in 83 at-bats.
Bill Ballew is a contributor to MiLB.com. This story was not subject to the approval of the National Association of Professional Baseball Leagues or its clubs.
View More