SAL notes: Yanks' Judge advocates patience
RiverDogs' imposing right fielder showing plate discipline in pro debut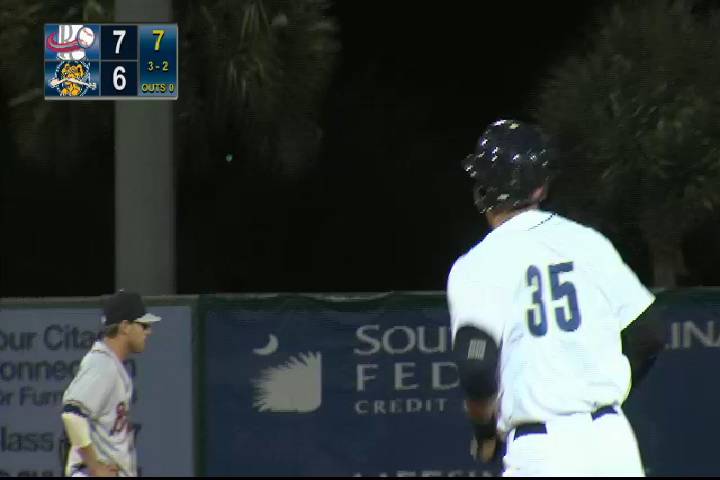 By Bill Ballew / Special to MiLB.com | May 15, 2014 10:00 AM
When a young man is headed toward a height that will top out at 6-foot-7, coaches along the way will try to lure him in certain directions. When he possesses an abundance of athletic ability to go with his size, these same coaches will be on the verge of salivating.
A three-sport standout at Linden High School in Sacramento, California, Aaron Judge attracted attention every time he took the field or walked on the court. In fact, throughout his final two years as a prepster, Judge knew something would be waiting for him in the mailbox once he returned home from school.
"I got a lot of letters for football," Judge said. "Every day I'd get letters from colleges wanting to talk with me. It was kind of crazy. I wanted to play baseball, but here I was receiving all of this interest from football. But growing up, baseball was always my first love. I mean, how can you not love baseball?"
The overtures came from baseball scouts and coaches as well. The Oakland A's drafted Judge as a first baseman in the 31st round in 2010. With guidance from his parents, Wayne and Patty, Judge knew the better option at that point in his life centered around attending college. As a result, he wound up selecting Fresno State over two other finalists -- San Jose State and Hawaii.
"Coming out of high school, I felt that physically I might be ready to play pro ball, but I knew that as an 18-year-old I wasn't mentally prepared to come out and compete against guys who might be a few years older than me while possibly going to the other side of the country," Judge said. "Going to college and getting away from home a little bit while playing in a high-caliber program was great for me. Fresno State and coach [Mike] Batesole and his staff helped me so much with the game on the field and life off the field. When the Draft came around at the end of my junior year, I knew I was ready to go."
Along the way Judge was named a Louisville Slugger Freshman All-American and garnered all-conference recognition three times in as many years. He won the 2012 TD American College Home Run Derby in Omaha, Nebraska, and capped his college career with a dominant junior campaign, batting .373 with 11 home runs and 35 RBIs in 52 games.
Judge's abilities and body matured at Fresno State, which led scouts to project prodigious power once he made the adjustments in pro ball. The New York Yankees were the most intrigued and selected the right-handed-hitting outfielder with the 32nd overall pick in the 2013 Draft.
A torn quad muscle suffered in a baserunning drill shortly after signing delayed Judge's debut in pro ball until this spring with the Charleston RiverDogs. The right fielder has shown no ill-effects from the brief setback, hitting .315/.423/.435 in his first 35 games with four doubles, a triple, three homers and 16 RBIs.
Some scouts questioned Judge's ability to make consistent contact due to his tall frame and perceived long swing. Thus far, he has silenced those concerns by displaying impressive plate discipline, resulting in 23 walks versus 29 strikeouts in his first 124 at-bats.
"Everyone has something they're always working on, particularly from a physical standpoint, such as their swing or their arm slot," Judge said. "I think the biggest thing for me is the mental side. In college, we play 55, 60 games if we're lucky, but here we're in it for 140 to 162 games. You have to prepare for the mental grind in order to be your best every day, and that can be tough with the long road trips and everything involved with playing this game."
Playing professionally has also brought about more attention for Judge and the rest of his Charleston teammates. The RiverDogs attract some of the Sally League's best crowds to Joseph Riley Jr. Ballpark, averaging more than 4,100 fans so far this season. Those numbers should increase in the summer, along with the temperatures and the humidity in South Carolina's Low Country. Judge says he welcomes the atmosphere while doing what he has wanted to do his entire life.
"It's great to be in Charleston," Judge said. "The coaching staff is fantastic. We're a pretty young team and everyone is getting along. The stadium is awesome and the crowds we get every day -- even on Mondays, Tuesdays and Wednesdays -- are great. It's fun playing in front of large crowds, and these guys are always supportive and behind us no matter what. I'm loving it so far."
In brief
Meneses rides cycle: Rome's Joey Meneses went 4-for-5 and became the first Rome Brave to hit for the cycle since 2009 in his team's 13-2 victory over Asheville on May 10. Meneses hit safely in the next three contests of the series as well, including a 3-for-4 outing with three RBIs and three runs scored on May 13, to conclude the four-game set with nine hits in 17 at-bats.
Harvey back on track: After losing his previous two starts, Delmarva's Hunter Harvey bounced back in a big way on May 12 against Lakewood. Harvey walked the first batter he faced, allowed a double in the second inning, then retired the final 16 batters. The right-hander struck out a career-high 10 batters, including a string of six in a row.
Smith's string snapped: Charleston left-hander Caleb Smith extended his scoreless innings streak to 23 1/3 frames May 10 before yielding a run in the sixth and losing a 1-0 decision to Savannah to fall to 3-2 on the season. Smith has allowed three earned runs in 32 1/3 innings over seven starts this year, good for an ERA of 0.84, which ranks second in the South Atlantic League.
Bill Ballew is a contributor to MiLB.com. This story was not subject to the approval of the National Association of Professional Baseball Leagues or its clubs.
View More