Salem's Johnson perfect for six innings
Red Sox prospect strikes out five in fourth start of the season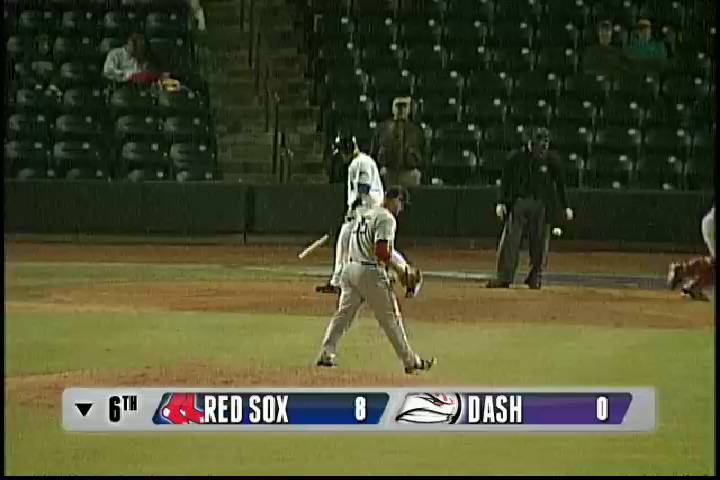 By Danny Wild / MiLB.com | April 18, 2014 11:15 PM ET
Brian Johnson got an inning-ending groundout in the fourth from Courtney Hawkins, sat down in the visitors' dugout at BB&T Ballpark and glanced out to center field.
"That was the moment," the 23-year-old left-hander said. "I looked up and I started to realize it."
Johnson saw a line of zeros, then kept them coming on Friday night, pitching six perfect innings as Class A Advanced Salem coasted to an 8-2 triumph over Winston-Salem.
The Red Sox's No. 13 prospect struck out five of the 18 batters he faced, inducing seven grounders and four fly balls for his second win in four starts this season.
"I felt great," he said. "It's crazy -- most days you don't have everything working. I had my fastball, curveball and change tonight, and I didn't even throw too many cutters. I felt good."
Johnson (2-1) said he ironed out a plan with his catcher, Jayson Hernandez, and Salem pitching coach Kevin Walker before the game.
"We sat down and wanted to go inside, establish the inside part of the plate with the fastball," he explained. "We let the fastball open up everything else."
Johnson began strongly with a pair of strikeouts in the first inning, getting Hawkins -- the White Sox No. 7 prospect -- swinging to end the frame.
"It's always a good thing to start off on a good note like that, to come out pumping the strike zone," he said. "Me and Jayson Hernandez got on the same page and talked pregame about what we wanted to do. I just stuck with it and it worked."
The University of Florida product turned in a similar effort last July 27 when he tossed five perfect innings for Class A Greenville.
"The results were the same, but I don't know, I didn't think too much about that [game]," he said. "But both starts, I had command of my fastball for strike one."
Johnson induced three fly balls in the second, got a pair of ground balls to breeze through the third and retired Hawkins again to conclude the fourth. The southpaw struck out Keon Barnum and Jason Coats in the fifth and fanned Grant Buckner swinging to end his night in the sixth.
Handing the ball over on a night like that, he said, is never easy.
"It's tough, but it's part of the plan," Johnson said. "Nobody ever wants to come out when you're feeling it on the field and throwing all your pitches. You have to have trust in the plan and trust in what the Red Sox have planned for me."
Johnson was coming off a pair of rough outings. He surrendered five runs over 4 2/3 innings on April 8 against Winston-Salem and took the loss five days later when he allowed six runs over four frames against Myrtle Beach.
"Fastball command is huge. I think for me the other two starts was just location, I was all over the plate," he said. "It's a learning process, I'm going to work just as hard now as I did between those two starts. It's all learning and sometimes you don't want to see the results or the line. It is what it is and you just go out and keep working."
Johnson was selected 31st overall in the 2012 Draft, but his career was sidetracked early on when a line drive fractured his face while pitching for Short-Season Lowell in the 2012 Futures at Fenway event. He missed the rest of that season before making 19 starts in 2013 and going 2-6 with a 2.54 ERA and 84 strikeouts over 85 innings across three levels, mostly at Greenville. The Florida native made a pair of starts with Salem last summer and said they were invaluable entering 2014.
"It was huge, very big. I couldn't express how much it helps," he said. "Knowing the bus trips, the home field, the team, it really felt comfortable."
Now, after a successful season under his belt, he'd like to reach a milestone.
"The first thing I want is to get over 100 innings, get over that hill," Johnson said. "Build up some arm strength and the results will take care of themselves. I'm just going to work hard as I can, give it all and, hopefully, everything will fall into place."
Salem gave its starter plenty of early support. Carson Blair hit a two-run double in the first, Reed Gragnani hit a two-run single and Mario Martinez followed with an RBI base hit in the third. Matt Johnson scored on an error, Gragnani added an RBI single and Ryan Dent drew a bases-loaded walk in the fourth to make it 8-0.
Winston-Salem scratched out two late runs as Nick Basto hit an RBI double in the eighth and Hawkins drilled a long homer to left field with two outs in the ninth.
Danny Wild is an editor for MiLB.com. Follow his MLBlog column, Minoring in Twitter. This story was not subject to the approval of the National Association of Professional Baseball Leagues or its clubs.
View More