Schuknecht punches Owlz's ticket to Finals
Angels outfield prospect hits two-run walk-off double in 11th inning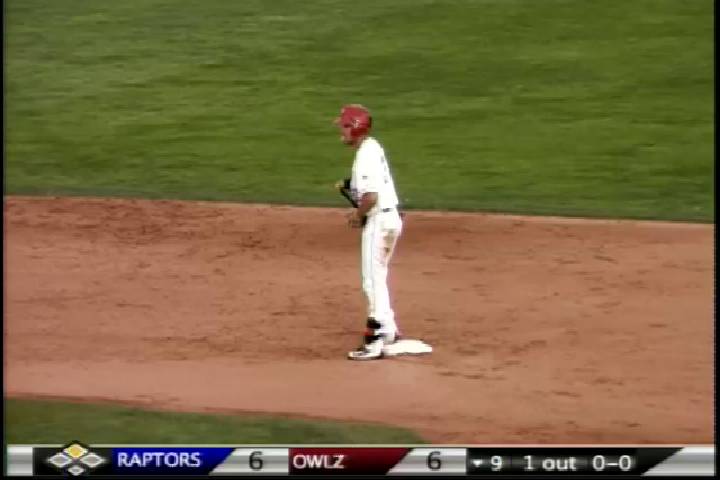 By Mack Burke / MiLB.com | September 11, 2016 6:34 PM ET
"As long as you still have an out, you have an opportunity to win a game."
That's what Orem manager Dave Stapleton preaches daily to his squad, and it's something he knows all too well from his time as a Red Sox infielder during the 1986 World Series.
"I don't want to think about that," Stapleton said with a laugh. "But I've always been one of those that says the game isn't over until the umpire calls the final out. When you've got a bat in your hand with two outs, you've still got a chance to win it -- just get us to the next guy."
On Sunday, that mantra carried his team to victory on the back of an unlikely hero as the defending Pioneer League champion Owlz returned to the Championship Series.
John Schuknecht broke out of an 0-for-10 funk by delivering a two-run walk-off double in the 11th inning to give Orem an 8-7 triumph over Ogden in the decisive third game of their semifinal series at the Home of the Owlz.
"We've just tried to push to them to never give up," Stapleton said. "On the field, you never know what can happen. In the Pioneer League, you could have a 10-run lead and it could disappear in a hurry. We've just told them, on the offensive side, to never give up, keep plugging away and [try] to hit the ball hard because you never know what can happen."
Orem trailed, 7-6, going into the bottom of the 11th after 19-year-old second baseman Moises Perez drilled his second homer of the game for the Raptors.
With one out in the bottom half, Zach Gibbons tripled for his third hit of the day. One batter later, however, he was cut down trying to score on Nick Flair's grounder to third baseman Brandon Montgomery.
"Well, you think that was a great opportunity for us," Stapleton said. "But we had one out and we were going on contact, so [Gibbons] did what he needed to do. It's one of those things where if you've got an out, you've got an opportunity. They believe it and they keep believing it. We just keep telling them, 'Hey, why not? We're here, let's do it.'"
One out away from elimination, Jack Kruger chopped another grounder to Montgomery, who bobbled the ball on the transfer for an error. That brought up Schuknecht, who was 0-for-5 on the day and 0-for-10 in the series. But Stapleton believed he was due.
"Yesterday, he had a rough day and I could see it in his face," Stapleton said. "I just said all day today to [hitting coaches Alexis Gomez and Travis Adair], 'Something good is going to happen to him.' He swings the bat hard and he gets pitches to drive.
"He had made five inning-ending outs throughout the course of the game. I remember looking down [at my scorecard] and seeing five circles by his name. I told [our pitching coach John Slusarz], 'Man, this is a rough night, but something will happen for him.'"
Schuknecht made his manager sound prophetic when he sent a liner that rolled past center fielder D.J. Peters, allowing Flair and Kruger to score and setting off a celebration.
L.J. Kalawaia went 4-for-6 with a triple and two RBIs atop the Owlz lineup in his first career four-hit game. Gibbons finished 3-for-5 and fell a homer shy of the cycle.
In his first career four-hit game, Perez collected four RBIs and fell a triple shy of the cycle for the Raptors. Cody Thomas went 2-for-5 with a run-scoring single in the eighth that gave Ogden a short-lived 6-5 lead.
The Owlz will face Billings in the best-of-3 Championship Series, beginning Wednesday.
Mack Burke is a contributor with MiLB.com. Follow him on Twitter @macburke18_MiLB This story was not subject to the approval of the National Association of Professional Baseball Leagues or its clubs.
View More