Schwarber stands out as Hawks win opener
Cubs' first-round pick collects three hits, including go-ahead homer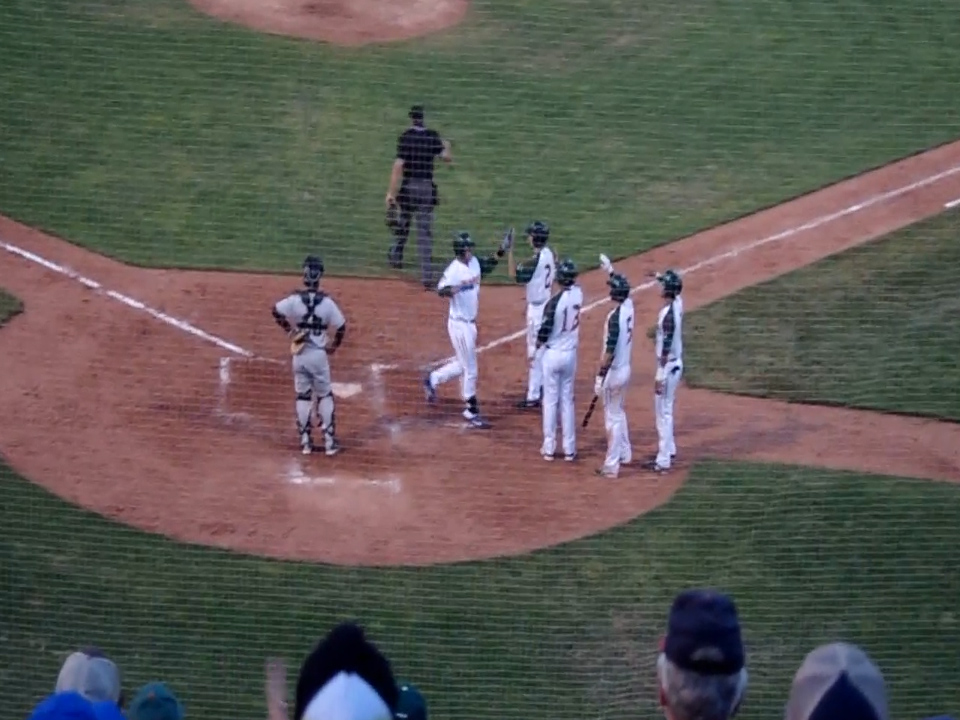 By Mark Emery / MiLB.com | June 14, 2014 2:59 AM ET
From an offensive standpoint, there wasn't much more that Kyle Schwarber could have accomplished in his first professional baseball game.
Playing for short-season Boise on Friday night, the Cubs' first-round pick in this month's Draft collected three hits, including a go-ahead home run in the seventh inning that came with two men on and sent the Hawks to a 4-2 victory over visiting Tri-City.
"I was just more worried about getting my first hit out of the way," the No. 4 overall pick said with a laugh. "But it felt good to get a hold of that ball and just get that out of the way. It was good. That was in a little bit of a crucial spot for the team. We came out with the victory."
With the Dust Devils holding a 2-1 lead in the seventh, Schwarber came up with two on and two out. He had the green light to swing after working a 3-0 count against right-handed reliever Marc Magliaro. That's when the 21-year-old catcher deposited a ball over the right-field fence for the first time as a pro.
The run Schwarber scored was his second of the game after lining a single to right and crossing the plate in the fourth inning. He also reached on a grounder through the right side in the sixth.
"I'm not going to lie, I had the jitters," the Indiana University product said. "I don't care who you are, if you're playing your first high school game, first college game or first pro game, you're going to have some jitters. I was nervous, but I was ready to go out there and get the first one under the belt."
Those nerves might have explained what happened in the first inning. In the top half, he made a throwing error while trying to cut down Michael Trauchman on a stolen-base attempt. In the bottom, he grounded out to first base.
From then on, however, Schwarber did not shy away from contributing to the Hawks' cause.
"After the first at-bat, it really helped me slow it down a little bit," he said. "I just realized that it's just baseball. You've played the game for years, just do what you do."
In his junior season at Indiana, the Ohio native batted .358/.464/.659 with 14 homers and 48 RBIs in 59 games. Behind the plate, he threw out 16 of 43 would-be basestealers, a rate of 37 percent.
His life has been turned upside-down in recent weeks, but he's happy to simply be in Boise, playing baseball again.
"It's great," Schwarber said. "I thought it was going to be a little different because all the guys were playing together in Mesa before this. I thought it was going to take some time to get to know the guys, but they've been really accepting in getting to know me. I'm getting to know them well. It's going to be a great adjustment. The place out here is beautiful and I love it out here."
Schwarber signed with Chicago for $3.125 million on Wednesday. Two days later, he was leading the organization's Northwest League affiliate to victory.
So was there anything that could have improved his initial experience with Minor League Baseball?
"Maybe if I would have thrown someone out in the game. That would have made it a little bit better," Schwarber said. "It was a pretty good first day."
Boise starter Tyler Ihrig allowed one hit -- a ground-ball single to Tauchman in the first -- over five scoreless innings. He notched five strikeouts without issuing a walk.
Mark Emery is a contributor to MiLB.com. Follow him on Twitter @Mark_Emery. This story was not subject to the approval of the National Association of Professional Baseball Leagues or its clubs.
View More