Senators' Skole homers, continues climb
Nationals No. 7 prospect keeps improving after Tommy John surgery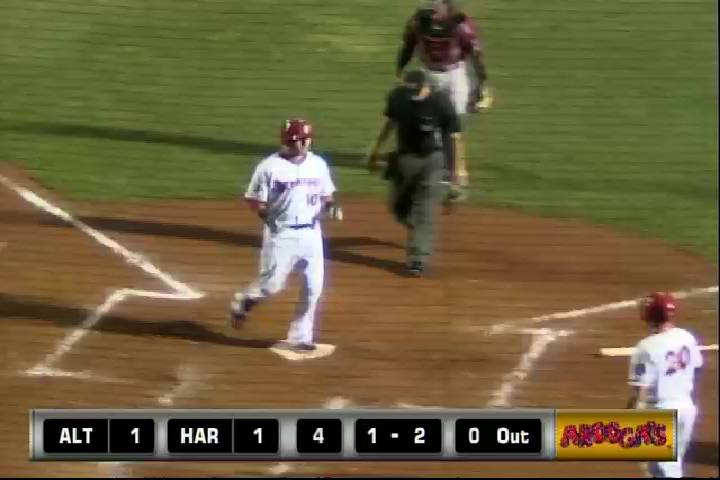 By Sam Dykstra / MiLB.com | July 13, 2014 12:40 AM ET
Tommy John surgery has been one of the most buzzworthy phrases in baseball through the first half of the season. Even recently, you don't have to do much more than search for those three words on Twitter and you'll find several tweets, mostly from the pinstriped fandom, worrying that Yankees Rookie of the Year favorite Masahiro Tanaka will be the next to go under the knife for the procedure that typically knocks out hurlers for a full season.
But Tommy John surgery has repaired the elbows of a fair share of position players, too, as Nationals No. 7 prospect Matt Skole can attest. A year after going deep 27 times for Class A Hagerstown, the corner infielder was playing his second game of the 2013 season at Double-A Harrisburg when he collided with a runner at first base, severing the ulnar collateral ligament (UCL) in his left/non-throwing elbow.
Sixteen months after the surgery put a premature end to his 2013 season, Skole finally feels like he's getting back in the groove with the Senators. And he's just grateful for that.
The left-handed-hitting slugger connected on his ninth homer of the season Saturday night, helping Harrisburg to a 3-2 win over Altoona and a split of its doubleheader at Metro Bank Park.
The two-run blast came on a 1-2 fastball from left-handed starter Joely Rodriguez and gave the Senators their first lead of the game, 2-1, in the fourth. It was Skole's first roundtripper since June 19, ending a 23-game drought.
"It's a relief, first off," he said. "But right now, I feel like I'm hitting fine, and that's where my focus has been overall. I felt like things were coming back slow, but you have to know these things take time after missing a year. ... When it comes to power, I usually go on streaks, so hopefully there is more to come.
Skole is dead-on when he said his power return doesn't tell the whole story of his comeback.
The 24-year-old couldn't quite get it going at the outset of the season, putting up a .177/.244/.228/ slash line in April. In May, those numbers climbed to .255/.362/.408, while June was even better as he finished with a .283/.402/.522/ line for the month. Through 13 games in July, he's taken those stats to another level with a .375/.468/.600 line with six extra-base hits, two more than he had in all of April.
Skole admitted it was tough getting past those initial tough times in April.
"It was really my first struggling in the Minors," he said. "It was hell. April was just horrendous. It's been a grind ever since. You never really want to get to a point where a 1-for-4 day actually raises your average, so I was thankful I was finally able to get my average above .250 [on July 8]."
Skole added that coming back from a season-long absence undoubtedly hurt his opening numbers as he learned to literally get back in the swing of playing everyday ball. A year ago around this time, he was trying to stay in the game by following his brother, Jake, an outfielder in the Rangers system, while he rehabbed and just generally "tried not to get fat." He spent 15 games in the Rookie-level Arizona Fall League, where he slashed .184/.375/.429, but didn't get back to the daily grind until April.
Skole also picked up bad habits when he did return. And in the middle of May, Nationals hitting coordinator Troy Gingrich worked with the slugger to not hunch over as much in his batting stance. The proof has been in the pudding ever since, and that's what restored Skole's confidence.
"I believe it's going to make me better in the long run," he said. "I had to fight my way out of the surgery and the slump that came after it, and that's going to help me in everything going forward here."
The idea of the future is what makes Skole most excited. His surgery and struggles are part of the past, and while what is to come remains anyone's guess, he feels like he's in a much better position to prove himself than he was only three months ago.
"I'm not even where I want to be yet," he said. "There are nights when I feel like I'm God and can do anything up there. And it's still a humbling game because I can get three or four hits and then get nothing the next day. In the last 10 games or so though, I'm starting to feel like I did before the surgery, and that's all part of the process. I'm getting closer."
Senators starter Paolo Espino (4-3) tied the team's season high with nine strikeouts and allowed two runs on three hits without walking a batter in 6 1/3 innings.
The Curve took the first game, 9-1, behind Keon Broxton, who went 2-for-2 with four RBIs, and Pirates No. 5 prospect Alen Hanson, who homered for the second night in a row.
Sam Dykstra is a contributor to MiLB.com. This story was not subject to the approval of the National Association of Professional Baseball Leagues or its clubs.
View More